● BYD partners with Shlomo Motors to launch its pioneering New Energy Vehicles (NEV) to the Israeli market
● The strategic partnership with Shlomo Motors will provide sales and aftersales services to passenger car customers throughout Israel
● The first shipment is scheduled to arrive in Israel Eilat port in Q3 this year
● From September, Shlomo Motors will open four new showrooms - in Petach Tikva, Haifa, Jerusalem and Be'er Sheva - to allow customers to view and experience BYD's latest models
Tel Aviv, Israel - BYD, the world's leading manufacturer of new energy vehicles (NEVs) and power batteries, has appointed Shlomo Motors as national distributor in Israel as part of an exciting new partnership. The agreement signifies the start of Shlomo Motors actively marketing BYD's range of passenger vehicles in Israel providing sales, aftersales and service support to customers throughout the country.
BYD and Shlomo Motors already have a long association. They have enjoyed a partnership spanning over a decade, established through BYD's electric bus business; a venture delivering eMobility solutions to the Israeli public that has been well-received in the country.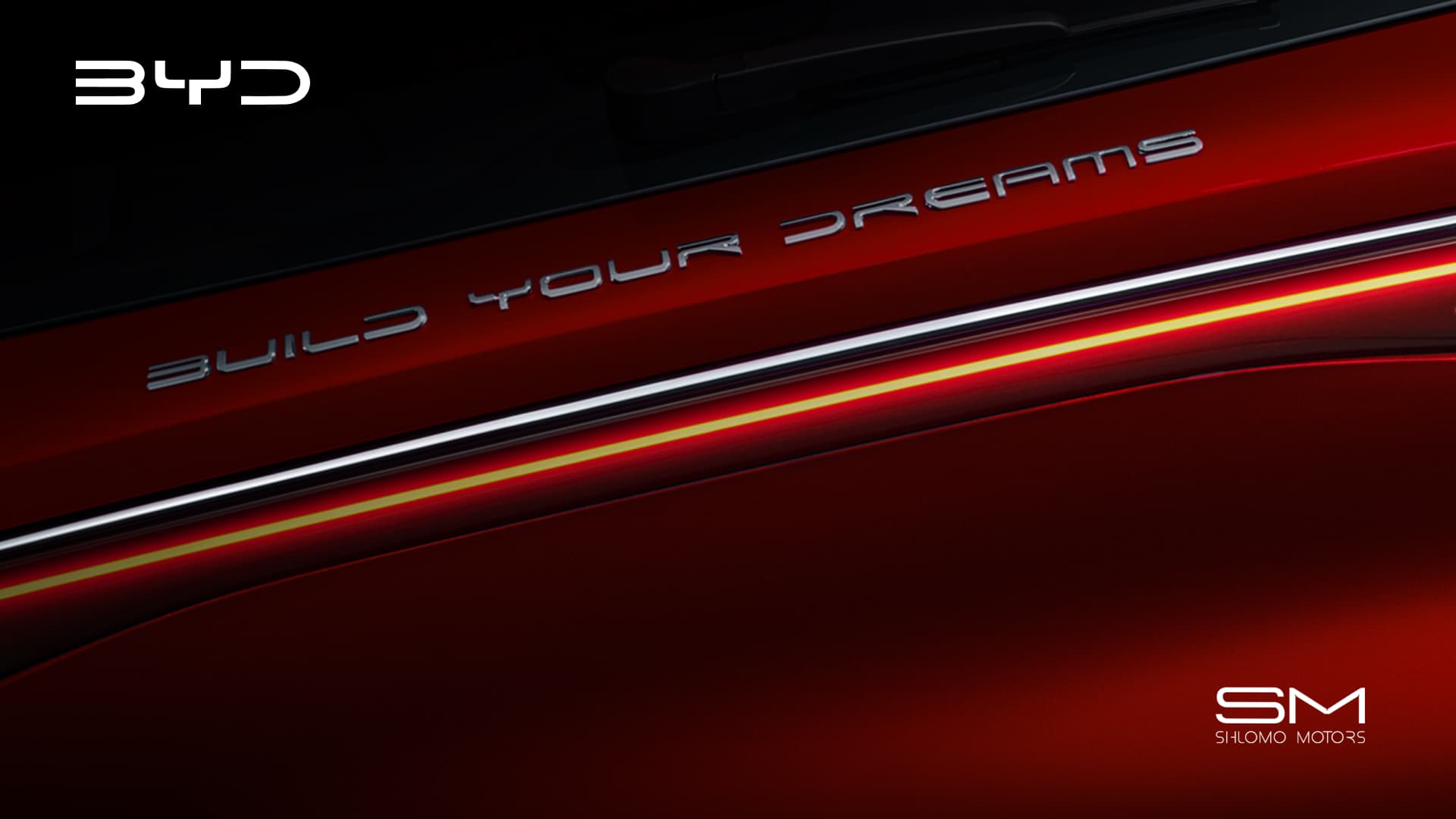 Shlomo Motors becomes Distributor of BYD in Israel
BYD pioneering showrooms for New Energy Passenger Cars to open in cities across Israel
September will see the start of many showrooms opening across Israel giving customers the chance to experience BYD's products and to learn more about its pioneering technology that is leading the world today. The first two showrooms will open in Petach Tikva and Haifa in September, followed by Jerusalem in October and Be'er Sheva in December. Customers will also have the added convenience of being able to order vehicles online following the launch of a new website in August.
BYD world class technology for eMobility in Israel
BYD's achievement as the world's leading NEV manufacturer is born out of 27 years' experience in battery research and development. At the heart of every BYD new energy vehicle is pioneering core technology, featuring the ultra-safe Blade Battery. Further innovation is showcased in BYD's class-leading e-Platform 3.0, the world's first 8-in-1 electric powertrain, which provides exceptional thermal efficiency and a rich ecosystem of cloud-based apps. BYD is the only NEV producer to have developed its own powertrain systems, power batteries, automotive semiconductors, drive-motors and motor controller systems - a key differentiator that sets BYD apart from its competitors.
Technology·Green·Future underpins BYD's brand proposition and reinforces an unwavering commitment to a sustainable future through technological innovation. BYD was also the first NEV manufacturer globally to stop production of full combustion engine vehicles, in order to focus solely on more environmentally friendly BEVs (battery electric vehicles) and PHEVs (plug-in hybrid electric vehicles).
Shlomo Motors Ltd – an established and respected name in Israel
For its part, Shlomo Motors Ltd. has a successful history and a well-respected reputation in the Israeli automotive sector. It leads the industry across many categories, including new car sales, digitalisation and innovation, leasing, rental and used car sales. With 38 branches across Israel, Shlomo Motors has the resources and market knowledge to provide customers with a professional and comprehensive service. As BYD's partner in Israel, this collaboration is now poised to bring the latest technologies, products and eMobility solutions to the Israeli market supported by high levels of customer service.
Michael Shu, General Manager and Managing Director, BYD Europe and International Cooperation Division, said: "We are delighted to be providing world-leading technologies that are integral to our innovative range of new energy passenger vehicles to the Israeli market. Having already established a solid working partnership with Shlomo Motors over the last 10 years for our commercial vehicles, we are pleased to see our relationship strengthen further as we enter a new phase of cooperation for our passenger cars, for which we are full of enthusiasm. Israel is renowned for embracing technology and together with Shlomo Motors, we look forward to bringing advanced products and sustainable transport solutions to meet the demands of local customers."
Jacky Aviv, CEO of Shlomo Motors commented: "We are proud to launch into Israel the passenger vehicles of one of the world's leading electric car brands. Shlomo Motors has been working closely with BYD for over a decade, since electric buses were launched here and the vision of a more sustainable transport network came into view. Further evidence of the strong connection between the two companies can be found in the decision to start marketing in Israel at the same time as marketing begins in Europe. We plan to open showrooms nationwide in the coming months, so that Israeli drivers can come and be impressed by the numerous advanced technologies that BYD has to offer."
About BYD
BYD (Build Your Dreams) is a multinational high-tech company devoted to leveraging technological innovations for a better life. BYD operates across four industries including Auto, Electronics, New Energy, and Rail Transit. Since its foundation in 1995, the company has quickly developed solid expertise in rechargeable batteries and has become a relentless advocate of sustainable development, successfully expanding its renewable energy solutions globally with operations in over 70 countries and regions. Its creation of a Zero Emissions Energy Solution, comprising affordable solar power generation, reliable energy storage, and cutting-edge electrified transportation, has made it an industry leader in the energy and transportation sectors. BYD is a Warren Buffet-backed company and is listed both on the Hong Kong and Shenzhen Stock Exchanges. More information on the company can be found at www.byd.com.
BYD Europe is headquartered in the Netherlands and is the first overseas branch of BYD Group, with a commitment to evolving the international brand BYD Auto to deliver safe and efficient sustainable solutions in new energy vehicles through world-leading technological innovations. www.bydeurope.com / www.bydauto.eu
About Shlomo Motors
Shlomo Motors Ltd., a leading automotive company owned by Shlomo Group and Allied Group, is the authorised distributor of BYD passenger cars in Israel. Shlomo Motors has been the Israeli distributor of BYD's electric buses since 2008.
Contact:
Asia-Pacific: Mia Gu, mia.gu@byd.com tel: +86-755-8988-8888-69666
Europe: Penny Peng, PressEU@byd.com tel: +31-102070888
North America: Frank Girardot, frank.girardot@byd.com tel: +1 213 245 6503
Latin America: Sofίa Mardones, sofia.mardones@byd.com tel: +56 9 9821 6851
Brazil: Adalberto Maluf, adalberto.maluf@byd.com tel: +19 3514 2554
Africa: Nikki Li, li.namin@byd.com tel: +86-18938862670