· BYD has appointed Hedin Mobility Group as Dealer+ partner in Sweden and Germany for BYD new energy passenger vehicles
· The strategic partnership with Hedin Mobility Group will provide sales and aftersales services to customers throughout both countries
· Customers will be able to see and experience BYD's latest models from October when a pioneering store will open in Stockholm followed by other cities in Sweden and Germany, with delivery of sold orders in Q4 2022
Göteborg, Sweden - BYD, the world's leading manufacturer of new energy vehicles (NEVs) and power batteries, has appointed Hedin Mobility Group as Dealer+ forming a strategic partnership that spans distribution and sales for BYD passenger cars in Sweden and Germany.
The agreement represents a significant alliance as it further enhances BYD's presence in Europe. BYD Dealer+ status assigns official distribution, sales and aftersales services to Hedin Mobility Group in both countries.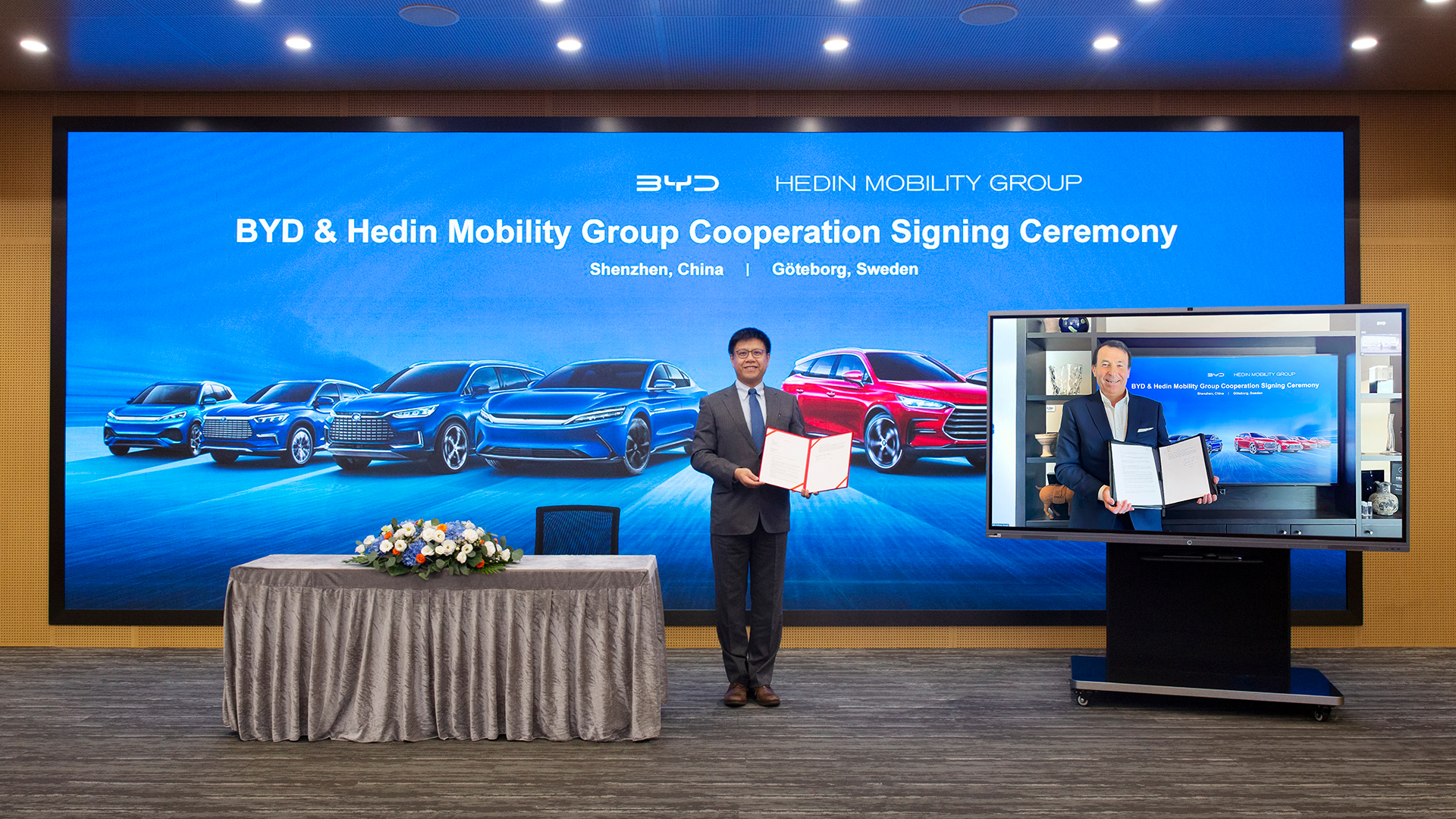 BYD & Hedin Mobility Group Cooperation Signing Ceremony
Pioneering stores to open in cities in Sweden and Germany giving customers the opportunity to experience BYD products and technology
The rollout of a network of stores in selected cities across both countries will begin with the opening of the first pioneering store in Stockholm, Sweden in October, giving drivers the chance to experience BYD's market-leading products and technological innovations. Similarly, there are plans for stores in a number of German cities, the first of which will open in October. A customer website for each market (www.bydauto.de and www.bydauto.se respectively) will launch later this month and further information on models will be announced in September. Customers in both countries will have the opportunity to view and experience a variety of BYD's latest models in its passenger car range. Early adopters to the market-leading brand will have their vehicles delivered to them in Q4 2022.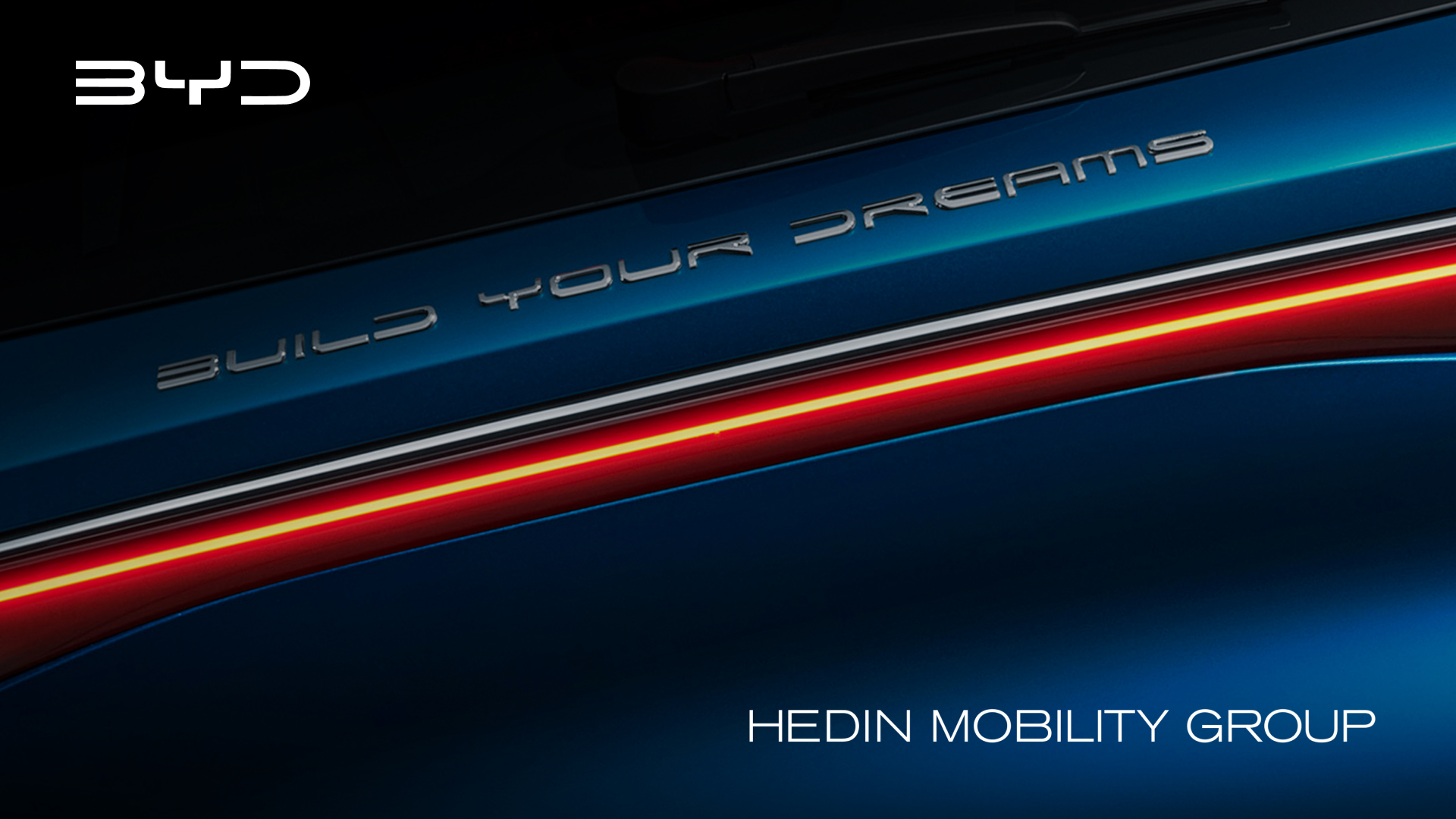 Hedin Mobility Group becomes Dealer+ partner of BYD in Sweden and Germany
It is through world leading technology and expertise in battery development, that has been pivotal to BYD's growth in the global NEV market. BYD's commitment and vision for sustainable e-Mobility solutions has been a key influencer in product development over the last two decades, which is inspiring the industry and driving increased demand from customers in Europe and around the world. The range of BYD new energy passenger cars feature advanced technology from BYD developed for uncompromising safety and performance, while embracing sustainability in many aspects of design.
BYD was also the first NEV manufacturer globally to stop production of ICE vehicles in order to focus solely on more environmentally friendly BEVs (battery electric vehicles) and PHEVs (plug-in hybrid electric vehicles).
BYD committed to collaboration with local partners to accelerate eMobility
The diverse BYD product range, together with its technical expertise and collaborative approach to business development, has been instrumental in many localised strategic partnerships to globally empower green solutions in transportation. BYD is committed to local partnerships to create win-win cooperations, gaining trust and sharing mutual knowledge to benefit all involved, in pursuit of its 'green dream'. This philosophy has led to the formation of numerous cooperations with respected dealer partners in many different countries for BYD passenger cars. Partnerships, such as the agreement with Hedin Mobility Group, are the foundation to providing comprehensive services and localised support for BYD customers as the brand continues to evolve its new energy passenger car business in Europe.
BYD, working together with Hedin Mobility Group, will now actively embark on selecting top dealers from different regions in Germany to represent the BYD passenger car brand. Hedin Mobility Group is one of Europe's largest privately owned dealership groups, operating over 230 dealerships in eight countries, including Germany, with a significant dealership footprint across Scandinavia. It sold more than 125,000 vehicles in 2021. Hedin Mobility Group will sell BYD's vehicles in Sweden through its dealership group Hedin Bil and via the specially selected dealerships in Germany.
Michael Shu, General Manager and Managing Director, BYD Europe and International Cooperation Division, said: "We are delighted to provide world-leading technologies within our inspirational range of new energy passenger vehicles to the German and Swedish public. We believe the timing is perfect to meet consumer demand for more eco-friendly solutions. Our partnership with the well-respected Hedin Mobility Group has exciting potential in Sweden and Germany, and will support the entire customer experience at every phase. Together, we look forward to developing a sustainable transport future in both countries."
Anders Hedin, owner and CEO of Hedin Mobility Group commented: "We are proud to start this partnership with BYD and for the opportunity to represent such a pioneering brand. This underscores Hedin Mobility Group's aspirations to be a leading mobility provider and a contributing force in the electrification of the European car fleet. Growing our distribution business is central to our strategic plans moving forward."
About BYD
BYD (Build Your Dreams) is a multinational high-tech company devoted to leveraging technological innovations for a better life. BYD operates across four industries including Auto, Electronics, New Energy, and Rail Transit. Since its foundation in 1995, the company has quickly developed solid expertise in rechargeable batteries and has become a relentless advocate of sustainable development, successfully expanding its renewable energy solutions globally with operations in over 70 countries and regions. Its creation of a Zero Emissions Energy Solution, comprising affordable solar power generation, reliable energy storage, and cutting-edge electrified transportation, has made it an industry leader in the energy and transportation sectors. BYD is a Warren Buffet-backed company and is listed both on the Hong Kong and Shenzhen Stock Exchanges. More information on the company can be found at www.byd.com.
BYD Europe is headquartered in the Netherlands and is the first overseas branch of BYD Group, with a commitment to evolving the international brand BYD Auto to deliver safe and efficient sustainable solutions in new energy vehicles through world-leading technological innovations. More information can be found at www.bydeurope.com / www.bydauto.eu
About Hedin Mobility Group

Hedin Mobility Group is one of Europe's largest privately-owned car dealer networks. The Group employs more than 6,000 people and operates over 230 dealerships in eight countries. Net sales in 2021 totalled more than 125,000 vehicles across the Group and were worth SEK 28.2 billion*.
The Group's portfolio includes 40 brands, and the company provides sales, aftersales, distribution and finance services to both private and corporate customers. The portfolio also includes distribution of: Ford and MG in Sweden; Renault, Dacia and Alpine in Sweden and Denmark; and Dodge and RAM in Europe. In addition, the Group's operations include wholesale management of tyres and spare parts, the car rental company Mabi Mobility AB, the private leasing company Car to Go Sweden AB, the corporate leasing company Unifleet AB as well as co-ownership in Pendragon PLC and iMove AS. www.hedinmobilitygroup.com
Hedin Mobility Group is part of the Hedin Group together with Tuve Bygg AB and I.A. Hedin Fastighet AB. Hedin Grop is also a partner in Consensus Asset Management and Ripam Invest AB, which owns Marstrands Kurhotell, Kurbadhus and Societetshus.www.hedingroup.com
Contact:
Asia-Pacific: Mia Gu, mia.gu@byd.com tel: +86-755-8988-8888-69666
Europe: Penny Peng, PressEU@byd.com tel: +31-102070888
North America: Frank Girardot, frank.girardot@byd.com tel: +1 213 245 6503
Latin America: Sofίa Mardones, sofia.mardones@byd.com tel: +56 9 9821 6851
Brazil: Adalberto Maluf, adalberto.maluf@byd.com tel: +19 3514 2554
Africa: Nikki Li, li.namin@byd.com tel: +86-18938862670