The all-new fully electric BYD ATTO 3 C-SUV bringing pioneering EV technology developed for safety and efficiency, complete with high levels of standard equipment to UK customers is crowned News UK's Electric Car of the Year
Equipped with the highly efficient 60.48 kWh BYD Blade Battery with a 260-mile range (WLTP combined) and DC Charging (SOC 30-80%) in just 29 minutes
Cutting-edge electric mobility is now within reach for all, the BYD ATTO 3 features an appealing starting price of £37,195 OTR
The BYD ATTO 3 has been awarded the prestigious title of "Electric Car of the Year" by News UK. This outstanding recognition underscores BYD's commitment to excellence in electric vehicle (EV) technology and sustainability, reaffirming its position as a leader in the global automotive industry.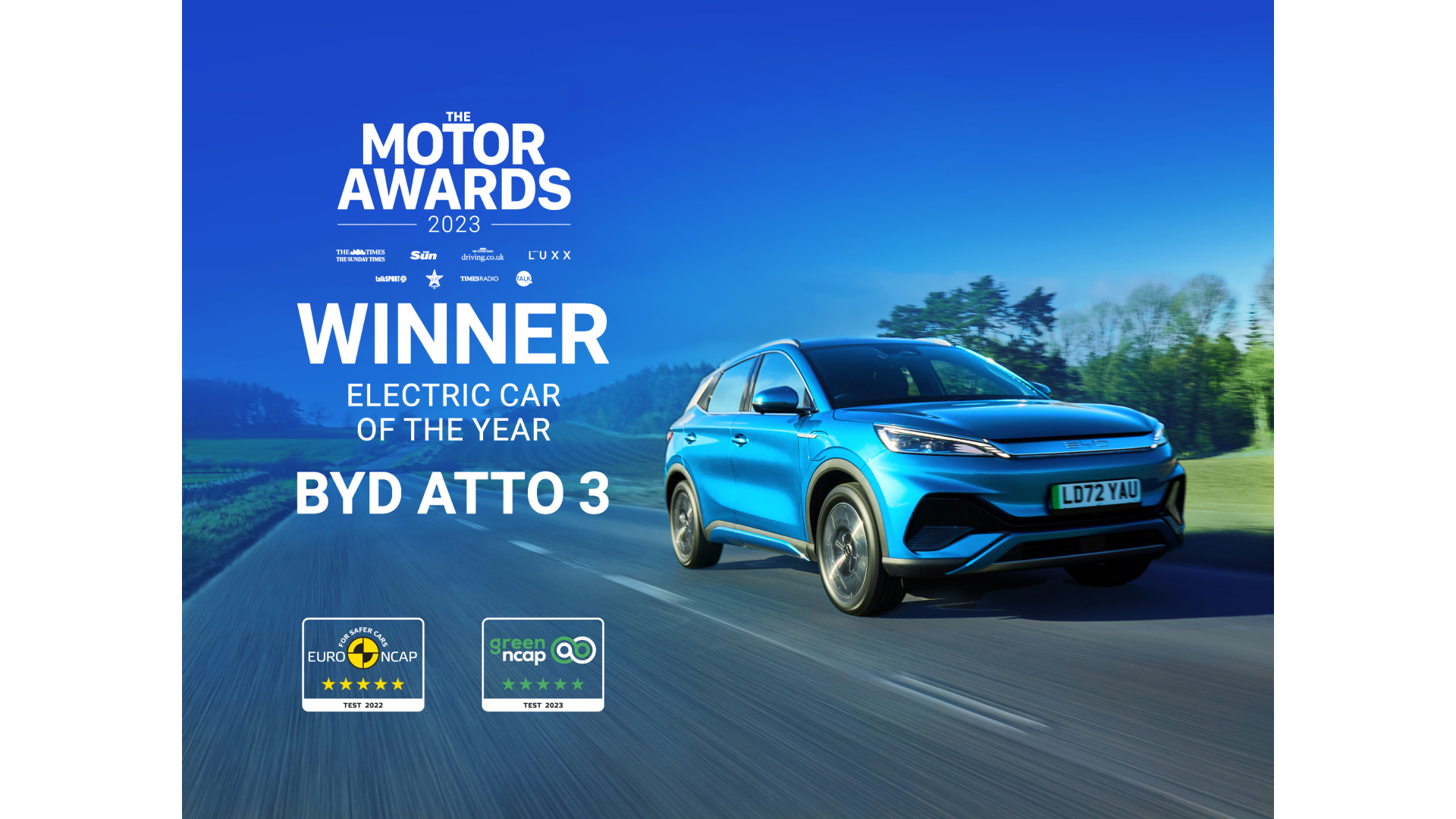 BYD ATTO 3 is awarded as "Electric Car of the Year" by News UK
The BYD ATTO 3 was selected for this prestigious award following a rigorous evaluation process by the expert panel of automotive journalists from The Sun, The Sunday Times, Driving.co.uk and The Times Luxx magazine at News UK. The panel evaluated numerous electric vehicles across various criteria, including performance, design, innovation, safety, and environmental impact. The BYD ATTO 3 impressed the judges on all fronts, emerging as the clear winner.
"Starting at just over £37,000 this zippy and smart-looking EV gives Tesla's £44,990 Model Y a run for its money. It's well equipped too: big glass roof, eight-speaker sound system and room in the back for three adults (or two burly blokes)." Said Nick Rufford, Motoring Editor, The Sunday Times.
The BYD ATTO 3 boasts several remarkable features and innovations that set it apart in the electric vehicle market:
Exceptional Performance: With its advanced electric powertrain, the BYD ATTO 3 offers impressive acceleration, a smooth and quiet ride, and a long driving range on a single charge.
Sleek and Modern Design: The BYD ATTO 3's design seamlessly blends aesthetics and aerodynamics, resulting in a striking and environmentally-conscious vehicle.

Safety First: Equipped with state-of-the-art safety features as standard, the BYD ATTO 3 prioritizes the well-being of its passengers and other road users. Reinforced by a Five-Star Euro NCAP Safety Test Rating.
Environmental Leadership: As a zero-emission electric car, the BYD ATTO 3 is a crucial step to enhance BYD company vision of reducing carbon emissions and combatting climate change.
Innovative Technology: BYD's commitment to innovation is evident in the BYD ATTO 3's cutting-edge technology, from its infotainment system to its driver-assistance features. The BYD ATTO 3 includes a highly efficient integrated Heat Pump as standard, something as the colder weather draws in, sets it apart from the crowd.
"We are thrilled and humbled to receive the Electric Car of the Year award from News UK," said Michael Shu, Managing Director, BYD Europe. "This recognition is a testament to BYD's dedication to delivering cutting-edge, sustainable mobility solutions at an affordable price that not only meet but exceed the expectations of our customers and the industry."
BYD stores are already open in nine UK cities, including London, Glasgow, Stockport, Birmingham, Milton Keynes, Leicester, Leeds, Southampton and Exeter, welcoming consumers to experience advanced technology and electric product matrix. The BYD ATTO 3 has already gained a substantial following among environmentally conscious consumers and those in pursuit of a premium yet attainable electric vehicle. Its accolade as the Electric Car of the Year by News UK solidifies its standing as a rising star in the United Kingdom's electric vehicle industry.
BYD remains committed to sustainability, innovation, and the development of electric vehicles that meet the needs of today's consumers while preserving the environment for future generations. This award reaffirms BYD's dedication to driving the future of sustainable mobility.