Shenzhen, China - BYD ranked No.212 on the 2023 Fortune Global 500 list announced today. The global green technology leader has ascended 224 positions compared to last year, making it the fastest-growing Chinese company on the list.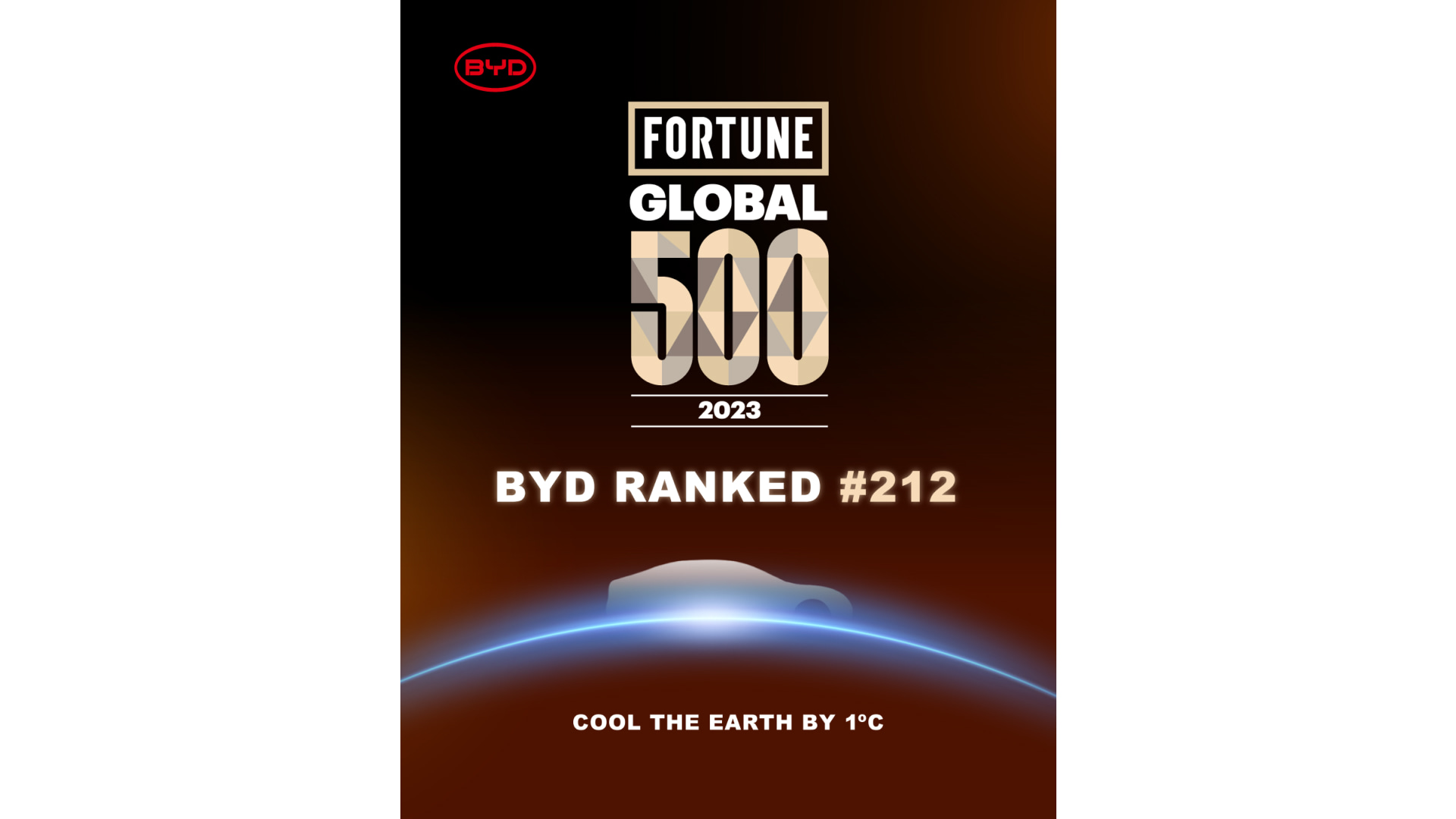 BYD reported an annual revenue of RMB 424.061 billion in 2022, a year-on-year increase of 96.2%, with all major operational indicators reaching unprecedented highs. Total sales of BYD's new energy vehicles (NEVs) in 2022 amounted to over 1.86 million, solidifying the company's position as the world's leading NEV manufacturer. From January to July of 2023, BYD achieved a cumulative sales volume of 1.5 million units, which includes 92,469 units sold overseas. This overseas sales figure surpassed the total overseas sales for the entirety of 2022. As of July 2023, BYD has sold over 4,800,000 new energy vehicles globally.
Over its 28-year history, BYD has grown into a multinational high-tech corporation spanning four major industries, namely electronics, automotive, new energy, and rail transit. As a global leader in new energy, BYD keeps driving technological advancement with a technology-based, innovation-oriented corporate philosophy. In 2022, BYD's R&D expenditure exceeded RMB 20 billion, marking a 90.31% increase year-on-year. As of July 2023, BYD, bolstered by a robust team of over 90,000 R&D personnel, has showcased its innovative prowess by applying for more than 40,000 patents globally with over 28,000 approval.
In the automotive field, with pioneering technologies like Blade Battery, DM-i super hybrid system, e-Platform 3.0, CTB Technology, e4 platform, and the DiSus intelligent body control system, BYD has built comprehensive technology solutions, positioning itself at the forefront of the global green mobility evolution.
BYD is actively extending its global reach. In 2010, BYD introduced a strategy for public transit electrification, subsequently launching its new energy buses and taxis globally. After a decade of diligent efforts in overseas markets, BYD's operations, highlighted by its electric public transport, have expanded to over 400 cities across more than 70 countries and regions around the world.
Meanwhile, BYD's new energy passenger vehicles have entered more than 54 countries and regions, including Japan, Germany, Australia, Brazil, and the United Arab Emirates. Notably, BYD ATTO 3 has made a significant impact, becoming the best-selling NEVs in Thailand, Israel, and Singapore for several consecutive months. In July 2023, BYD announced its plans to establish three brand-new factories in Brazil, positioning itself as a driving force in the global new energy industry, thanks to its comprehensive supply chain advantages.

Embracing the new energy wave, BYD remains steadfast in its commitment to its Cool the Earth by 1 °C initiative. Under this vision, BYD will persist in facilitating the progress of the global new energy industry and accelerating the transition towards a greener future.