BYD introduces a range of innovative electric cars with advanced technologies in Turkey
The debuting range includes the BYD ATTO 3 C-segment SUV, the BYD SEAL D-segment sedan and the BYD HAN E-segment sedan
BYD, in partnership with ALJ Turkey, opens its first Pioneer retail experiences in major cities, including Instanbul, Akara and Izmir.
Sales commence in November, starting with the BYD ATTO 3 with pre-orders also being taken for the BYD SEAL and BYD HAN
BYD, the World's No.1 New Energy Vehicle (NEV) manufacturer, launches an innovative range of electric cars in Turkey. In collaboration with BYD dealer partner, ALJ Turkey, there are plans to expand the dealer network with the opening of showrooms in prime city locations in Turkey to provide localised services.
Sales of BYD cars commence in November, starting with the BYD ATTO 3 C-segment SUV, built on BYD's innovative ePlatform 3.0, bringing a combination of modern and dynamic design aesthetics and intelligent driving experiences together with an efficient range of 420 km (WLTP). The BYD ATTO 3 has also achieved 5 stars in the Euro NCAP test.
In the first quarter of 2024, the BYD ATTO 3 will be joined by the eye-catching BYD SEAL, a stunning D-segment sedan packed with technology, with an 8-in-1 electric propulsion system that uses two motors to offer a combined power of 230 kW (313 hp) in the rear-wheel drive version and 390 kW (530 hp) in the all-wheel drive (AWD) version, achieving acceleration from 0 to 100 km / h in 3.8 seconds.
Also debuting in Turkey is the executive BYD HAN E-sedan. Sleek, sporty and aerodynamically efficient, the BYD HAN is the epitome of an exhilarating high-performance all-wheel drive electric car capable of accelerating from 0-100km/h in just 3.9 seconds whilst offering exceptional refinement. The BYD electric car range will expand further in 2024 to bring even more inspirational choices to customers in Turkey.
BYD, with more than 28 years of experience in battery research and development, is the only NEV producer to have developed its own powertrain systems, including power batteries, motors and motor controller systems. The game-changing cobalt-free Blade Battery takes safety, durability, efficiency and performance to an exceptionally high level.
Brian Yang, the Assistant General Manager, BYD Europe, said: "BYD is known for its long-standing experience in battery development, which has played a crucial role in transforming the company into the world's leading NEV producer. We are excited to embark on our electric car journey in Europe and bring our innovative products to Turkish consumers. The ATTO 3 is an excellent product to launch with, and it has already become a best-seller in many European EV markets. In just 18 months, we have delivered over 500,000 units of the BYD ATTO 3 to customers worldwide. We are also introducing two stunning sedans - the BYD SEAL and BYD HAN. At BYD, we are committed to providing the world's most innovative solutions to reduce carbon emissions through pioneering EV technologies for eMobility."
Brian YANG, the Assistant General Manager, BYD Europe, speaking at the BYD Turkey launch event
İsmail Ergun, BYD ALJ Turkey General Manager, said: "BYD offers consumers in Turkey groundbreaking technologies that prioritise safety, efficiency, and performance, together with appealing designs and high levels of equipment as standard specification. The modern and versatile BYD ATTO 3 has already made a strong entrance, and we will soon start taking pre-orders for the BYD SEAL and BYD HAN. These vehicles are part of our evolving multi-segment range that caters to different lifestyle needs."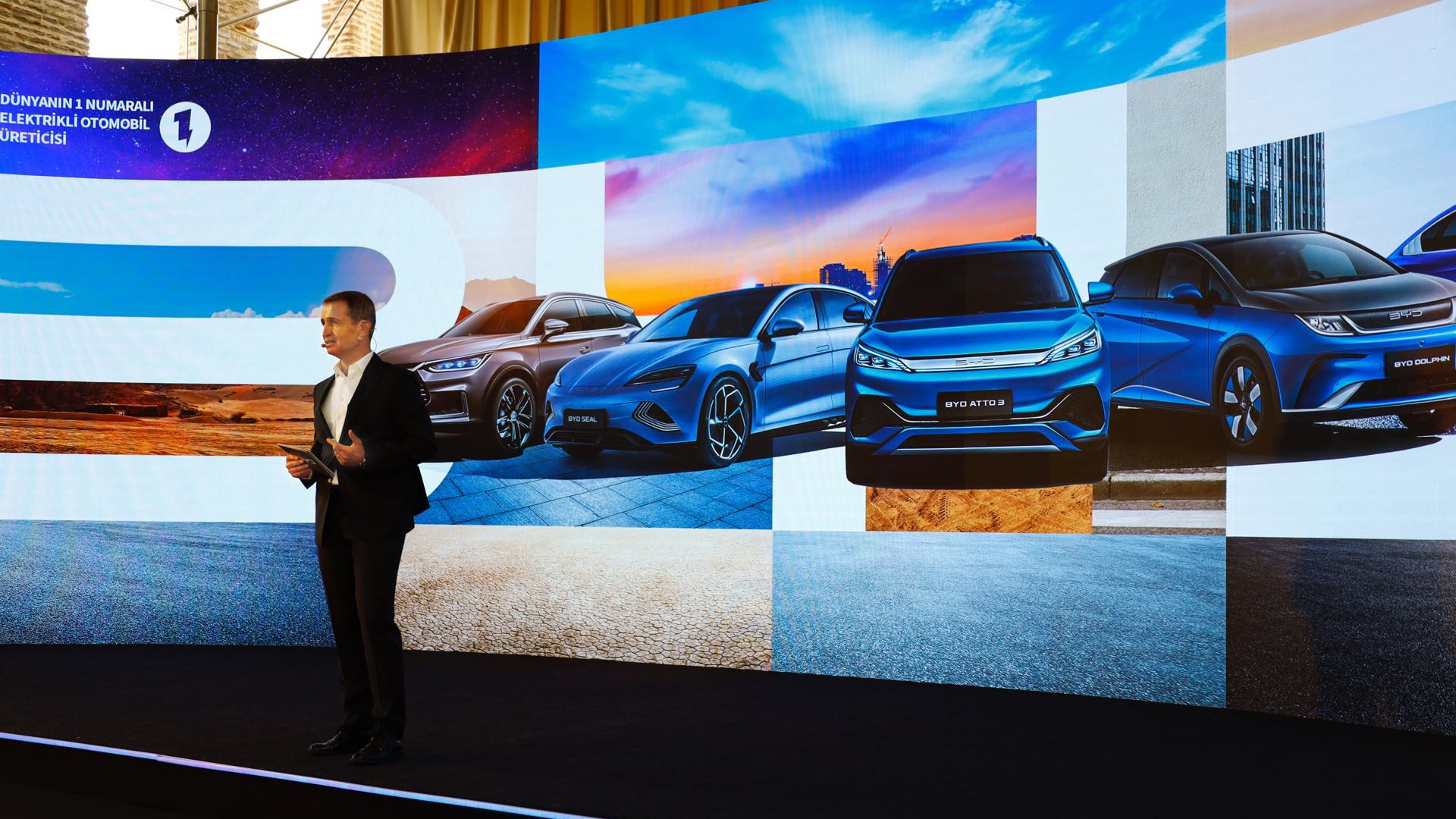 İsmail Ergun, BYD ALJ Turkey General Manager, delivering the speech at the launch event
BYD first launched a range of passenger cars in Europe at the Paris Motor Show in October last year. In less than a year, BYD has quickly become active in 17 European countries including Norway, Iceland, Finland, Denmark, Sweden, the Netherlands, Belgium, Luxembourg, Austria, the UK, Ireland, Spain, Portugal, France, Italy, Malta and Turkey. BYD has opened more than 140 Pioneer Stores in Europe, in partnership with strategic dealer partners, offering high-tech premium retail experiences.
As a top 10 car brand worldwide, BYD is the first OEM to deliver 5 million NEVs globally, and from January to August 2023, supplied more than 1.79 million vehicles. In the last year, BYD has achieved more than 1.86 million NEV car sales, reaffirming its position as the world's leading manufacturer of new energy vehicles.