Los Angeles, United States - Today, BYD, the world's leading manufacturer of new energy vehicles, and MeetKai, the leading conversational AI and metaverse company, unveiled the launch of BYD World, an interactive virtual dealership dedicated to providing future-forward immersive car-buying experience for customers to interact with the BYD brand and its products in the Americas. globally. The BYD World is first launched in Ecuador, on July 11th, then Chile in the next day. In a few weeks, it will be available in all LATAM countries.
Experience BYD World: Link
BYD World – Showroom
"At BYD, we are always looking for unique and innovative ways to reach our end consumer, and we believe the Metaverse is the next frontier for selling cars and engaging with the consumer," said Stella Li, Executive Vice President of BYD Company Limited and CEO of BYD Americas, "Technological innovation is part of our brand identity and we couldn't be more excited to partner with MeetKai to deliver new and more personalized opportunities for our fans and customers to interact with our products in an easily accessible, convenient setting."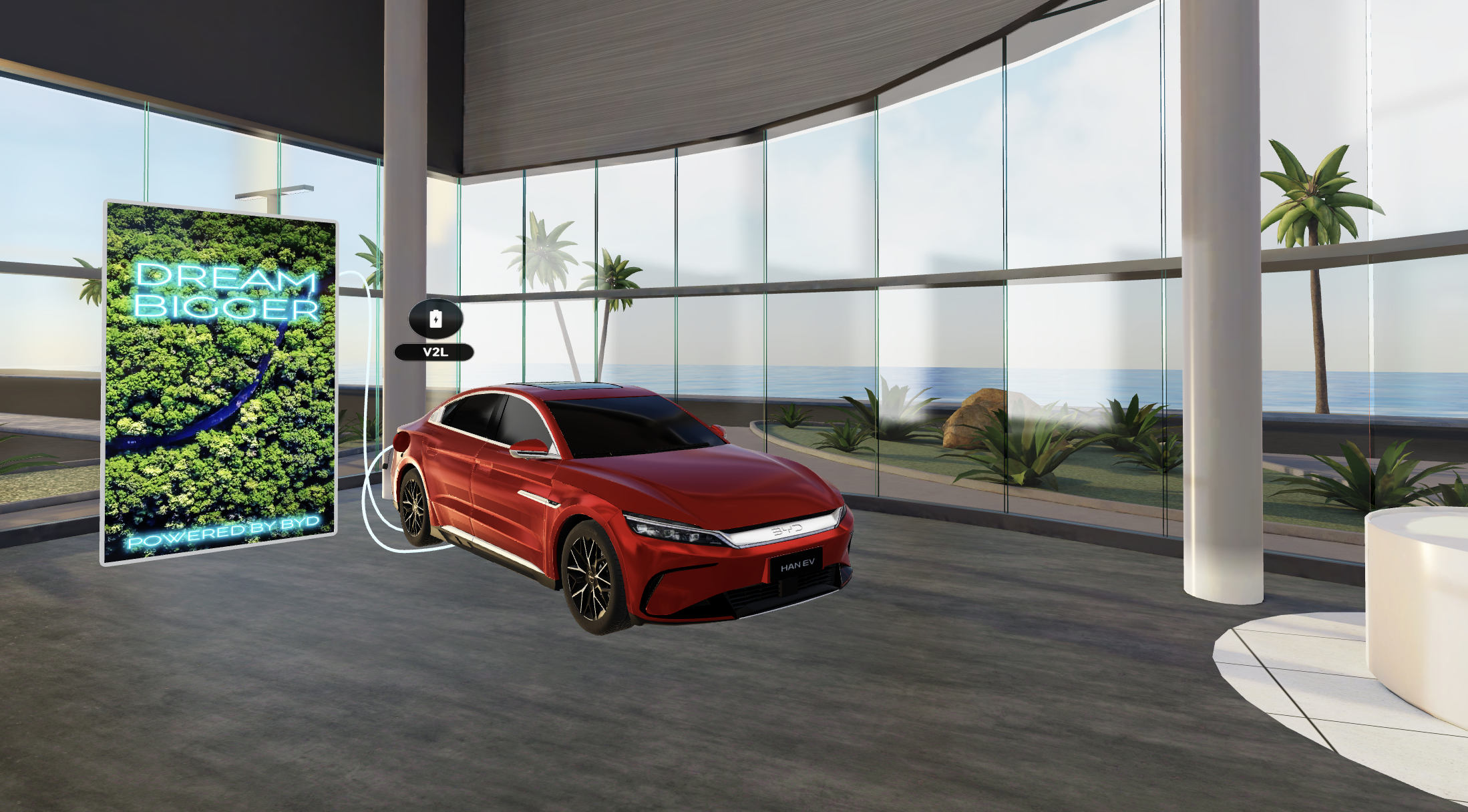 BYD World – Interaction Zone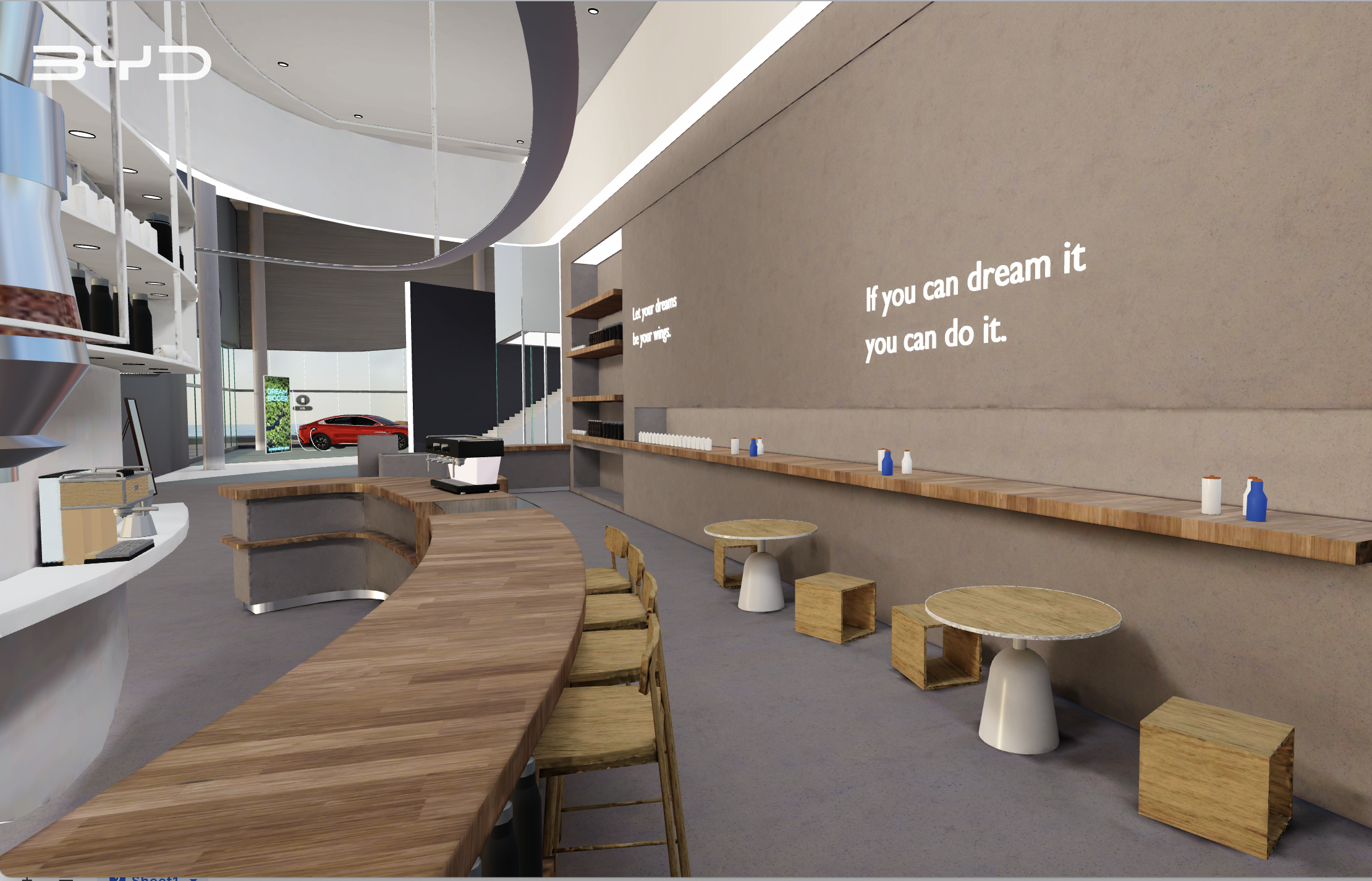 BYD World – Dream Bar
BYD World – News Stand
Powered by MeetKai's advanced AI and spatial computing technology, the BYD World platform seamlessly blends the digital and physical worlds, offering first-of-its-kind immersive brand experiences.
"MeetKai is thrilled to partner with BYD to introduce a new blueprint for the future of automotive retailing and user experiences on the web," said MeetKai Co-Founder and CEO, James Kaplan. "As a company, we remain steadfast in our goal to proactively eliminate barriers for entry into the metaverse in order to create new opportunities for greater connectivity and engagement."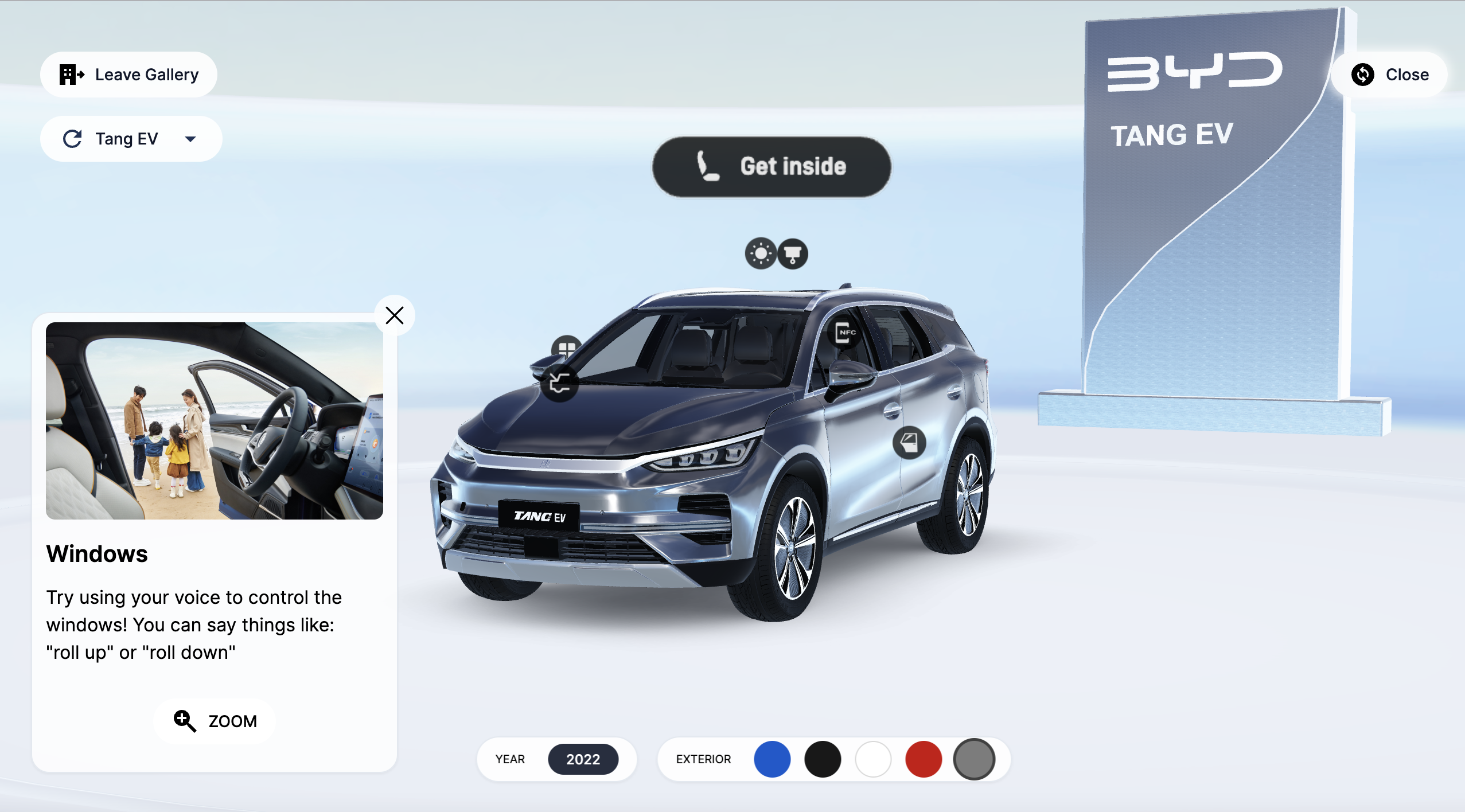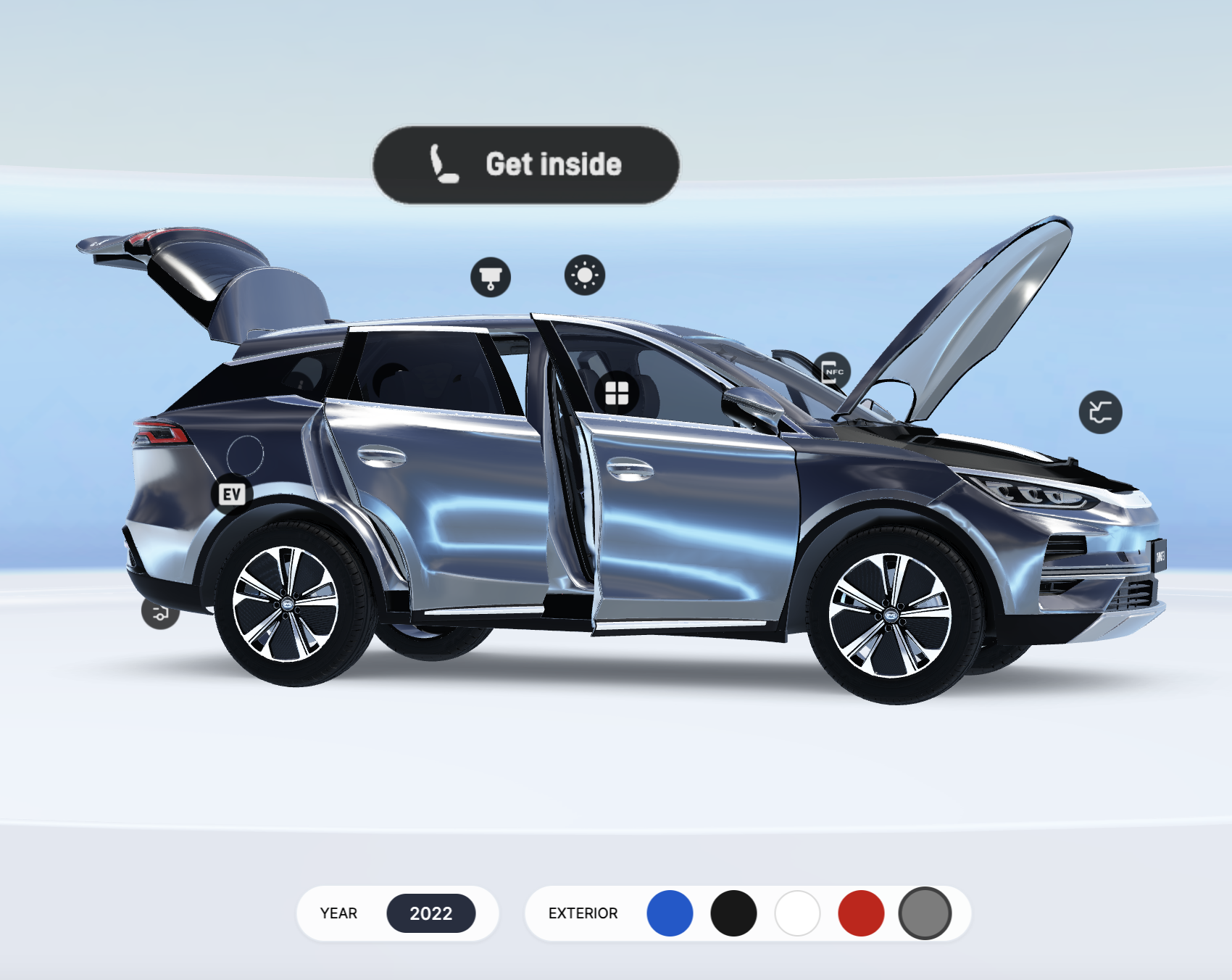 BYD World – Experience the Car
Upon entering the virtual dealership - which is available from any device that has access to a web browser - visitors have the freedom to explore a digital showroom, complete with 360 lifelike representations of BYD's exceptional range of new energy vehicles. Users also have the ability to configure, customize, and interact with BYD products in impressive detail as well as access comprehensive information about each model.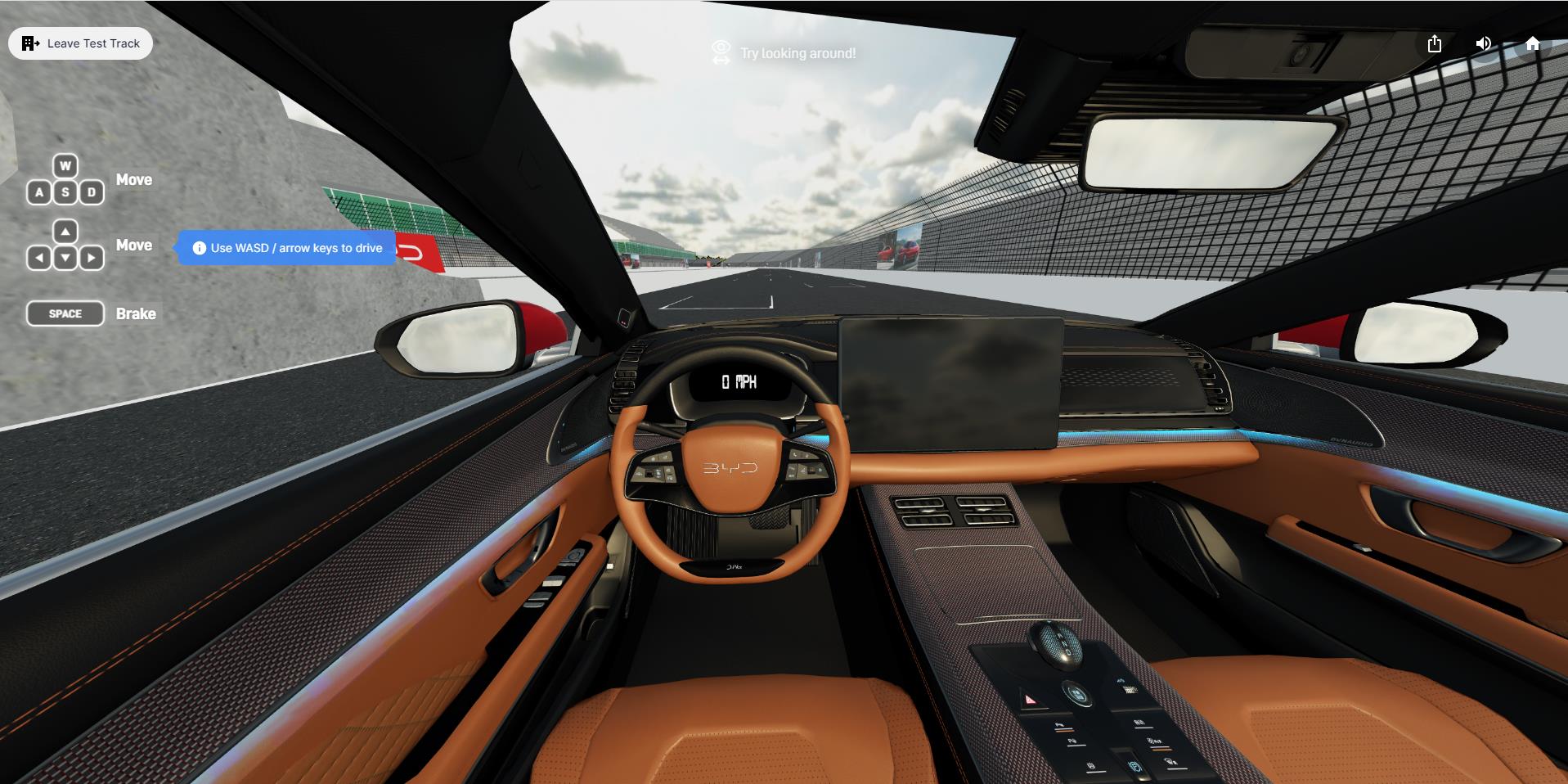 BYD World – Test Drive
In addition, through the integration of MeetKai's advanced XR technology, BYD customers can partake in virtual test drives, which mirror the physical driving experience of these high-performance models. Also on hand are AI-powered virtual consultants, ensuring personalized guidance and support throughout the customer journey.
"We're leading the pack with the next generation of immersive conversational web experiences that truly resemble the real world in a virtual space. We are so excited to do so with BYD, a fellow industry disruptor, and this is just the very beginning, as we're ready to leverage our generative AI across all industries," said MeetKai Co-Founder and Executive Chairwoman, Weili Dai. "MeetKai is proud to continue delivering on the promise of the metaverse by building bespoke experiences that bring true utility into the digital realm, this was always our vision."
###
About BYD
BYD is a multinational high-tech company devoted to leveraging technological innovations for a better life. Founded in 1995 as a rechargeable battery maker, BYD now boasts a diverse business scope covering automobiles, rail transit, new energy, and electronics, with over 30 industrial parks in China, the United States, Canada, Japan, Brazil, Hungary, and India. From energy generation and storage to its applications, BYD is dedicated to providing zero-emission energy solutions that reduce global reliance on fossil fuels. Its new energy vehicle footprint now covers 6 continents, over 70 countries and regions, and more than 400 cities. Listed in both Hong Kong and Shenzhen Stock Exchanges, the company is known to be a Fortune Global 500 enterprise that furnishes innovations in pursuit of a greener world.
For more information, please visit www.bydglobal.com.
About BYD Auto
Founded in 2003, BYD Auto is the automotive subsidiary of BYD, a multinational high-tech company devoted to leveraging technological innovations for a better life. Aiming to accelerate the green transition of the global transportation sector, BYD Auto focuses on developing pure electric and plug-in hybrid vehicles. The company has mastered the core technologies of the entire industrial chain of new energy vehicles, such as batteries, electric motors, electronic controllers, and automotive-grade semiconductors. It has witnessed in recent years significant technological advancements, including the Blade Battery, the DM-i and DM-p hybrid technology, the e-Platform 3.0, and the CTB technology. The company is the world's first carmaker to stop the production of fossil-fueled vehicles on EV shift and has remained top of new energy passenger vehicle sales in China for 9 years in a row.
About MeetKai Inc.
MeetKai Inc. is a Metaverse and Artificial Intelligence company based in Los Angeles, California. Listed by Forbes as a leading innovator in the space, MeetKai's cutting-edge AI can give personalized results in a natural conversation and boast expertise about any subject inside the metaverse. After reaching 50+ million users worldwide, MeetKai launched the most cost-effective and easy-to-use metaverse creation tools in the market and is currently building virtual worlds rooted in reality and true utility, accessible to everyone, via browser. Visit www.meetkai.com for more info and the latest MeetKai news.
For media inquiries, please contact:
BYD Contact:
Asia-Pacific: Liya Huang, pr@byd.com tel: +86-755-8988-8888-69666
Europe: Penny Peng, PressEU@byd.com tel: +31-102070888
North America: Frank Girardot, frank.girardot@byd.com tel: +1 213 245 6503
Latin America: José Miranda, jose.miranda@byd.com, tel: +56 9 96443906
Brazil: Pablo Toledo, pablo.toledo@byd.com tel: +19 3514 2554
Middle East and Africa: Nikki Li, li.namin@byd.com tel: +86-18938862670