The BYD ATTO 3 C-SUV is awarded with the maximum five-star rating by the leading independent European safety institute Euro NCAP. That is great news, but what does this mean?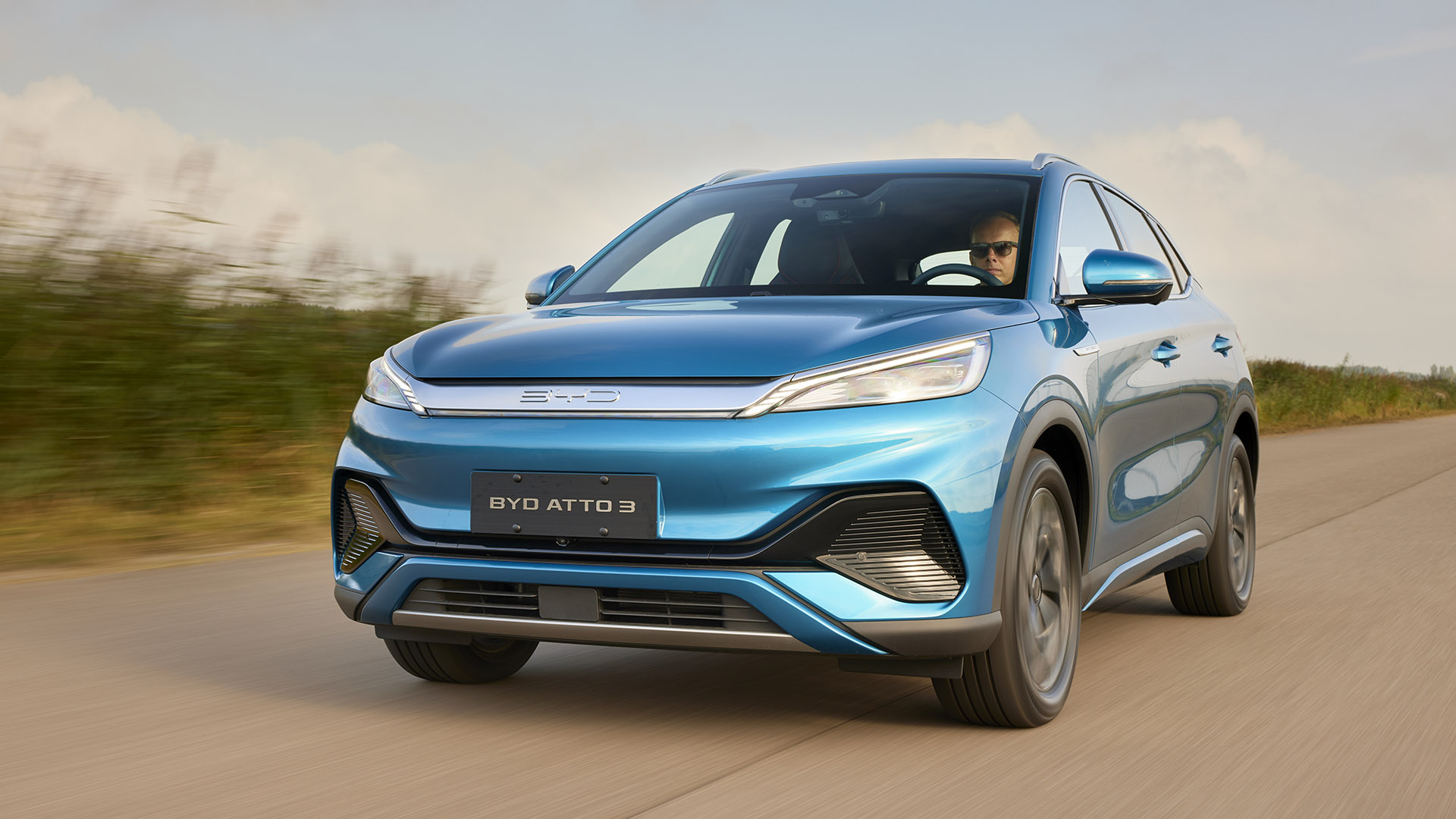 The fact that the BYD ATTO 3 has been awarded five stars by Euro NCAP implies that the model is one of the safest cars available today. This recognition by the independent safety institute means that the car performs excellently in all respects and is already equipped with a comprehensive range of driver assistance systems as standard in all European markets. Or as Euro NCAP puts it: "overall excellent performance in crash protection and well equipped with comprehensive and robust crash avoidance technology."
Euro NCAP's verdict
Some extracts from Euro NCAP's final verdict: "The passenger compartment of the ATTO 3 remained stable in the frontal offset test. Dummy numbers demonstrated good protection of the knees and femurs of both the driver and passenger. BYD showed that a similar level of protection would be provided to occupants of different sizes and to those sitting in different positions.
In the full-width rigid barrier test, protection of all critical body areas was good or adequate, for the dummies in the driver and rear passenger seats. In the side barrier test, protection of all critical body areas was good and the car scored maximum points.
Tests on the front seats and head restraints demonstrated good protection against whiplash injuries in the event of a rear-end collision. A geometric analysis of the rear seats also indicated good whiplash protection."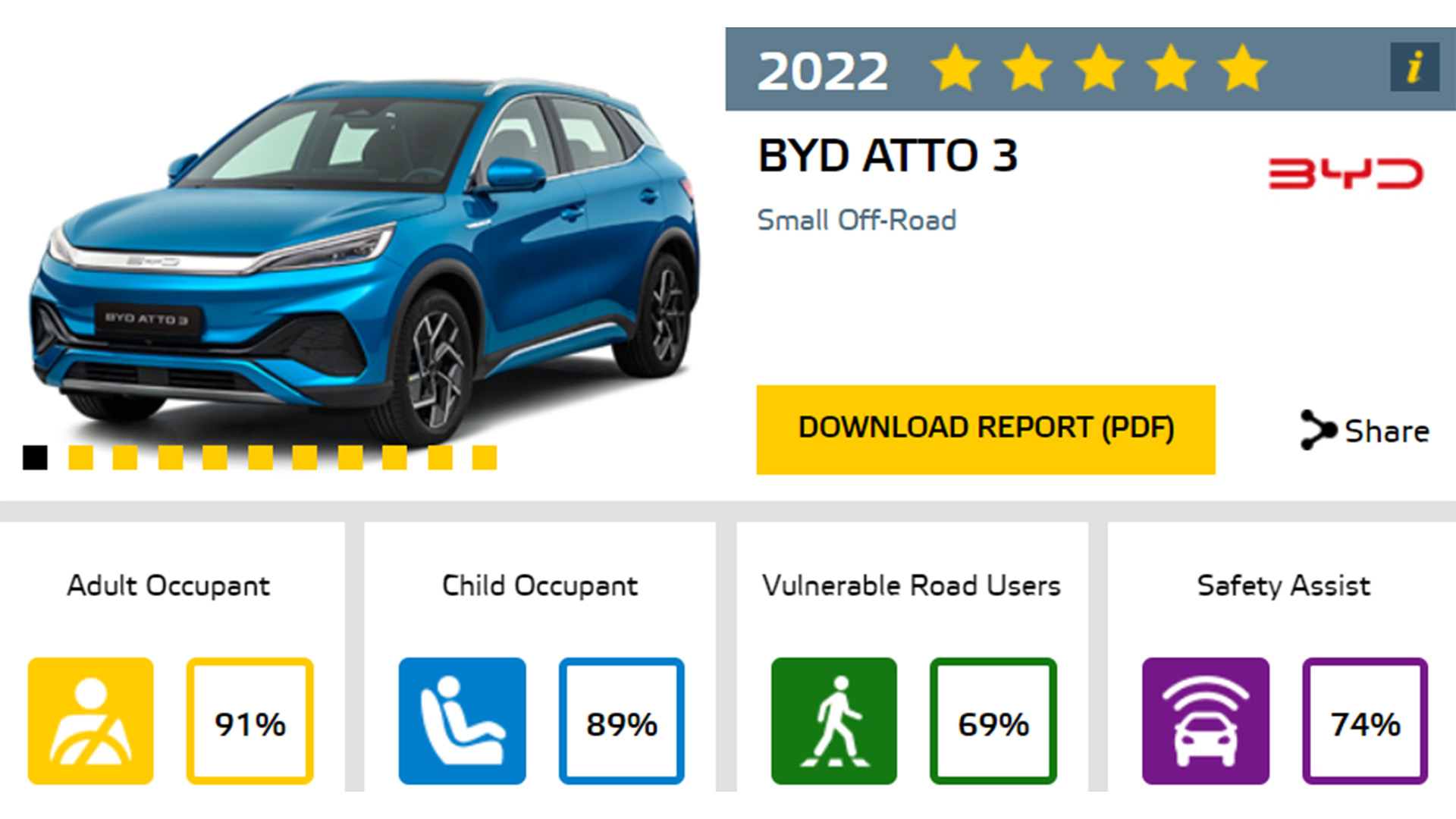 Intelligently designed
Key to the test result is BYD ATTO 3's new 'ultra-light and ultra-intelligent e-Platform 3.0', with a 'multi-load path' structure that controls how the energy is absorbed by the car in a crash, minimizing intrusion into the passenger cabin. Optimum occupant protection is also due to the new, reinforced, lightweight body structure with high torsional rigidity.
The ATTO 3 is equipped with a plethora of active and passive safety systems as standard. All grades are equipped with the advanced driver assistance systems, Forward Collision Warning, Automatic Emergency Braking, Rear Collision Warning, Rear Cross Traffic Alert and Rear Cross Traffic Brake, Lane Keep Assistance, Lane Change Assist and Lane Keep for emergencies.
Other driver aids include the Blind Spot Detection System, ESP, Traction Control, Hill Decent Control, Automatic Vehicle Hold, Intelligent Speed Limit Information and Intelligent Speed Limit Control. Comfort is assisted by Adaptive Cruise Control and Intelligent Cruise Control, while the panoramic camera gives the driver a 360-degree view for safe manoeuvring.
Safety is important
Safety is a very important theme in the development of new cars and an important purchasing argument for many European motorists. To get a fair and transparent view of how safe a new car really is and for a fair comparison with other cars, Euro NCAP developed a five-star rating system to provide consumers with insight into the safety level of new cars, both for occupants and other road users.
But what are the criteria? The cars are tested by Euro NCAP in various ways, with multiple copies actually crashing. They collide head-on, sideways, into a pole and into a pedestrian. Active driver assistance systems are also being tested. Euro NCAP's tests represent the most important, realistic accident scenarios that could result in serious or fatal injuries to occupants or other road users.
After extensive analysis of the crashed vehicles and the condition of the test dummies in the car, the car is rated from zero to a maximum of five stars. The dummies are also filmed by several HD cameras during the crash. In addition, the safety scores for occupants (adults and children) and pedestrians are listed, as well as the operation of the active safety systems.
Euro NCAP safety rating
0 star safety: Meeting type-approval standards so can legally be sold but lacking critical modern safety technology.
1 star safety: Marginal crash protection and little in the way of crash avoidance technology.
2 star safety: Nominal crash protection but lacking crash avoidance technology.
3 star safety: At least average occupant protection but not always equipped with the latest crash avoidance features.
4 star safety: Overall good performance in crash protection and all round; additional crash avoidance technology may be present.
5 star safety: Overall excellent performance in crash protection and well equipped with comprehensive and robust crash avoidance technology.
The Euro NCAP assessment goes further than the legal requirements. The number of stars shows how well the car performs in tests. But it's also influenced by the safety equipment that the car manufacturer offers in all markets. A high number of stars thus shows that not only the test result was good. Is also shows that the safety equipment on the tested model is available to all consumers in Europe.
See more about the Euro NCAP assessment of the BYD ATTO 3
Product highlight's BYD ATTO 3:
Warranty
Battery: 8 years or 200,000 km, SOH 70%.
Motor/electric control: 8 years or 150,000 km.
Bodywork (anti-corrosion perforation): 12 years.
Complete vehicle warranty: 4 years or 120,000 km.

Acceleration 0-100 km/h

7.3 sec

Top speed

160 km/h

Battery capacity

60.48 kWh

Range

565 km (WLTP City)

420 km (WLTP combined)

DC charging speed 30-80%

29 mins (150 kW)

Cargo space

440 / 555 / 1,338 litres

Dimensions

Length 4,455 mm

Width 1,875 mm

Height 1,615 mm

Curb weight

1,750 kg