Sleek, aerodynamic, efficient and sporty BYD HAN sedan is the flagship model in BYD's range of high performance electric cars. Delivering state-of-the-art technology and exceptional refinement, the BYD HAN offers exhilarating performance on all wheels thanks to its revolutionary twin electric motors and ultra-safe blade battery.
There will be one variant of the HAN with excellent standard equipment. It will showcase the capabilities of BYD's technology and performance, which has already received widespread acclaim in the home market.
Dynamic silhouette
The BYD HAN has been styled by Wolfgang Egger, Design Director, and his team. It adopts BYD's Dragon Face design language, a direction inspired by thousands of years of Chinese culture that combines the best of Eastern and Western design aesthetics. From the distinctive front grille, Dragon Claw taillights and other features, the car's design creates a distinctive, confident car that ushers in a new era for Chinese-made luxury cars. Named after the famous Chinese Han dynasty, its styling has already won a world-renowned design award in 2021 with the prestigious iF Design Award.
With a low bonnet and raised fenders, the shape of the HAN has also been optimized for aerodynamic efficiency. The HAN's sleek tapered body contours, flush-fitting door handles and dynamic silhouette give it a drag coefficient of just 0.233 cd, contributing to its impressive 521 km range (WLTP). Dramatic LED lighting with crystal streamers, rear privacy glass, full-width LED taillights and 19-inch alloy wheels further emphasize BYD HAN's performance-oriented sporting qualities.

Attention to detail

The interior of the BYD HAN features intricate attention to detail for a truly opulent and premium feel. The luxury seats are made of soft perforated Nappa leather, complete with power adjustment and memory functions. Quilted diamond leather adorns the doors and contrasting black leather on the dashboard and door leaves. Both the front and rear seats are heated and ventilated for added comfort, while rear seat passengers can enjoy a real sense of luxury with the electrically adjustable backrest. Rear seat passengers were also treated to their own 7-inch 'media pad' built into the centre armrest that allows for temperature and airflow control, panoramic sunroof controls and a choice of 31 ambient lighting combinations.
The tactile theme is continued through the creative use of varied materials, including real wood and aluminium, reflecting the pursuit of balance, nature and perfection. The panoramic roof lets in natural daylight to enhance the feeling of space in the cabin, while also protecting against ultraviolet light and reducing noise levels. Journeys are enriched by the exceptional sound quality of the Dynoaudio Surround Sound system, developed and tuned in Denmark, and delivered through 12 speakers.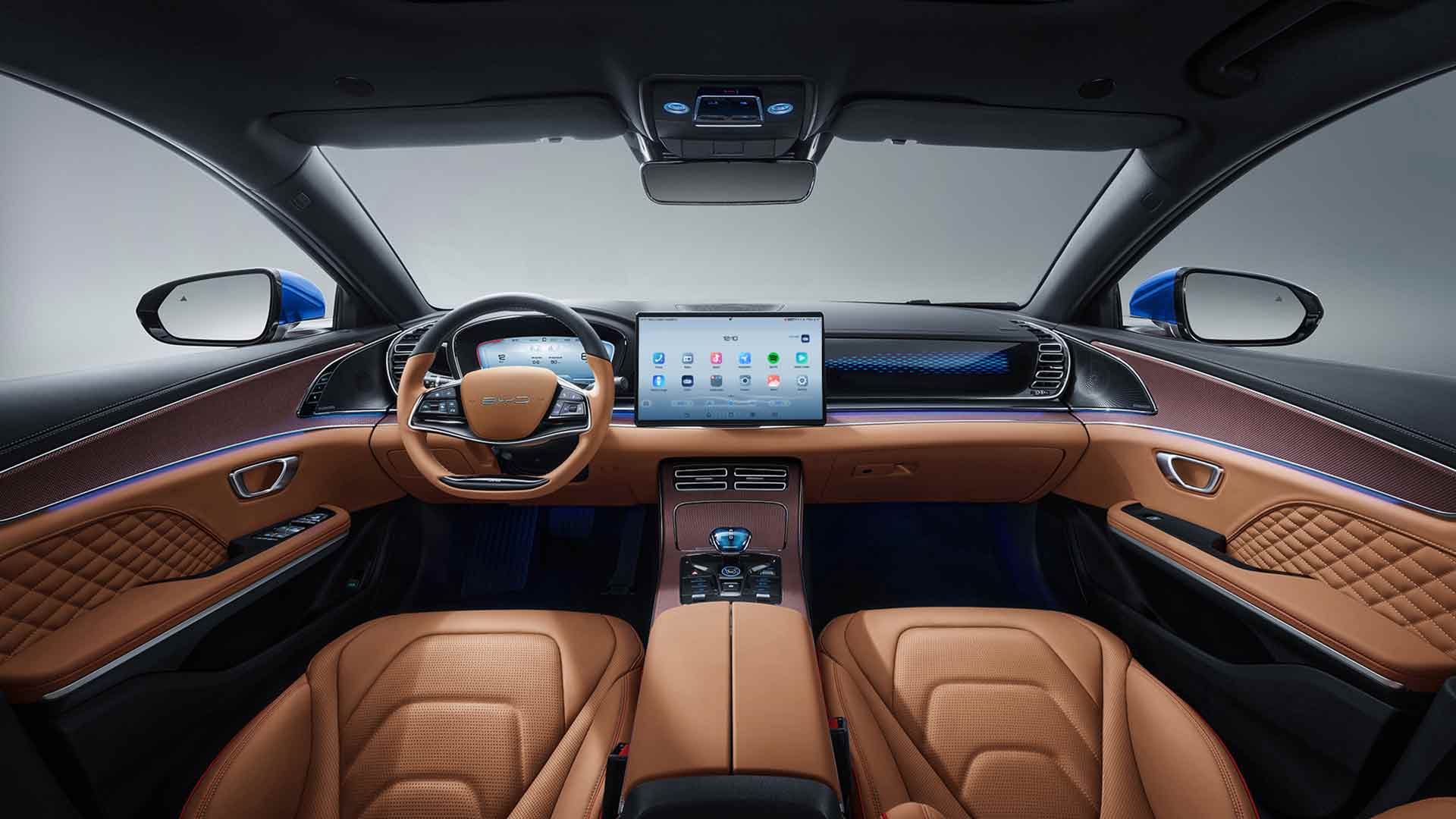 Technology for the driver
BYD HAN's comprehensive infotainment technology is designed to enrich the owner's experience. The multimedia system can be operated via a 15.6-inch HD screen. In addition, a wide range of technology and app features are available, including the BYD Connected Drive app, which allows owners to remotely access vehicle information and even activate key functions such as preheating the cab.
With technology as its primary focus, the BYD HAN offers 4G connectivity and features the DiPilot intelligent driver assistance system with self-learning skills. With this, the HAN BYD guarantees the most intelligent and connected driving experience to date. BYD Intelligent Driving Assistance offers a wealth of electronic tools for safer travel, including Blind Spot Detection, Front Collision Warning, Automatic Emergency Braking, Rear Collision Warning, Rear Cross Traffic Alerts and Lane Change Assistance.

Other driver technology includes a Head-Up Display that provides information such as speed and Lane Departure Warning, Bluetooth phone, Lane Departure Warning and Adaptive Cruise Control display upon activation. The BYD HAN also features a 360-degree surround view camera that provides the best possible information when manoeuvring in tight spaces or parking. Intelligent adaptive cruise control helps maintain a safe distance from the vehicle in front while reducing driver fatigue.

To provide even more functionality, the addition of Vehicle-to-Load (V2L) technology enables the use of electronic equipment that is connected and powered by the car.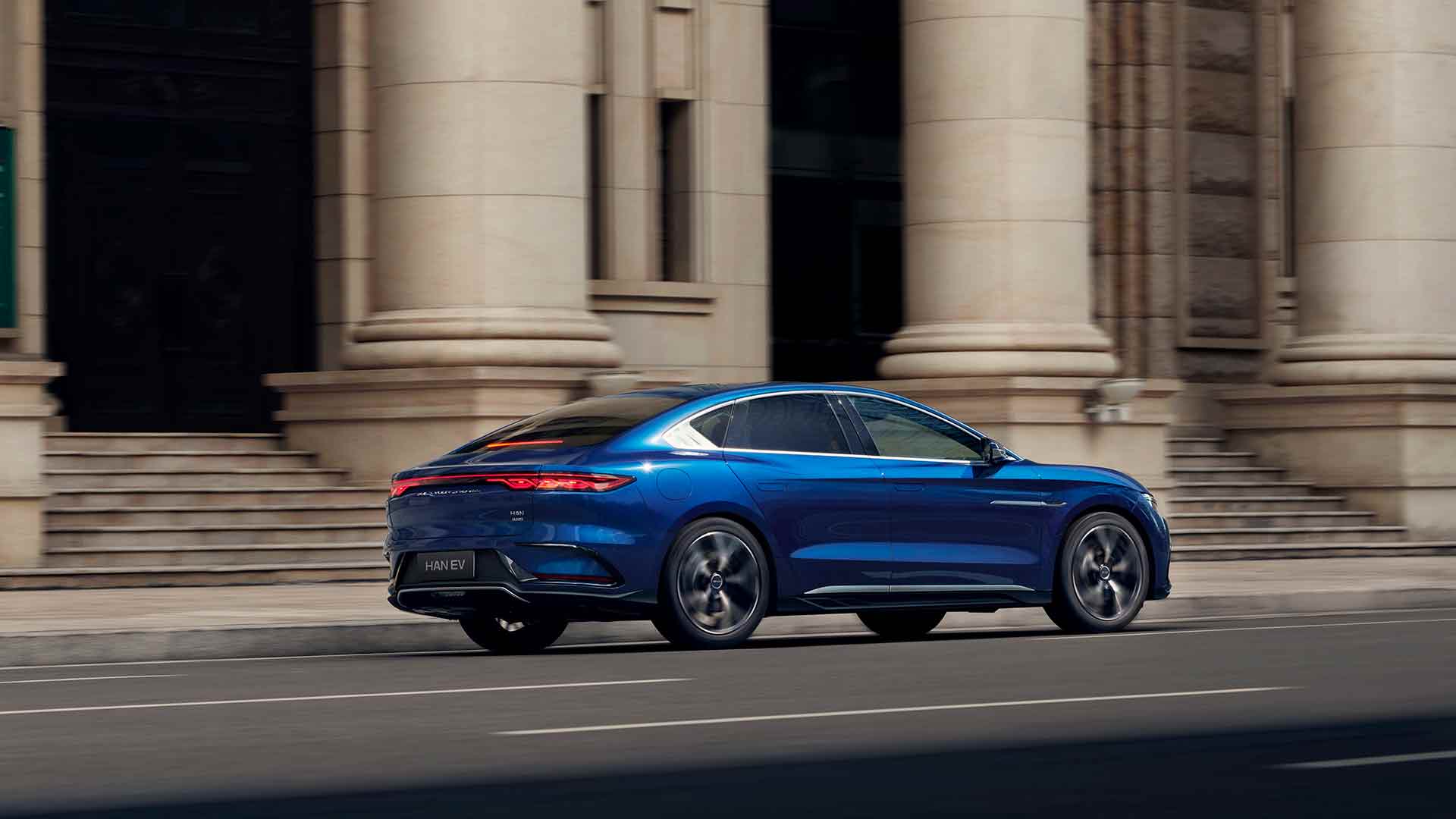 Product highlight's BYD HAN:
Warranty
Battery: 8 years or 160,000 km, SOH 70%.
Motor/electric control: 5 years or 100,000 km.
Paintwork: 3 years.
Complete vehicle warranty: 5 years or 100,000 km.

Acceleration 0-100 km/h

3.9 sec

Top speed

180 km/h

Battery capacity

85.4 kWh

Range

521 km (WLTP City)

Dimensions

Length 4,995 mm

Width 1,910 mm

Height 1,495 mm

Curb weight

2,250 kg