· BYD announces cooperation with seven key dealers for its electric car range in Germany forming a nationwide dealership network
· The dealers will provide regional sales and aftersales services to customers throughout Germany starting before the end of 2022/early 2023
· Pioneering retail stores will gradually open in cities across Germany allowing customers to experience BYD products featuring ground-breaking technology for the EV sector
BYD (Build Your Dreams), the world's leading manufacturer of new energy vehicles, revealed the seven dealers to represent its pure-electric passenger car range in Germany at the Paris Motor Show 2022, who collectively establish a nationwide network of BYD dealerships.
Germany, with its respected automotive heritage, is considered of significant importance to BYD as it introduces its eco-friendly electric cars to customers in Europe. Recognising Germany's discerning customerbase, BYD has chosen to collaborate with the country's prevalent dealer groups to develop the market.
Through this network of professional dealers, BYD presents its high-quality range of electric cars and latest innovations in EV technology to German customers for the first time, combining safety, efficiency and performance with premium, high-tech experiences as standard specification for all-round value. This includes the sporty BYD HAN E-segment Sedan, the seven-seater BYD TANG E-Segment SUV and the BYD ATTO 3 C-Segment SUV, as showcased at the Paris Motor Show. Quality customer service is fundamental to the BYD experience, with the dealer network providing knowledgeable localised sales and aftersales support for German customers starting towards the end of this year and into 2023.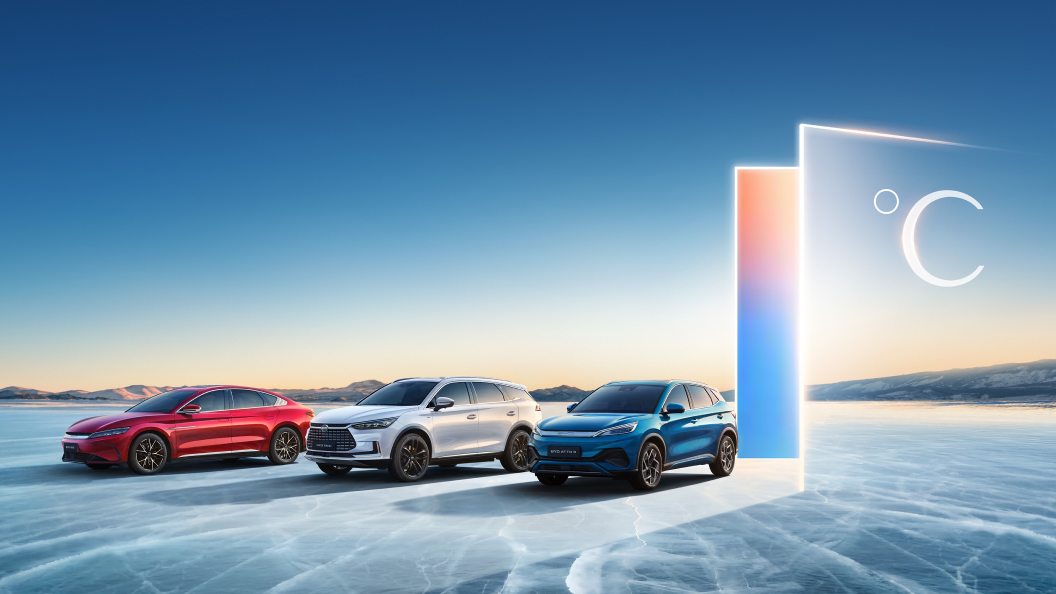 BYD launched three electric cars at the Paris Motor Show
In line with this, is the opening of a series of pioneering retail stores in major cities in Germany allowing customers the opportunity to become familiarised with the BYD brand and its technologically advanced EV products. These stores will be located in Munich (Reisacher), Berlin (Stern Auto), Hamburg (Stern Partner), Stuttgart (Hedin), Frankfurt (Torpedo), Koln (Senger) and Ravensburg (Reiss).
BYD, through its relentless commitment to the development of sustainable eco-friendly technologies, is empowering the transition to eMobility, with total solutions for energy generation, storage and charging. BYD will be working with the dealership network to explore new opportunities for deeper collaborations to introduce products to further support the EV infrastructure in Germany. With this 'green vision' as a goal, and as the BYD brand evolves, it is anticipated that the dealer network will also create several hundred job opportunities, further supporting local economies in Germany.
Michael Shu, General Manager and Managing Director, BYD Europe and International Cooperation Division, said: "As BYD electric cars enter European markets, we recognise the significance of meeting the high expectations of customers in Germany and above all, respect the local automobile ecosystem That is why we place so much value in local cooperations giving consumers access to comprehensive local resources and high levels of customer service. Accordingly, we have carefully appointed established dealers who have extensive market experience and strong consumer recognition, at key locations across Germany. We are always focused on the customer and, it is imperative that our quality products are matched with the same level of quality service . The appointment of our dealership network in Germany is a pivotal moment for BYD in Europe."
About BYD
BYD is a multinational high-tech company devoted to leveraging technological innovations for a better life. Founded in 1995 as a rechargeable battery maker, BYD now boasts a diverse business scope covering automobiles, rail transit, new energy, and electronics, with over 30 industrial parks in China, the United States, Canada, Japan, Brazil, Hungary, and India. From energy generation and storage to its applications, BYD is dedicated to providing zero-emission energy solutions that reduce global reliance on fossil fuels. Its new energy vehicle footprint now covers 6 continents, over 70 countries and regions, and more than 400 cities. Listed in both Hong Kong and Shenzhen Stock Exchanges, the company is known to be a Fortune Global 500 enterprise that furnishes innovations in pursuit of a greener world.
About BYD Auto
Founded in 2003, BYD Auto is the automotive subsidiary of BYD, a multinational high-tech company devoted to leveraging technological innovations for a better life. Aiming to accelerate the green transition of the global transportation sector, BYD Auto focuses on developing pure electric and plug-in hybrid vehicles. The company has mastered the core technologies of the entire industrial chain of new energy vehicles, such as batteries, electric motors, electronic controllers, and automotive-grade semiconductors. It has witnessed in recent years significant technological advancements, including the Blade Battery, the DM-i and DM-p hybrid technology, the e-Platform 3.0, and the CTB technology. The company is the world's first carmaker to stop the production of fossil-fueled vehicles on EV shift and has remained top of new energy passenger vehicle sales in China for 9 years in a row.
About BYD Europe
BYD Europe is headquartered in the Netherlands and is the first overseas branch of BYD Group, with a commitment to deliver safe and efficient sustainable solutions in new energy vehicles through world-leading technological innovations.
For more information, please visit www.byd.com.
Contact:

Asia-Pacific: Mia Gu, mia.gu@byd.com tel: +86-755-8988-8888-69666
Europe: Penny Peng, PressEU@byd.com tel: +31-102070888
North America: Frank Girardot, frank.girardot@byd.com tel: +1 213 245 6503
Latin America: Sofίa Mardones, sofia.mardones@byd.com tel: +56 9 9821 6851
Brazil: Adalberto Maluf, adalberto.maluf@byd.com tel: +19 3514 2554
Africa: Nikki Li, li.namin@byd.com tel: +86-18938862670