· 2,333 BYD vehicles were delivered to Israel in November, propelling the automaker into first place for electric vehicle deliveries by the month end
· The BYD ATTO 3 all-electric C-Segment SUV was November's best-selling vehicle in Israel
· BYD also ranked third for registrations across all brands in Israel in November
· This result has been achieved just two months after launching its range of electric passenger cars in Israel
BYD (Build Your Dreams), the world's leading manufacturer of new energy vehicles, ranked top of the sales leaderboard achieving the number one position for sales of BYD ATTO 3 models in Israel in November 2022. BYD was also the third best selling brand overall. BYD's Israeli distributor, Shlomo Motors, ended November with 2333 vehicle deliveries of which the BYD ATTO 3 was the best-selling model in Israel that month.
The pure-electric BYD ATTO 3 brings pioneering technology and expressive design to the competitive C-segment SUV market. Built on BYD's innovative e-Platform 3.0 it combines modern aesthetics with exceptional intelligence and efficiency, benefiting from the ultra-safe Blade Battery. The Blade Battery has a 420km range (WLTP combined) and can be DC charged in just 29 minutes. The BYD ATTO 3 achieved five-star rating in Euro NCAP safety tests.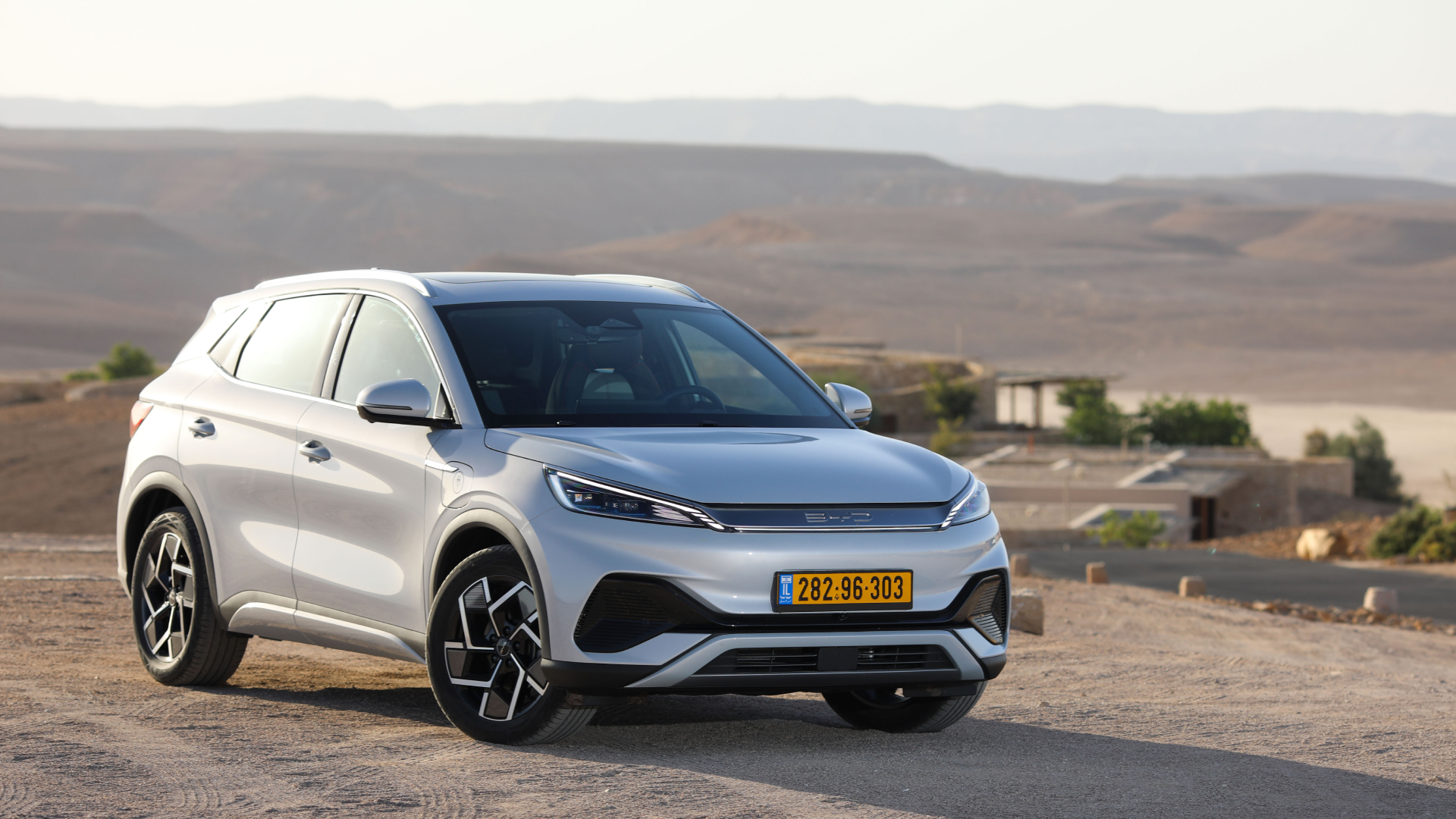 BYD ATTO 3
BYD is the world's leading manufacturer of new energy vehicles (NEV). In 2022 BYD has so far sold over one million new energy vehicles and in excess of three million vehicles since it first started production. BYD produces electric and PHEV vehicles only in order to concentrate on an electric future, upholding its commitment to help cool the earth by one degree.
BYD's entry into the Israeli passenger car market was made simultaneously with its debut in other European markets. Shlomo Motors, as BYD's distributor in Israel, has already opened two impressive showrooms in Petah Tikva and Haifa, with two more in Jerusalem and Be'er Sheva opening before the end of 2022. The opening of a further two showrooms in Bnei Brak and Nazareth is anticipated for early 2023, bringing the total number in Israel to six. Through the provision of such innovative retail experiences, BYD places great importance on high levels of customer care and aftersales services.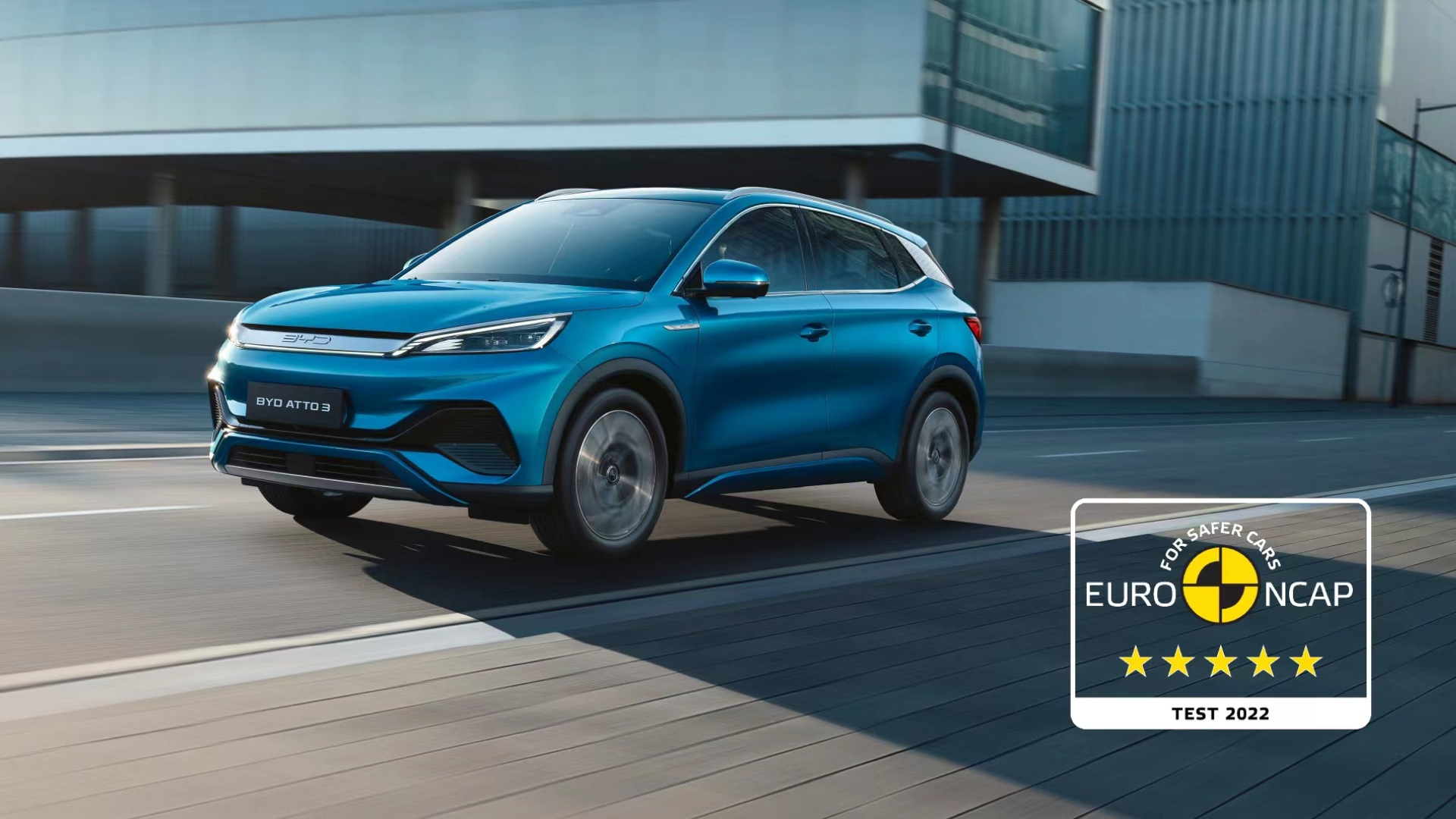 BYD ATTO 3 scores five-star rating in Euro NCAP safety tests
Michael Shu, General Manager and Managing Director, BYD Europe and International Cooperation Division, said: "We are delighted to achieve these results in just two months after we first launched our passenger cars in the country, in conjunction with our distribution partner, Shlomo Motors. This is just the start for BYD in Israel and we are excited about the future as we bring world-leading technology and innovative, safe and reliable products to Israeli consumers, which we hope will inspire even more customers to choose an electric car for their next vehicle."
HD Photos: https://we.tl/t-Iq7UtmQfRX
About BYD
BYD is a multinational high-tech company devoted to leveraging technological innovations for a better life. Founded in 1995 as a rechargeable battery maker, BYD now boasts a diverse business scope covering automobiles, rail transit, new energy, and electronics, with over 30 industrial parks in China, the United States, Canada, Japan, Brazil, Hungary, and India. From energy generation and storage to its applications, BYD is dedicated to providing zero-emission energy solutions that reduce global reliance on fossil fuels. Its new energy vehicle footprint now covers 6 continents, over 70 countries and regions, and more than 400 cities. Listed in both Hong Kong and Shenzhen Stock Exchanges, the company is known to be a Fortune Global 500 enterprise that furnishes innovations in pursuit of a greener world.
About BYD Europe
BYD Europe is headquartered in the Netherlands and is the first overseas branch of BYD Group, with a commitment to delivering safe and efficient sustainable solutions in new energy vehicles through world-leading technological innovations.
About BYD Auto
Founded in 2003, BYD Auto is the automotive subsidiary of BYD, a multinational high-tech company devoted to leveraging technological innovations for a better life. Aiming to accelerate the green transition of the global transportation sector, BYD Auto focuses on developing pure electric and plug-in hybrid vehicles. The company has mastered the core technologies of the entire industrial chain of new energy vehicles, such as batteries, electric motors, electronic controllers, and automotive-grade semiconductors. It has witnessed in recent years significant technological advancements, including the Blade Battery, the DM-i and DM-p hybrid technology, the e-Platform 3.0, and the CTB technology. The company is the world's first carmaker to stop the production of fossil-fueled vehicles on EV shift and has remained top of new energy passenger vehicle sales in China for 9 years in a row.
For more information, please visit www.byd.com.
Contact:
Europe: Penny Peng, PressEU@byd.com tel: +31-102070888