BYD's pure-electric passenger vehicle range enters the Spanish automotive market, bringing new eco-friendly and technologically advanced choices to consumers in Spain
The launch range includes BYD ATTO 3, BYD TANG, and BYD HAN
Sales commence with the opening of the first two BYD Pioneer Stores in Madrid and Barcelona, with plans for additional retail outlets in Barcelona, Madrid, Valencia, the Canary Islands, Malaga and Seville during 2023
Madrid, Spain - BYD (Build Your Dreams), the world's leading manufacturer of new energy vehicles and power batteries, introduces a range of pure-electric vehicles to consumers in Spain. Three models make up BYD's collection debuting in Spain: the BYD ATTO 3 C-Segment SUV, the BYD TANG SUV, and the BYD HAN executive sedan. All feature BYD's innovative technology that is inspiring the EV market on a global scale, bringing exciting new 100% electric eco-friendly vehicle choices with high levels of standard equipment to consumers in Spain.
BYD customers in Spain will have localised sales and aftersales support from three of the country's most established automotive distribution groups: Astara, Quadis, and Caetano Retail Spain. There will be two BYD Pioneer Stores opening soon, one in Barcelona (Avenida Aragó 29) and the other in Madrid, on 20 Concha Espina Street, giving customers the opportunity to view and experience the future ways of mobility.
3 ELECTRIC BYD MODELS: BYD ATTO 3, BYD TANG, and BYD HAN
Customers in Spain now have access to electric vehicles such as the expressive BYD ATTO 3, a C-Segment SUV with modern European design, creating a dynamic silhouette. The BYD ATTO 3 offers exceptional intelligence and efficiency derived from pioneering EV technology. It is the first SUV to be built on BYD's latest e-Platform 3.0. With a 60.5 kWh battery, the BYD ATTO 3 has a WLTP city range of 565 km and 420 km (WLTP combined) with an acceleration of 0-100 km/h in 7.3s. The BYD ATTO 3 has scored Five-Star Rating in Euro NCAP Safety Tests. It is available in two trim levels: Comfort and Design. Starting Price is 41,400 euros.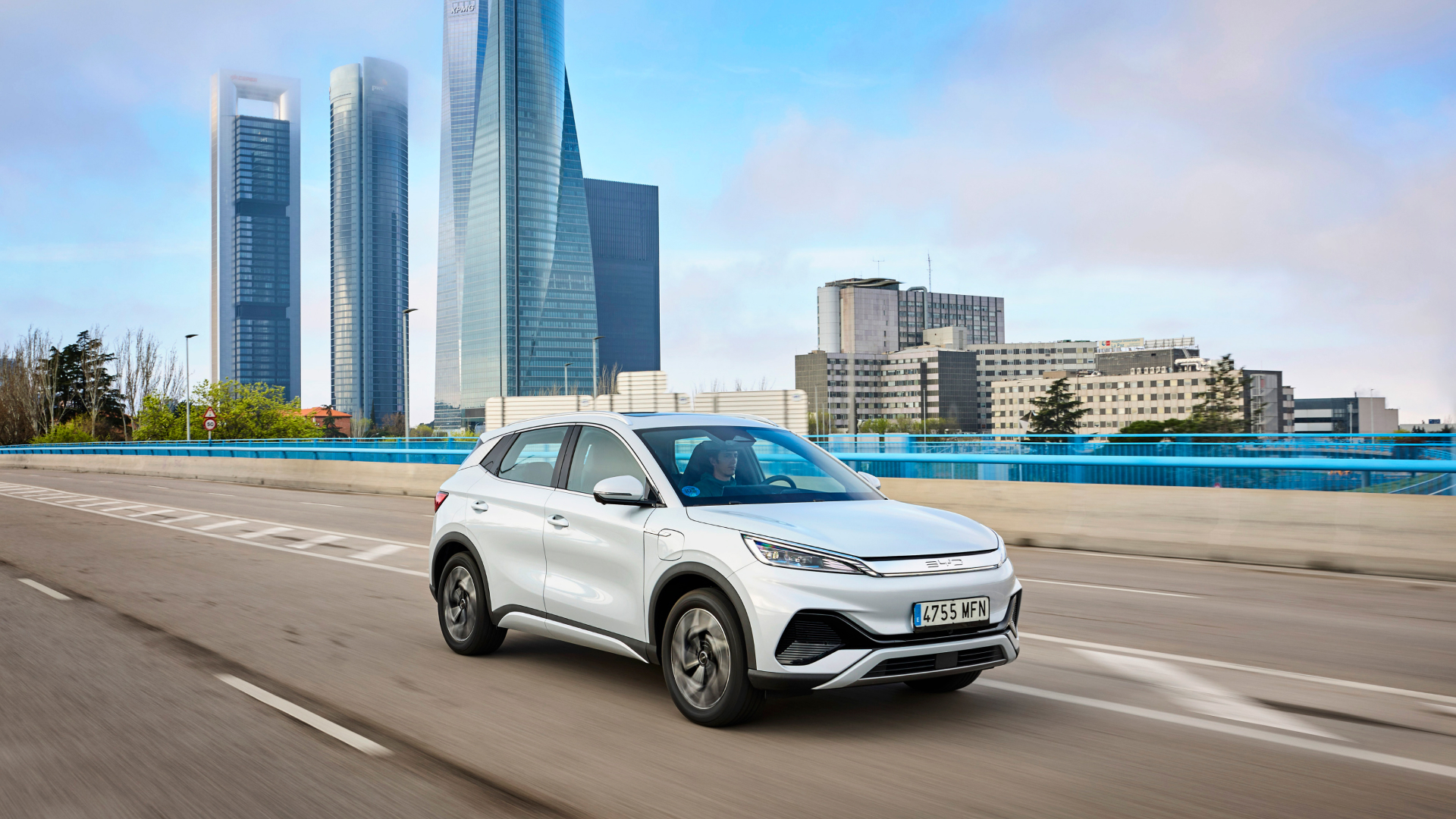 BYD ATTO 3 in Madrid
This is joined by the larger BYD TANG, a family-sized pure-electric SUV with a capacity for 7 people and a high-tech premium feeling interior with refined elegance. The BYD TANG is AWD, with the quick acceleration of 0-100km/h in 4.6s and a range of 528 km (WLTP city) and 400 km (WLTP combined). Independently tested by Motor and NAF in Norway, the BYD Tang achieved the lowest level of battery degradation in cold climate conditions versus over 30 other electric vehicles tested. Starting Price is 69,990 euros.
Completing the initial range is the BYD HAN, a premium electric sedan with a luxurious interior finish. The twin electric motors supply an all-wheel-drive system, delivering enhanced handling and superb traction in all weather conditions. Combined, they deliver an impressive 380 kW or 516 horsepower, enabling a 0-100 km/h sprint time of just 3.9 seconds. The BYD HAN offers the perfect balance of elegance and sportiness with a WLTP range of 662 km (city) and 521 km (WLTP combined). Starting price is 69,990 euros.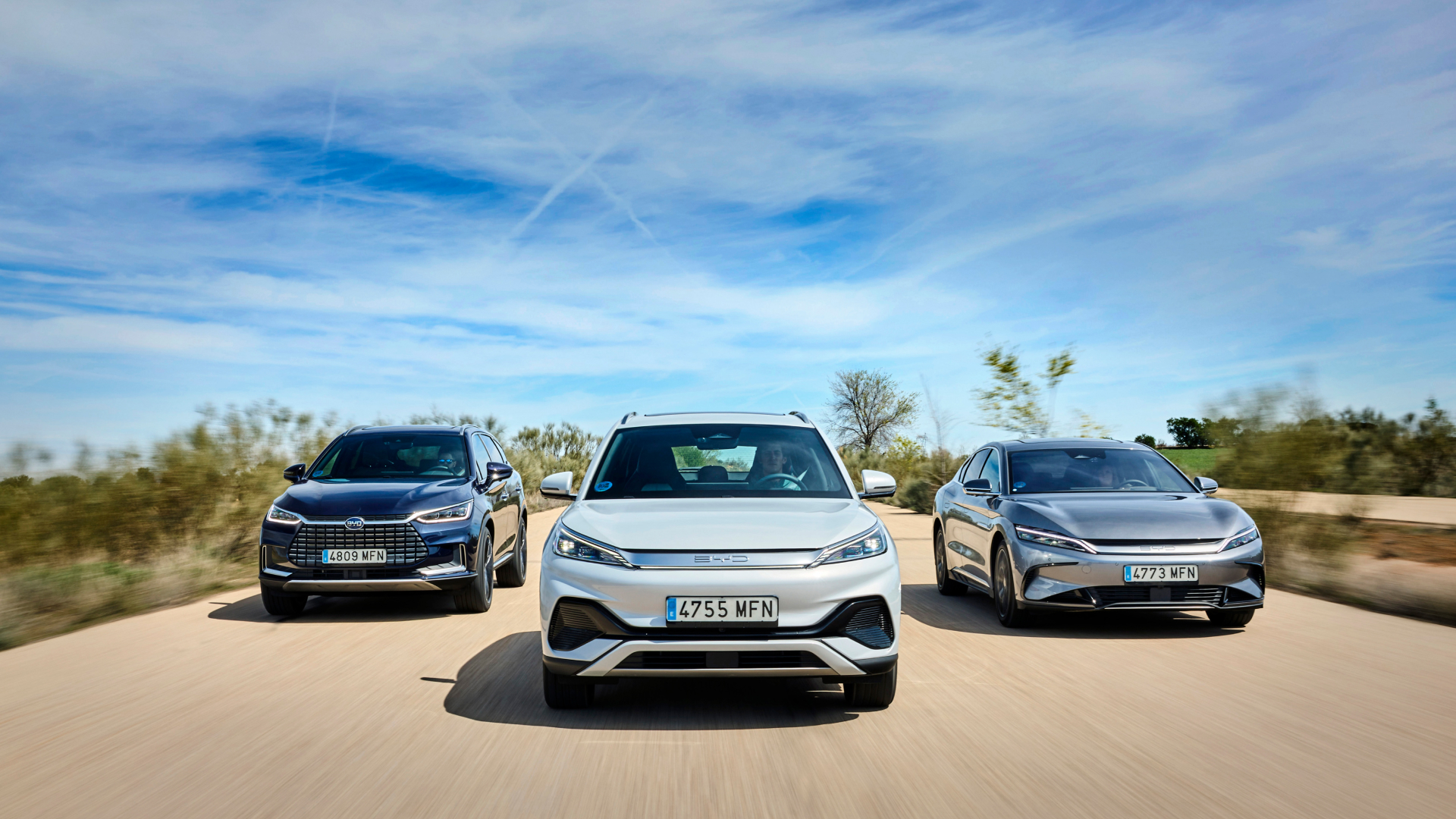 BYD TANG, BYD ATTO 3, and BYD HAN
All three BYD models utilise the safe and durable Blade Battery which has surpassed rigorous safety tests, including the nail penetration test.
BYD's Innovation in EV Technology for a Sustainable Future
While BYD's zero-emission cars enter the Spanish automotive market for the first time, the brand has over two decades' expertise in the research and development of battery, and a long heritage in electric mobility across many spheres of transportation. Worldwide, BYD's new energy vehicles (including all-electric and plug-in hybrid models) account for 1,868,543 sales during 2022.
BYD has been dedicated to innovation in safe and reliable technology for a greener future, underpinning its pledge to the global effort to help 'Cool the Earth by 1°C'. BYD's ground-breaking technologies and commitment to sustainable innovation have earned worldwide recognition.
BYD in Europe
BYD Europe, with headquarters in the Netherlands, has a presence in many countries including Norway, Denmark, Sweden, Germany, France, the Netherlands, and Belgium, as well as most recently the UK. Other European countries will follow imminently.