Shenzhen, China - BYD, the world's leading manufacturer of new energy vehicles and power batteries, rolled off its 5 millionth new energy vehicle (NEV), a DENZA N7, on August 9th, making it the first automaker in the world to achieve this milestone.
BYD rolled off its 5 millionth NEV
"Today marks a historic moment for BYD as we witness our 5 millionth new energy vehicle rolls off the production line", said Wang Chuanfu, Chairman and President of the company, at the ceremony held at BYD's global headquarters to celebrate this momentous achievement. "On this special occasion, we would like to extend our sincere gratitude to our customers across the globe for their trust in our products, our partners in the industry for this journey shared together, and every one of our employees whose hard work and dedication have made this landmark possible."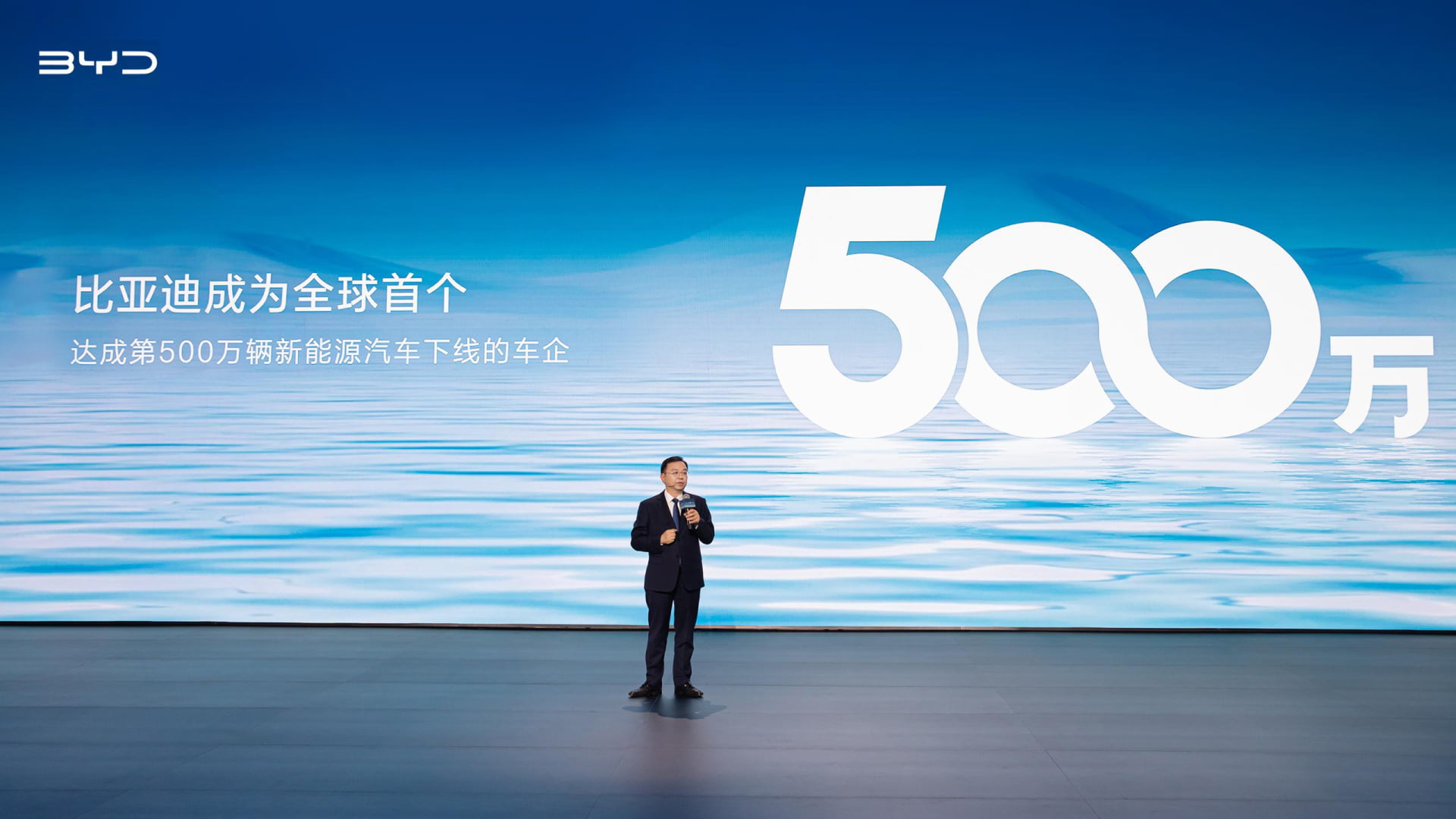 Wang Chuanfu, Chairman and President of BYD
BYD spent 13 years for the first million new energy vehicles, another 18 months to reach three million, and today astoundingly, just 9 more months to hit the five million mark. In 2022, BYD's new energy vehicles saw remarkable growth, with total sales surpassing 1.86 million. The momentum continued in 2023, as the company reached an impressive cumulative sales volume of 1.5 million units from January to July, including a notable 92,469 units sold overseas which exceeded the total overseas sales for the entire year of 2022. As of July 2023, BYD's global new energy vehicle sales have soared beyond 4.8 million units accumulatively, another testament to the company's commitment to sustainable transportation solutions.
BYD has been actively expanding its global presence since 2010, strategically introducing new energy buses and taxis for public transit electrification. With a decade of dedicated efforts, BYD's electric public transport solutions are now operational in over 400 cities across more than 70 countries. Meanwhile, BYD's new energy vehicles have now made a mark in over 54 countries, with the BYD ATTO 3, one of its standout models, leading NEV sales in Thailand, Israel, and Singapore for several months. In a significant move in July 2023, BYD announced plans for three new factories in Brazil, reinforcing its role as a driving force in the industry.
Since its foundation in 1995, BYD has consistently been at the forefront of technological advancements. Innovations like Blade Battery, DM-i Super Hybrid System, e-Platform 3.0, CTB Technology, e4 Platform, and the DiSus Intelligent Body Control System, have set new standards in the industry and solidified BYD's position as a trailblazer in the electric vehicle market. In 2022, BYD invested over RMB 20 billion in research and development, experiencing a remarkable 90.31% year-on-year increase. As of July 2023, fueled by a robust team of more than 90,000 R&D professionals, BYD has showcased its innovative prowess by filing for over 40,000 patents on a global scale, with more than 28,000 of these patents already approved.
In the future, BYD, already taking the lead in the new energy revolution, will remain true to its aspiration of eco-friendliness and provide better mobility experiences to more customers around the world, accelerating the transition towards a greener future and contributing to its vision to Cool the Earth by 1°C.