BYD's D-segment sedan SEAL and C-segment family hatchback DOLPHIN achieve five-star ratings in Euro NCAP tests underpinning the safety benefits derived from BYD's latest e-Platform 3.0.
Excellent results include scores of 89% for adult occupant protection and 87% for child occupant protection.
The new models benefit from the ultra-safe Blade Battery, the ultimate in system efficiency and integrated vehicle intelligence.
The all-new BYD SEAL and BYD DOLPHIN full-electric vehicles have been awarded five-star safety ratings by Euro NCAP, Europe's leading independent safety assessment program. The D-segment sedan BYD SEAL performed to a very high standard throughout the whole safety test process, illustrating the vehicle's exceptional active and passive safety credentials and the structural benefits of BYD CTB (Cell to Body) technology. BYD's C-segment hatchback, the BYD DOLPHIN, proved its excellent quality with high scores on adult and child occupant protection.
Euro NCAP created the star safety rating system to help consumers, their families and businesses compare vehicles more easily and to help them identify the safest choice for their needs. Both the BYD SEAL (D-segment sedan) and the BYD DOLPHIN (C-segment hatchback) received 5-star awards. Both the BYD SEAL and the BYD DOLPHIN were assessed by Euro NCAP engineers in four categories: adult occupant protection, child occupant protection, safety assistance, and protection for vulnerable road users.
BYD build quality and technology praised
Key to the maximum test result is BYD's build quality and technology. BYD's new generation e-Platform 3.0, comprises the world's first mass-produced highly integrated 8-in-1 electric powertrain connecting all electric control units and management systems, and the rigorously tested ultra-safe Blade Battery. The BYD e-Platform 3.0 features a 'multi-load path' structure controlling how energy is absorbed by the car in the event of a collision, minimising intrusion into the passenger cabin.
Advanced Cell-to-Body technology
Passenger protection is further enhanced by a reinforced body structure with high torsional rigidity. The BYD SEAL has a super-sportscar-like torsional stiffness of 40,500-N.m/degree. During the safety test, this extra quality resulted in an excellent 89% score for Adult Occupant protection. Thanks to the Cell-to-Body (CTB) technology that enhances vehicle safety, also the passenger compartment of the BYD SEAL remained stable in the frontal offset test, showing good protection for both driver and passenger. Also, the BYD SEAL offered good protection against whiplash injuries. The advanced eCall-system and the system that applies the brakes after an impact to avoid secondary collisions received an extra mention.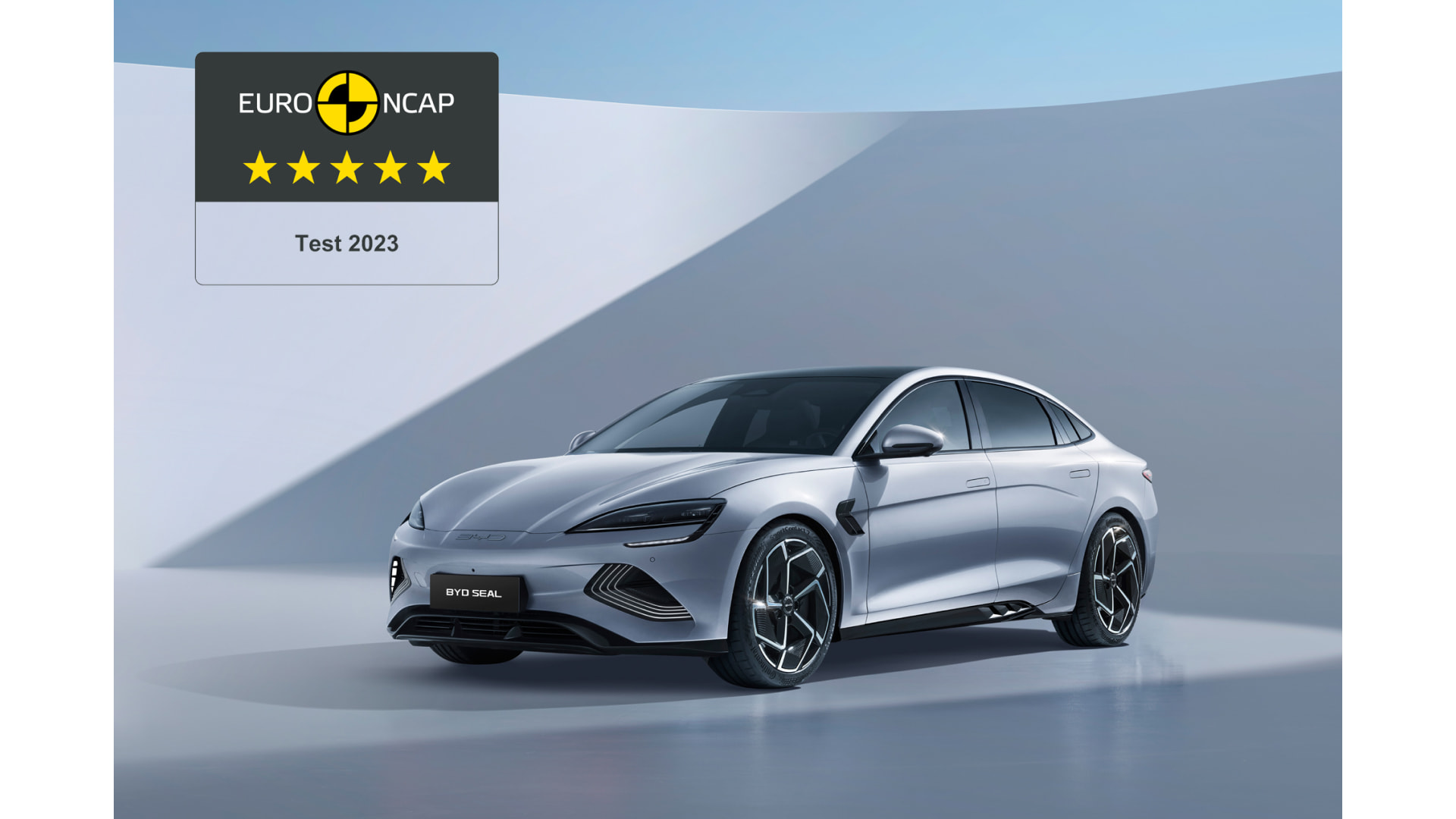 BYD SEAL scores five-star rating in Euro NCAP safety tests
In the Child Occupant protection tests, the BYD SEAL achieved an 87% score, minimising impact to all critical body areas for both child dummies in both frontal and side barrier tests. Vulnerable Road Users like pedestrians, or cyclists, are with 82% adequately protected due to the Autonomous Emergency Braking System (AEB). The system that warns against door opening if a cyclist is approaching from behind received an extra acknowledgement from Euro NCAP.
Maximum safety result for the BYD DOLPHIN
The BYD DOLPHIN also received a maximum score in the Euro NCAP Safety Test derived from an abundance of safety and advanced driver assistance that feature as standard equipment. For Adult Occupant protection, the BYD DOLPHIN scored an impressive 89%, with Euro NCAP praising how the passenger compartment remained stable in the frontal offset test, offering good protection to occupants of different sizes and those sitting in different positions. In the Child Occupant protection tests, the BYD DOLPHIN achieved 87%, minimising impact to all critical body areas for both six and ten-year-old representative dummies. Also the test on the front seats and head restraints demonstrated good protection against whiplash injuries in the event of a rear-end collision.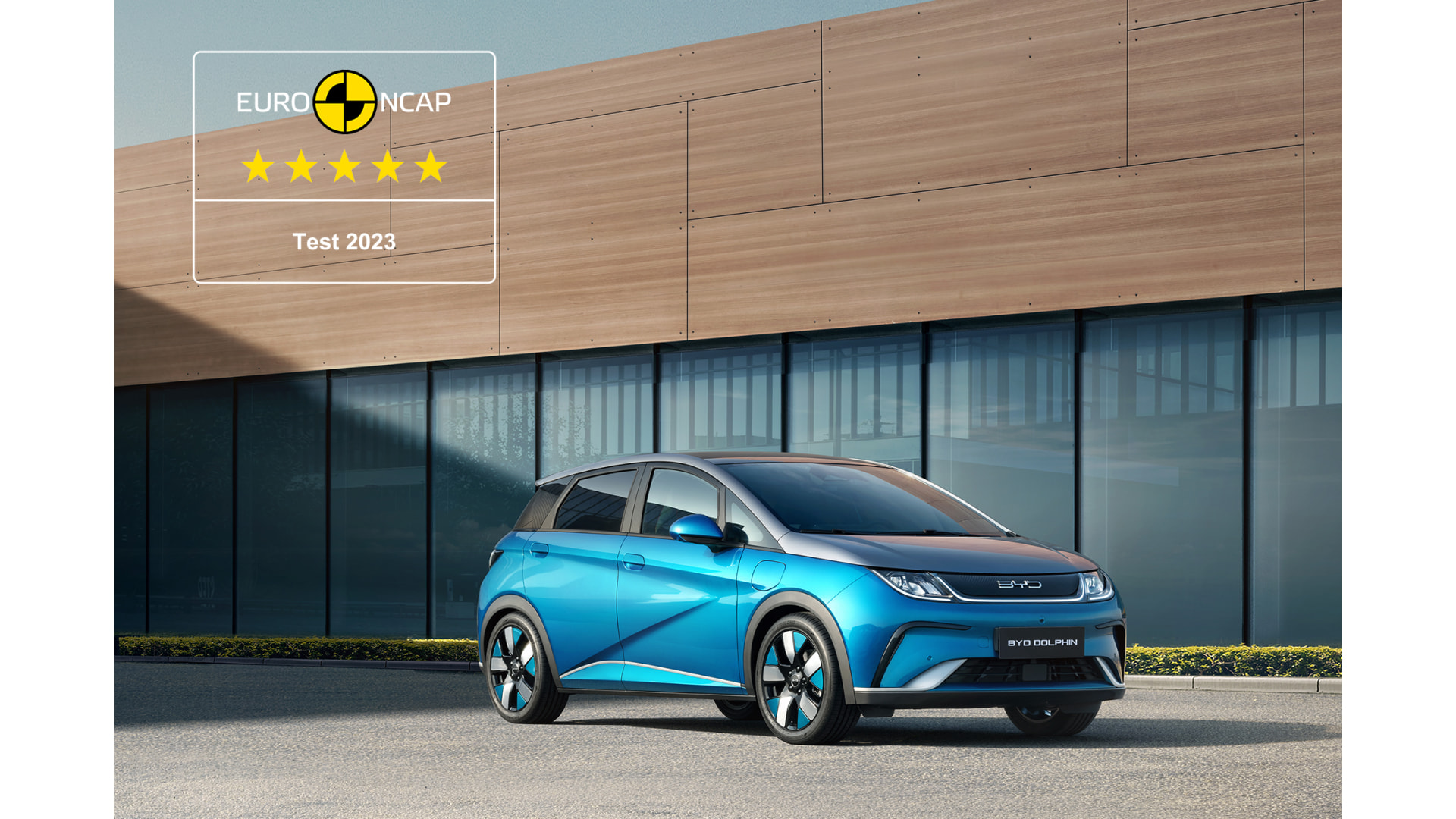 BYD DOLPHIN scores five-star rating in Euro NCAP safety tests
The BYD DOLPHIN safety assist systems achieved a score of 79%, with Euro NCAP highlighting the performance of the camera-based Intelligent Speed Limit Assist and Lane Keeping Assist systems. The vehicle's autonomous emergency braking system (AEB) contributed to a vulnerable road user score of 85%, with testers giving specific mention to the system's recognition of pedestrians and cyclists.
Michael Shu, Managing Director BYD Europe, said: "We are excited to witness the exceptional performance of all BYD models under the rigorous European safety test conditions. The BYD SEAL and the BYD DOLPHIN now join the BYD ATTO 3 in achieving the highest safety test ratings. That is something to be proud of. It underlines how hard BYD relentlessly works in the field of eco-friendly technological development. Customers have the reassurance that safety is always at the forefront of all our innovations."