BYD brings 6 electric vehicles to the European market in less than a year, rapidly expanding its product portfolio
BYD also introduces new and innovative technologies: CTB (Cell-to-Body) technology and iTAC (Intelligent Torque Adaption Control)
IAA Munich brings the European premiere of BYD's luxury sub-brand DENZA, with the DENZA D9 on display
BYD, the world's leading manufacturer of new energy vehicles (NEVs), showcases 6 electric vehicles alongside a display of new technologies at the Internationale Automobilausstellung (IAA) in Munich (5-10 September 2023). BYD's product portfolio is rapidly expanding. The company will also present its luxury sub-brand, DENZA, to European audiences for the first time, shining a spotlight on the DENZA D9, the ultimate new energy people carrier.
BYD entered the European passenger car market less than a year ago initially debuting three models at the Paris Motor Show 2022: the BYD HAN (E-segment sedan), the BYD TANG (E-segment SUV) and the BYD ATTO 3 (C-segment SUV). With the agile BYD DOLPHIN (C-segment hatchback) arriving in the summer of 2023, the BYD SEAL (sleek and sporty D-segment sedan) coming in the autumn of this year, as well as the spacious and practical BYD SEAL U (D-segment SUV), BYD expands its EV product range in Europe at pace.
IAA provides the ideal platform for BYD to make new introductions
IAA Mobility, the Munich Motor Show in Germany, is the ideal platform to introduce the Ocean-inspired BYD SEAL and the BYD SEAL U to European customers. Both vehicles are equipped with BYD's innovative technology for safety, comfort and performance, while appealing to different audiences.
The stylish, sleek and sporty BYD SEAL (D-sedan) is the recipient of a prestigious iF Design Award. Dynamic low lines give it a truly sporty edge, with many finessed design touches that echo BYD's Ocean X design language. It utilises BYD's latest CTB (Cell-to-Body) technology which integrates the body and Blade Battery for superior levels of structural strength. The BYD SEAL also benefits from BYD's latest iTAC (Intelligent Torque Adaption Control) for advanced stability and safety performance. It is also practical for all types of journeys, with a 570/520km (WLTP combined) driving range. The BYD SEAL will be available with the 82.5 kWh BYD Blade Battery. There will be two trim levels: the rear-wheel-drive (RWD) 'Design' with 230 kW and the all-wheel-drive (AWD) 'Excellence' offering a stunning 390 kW.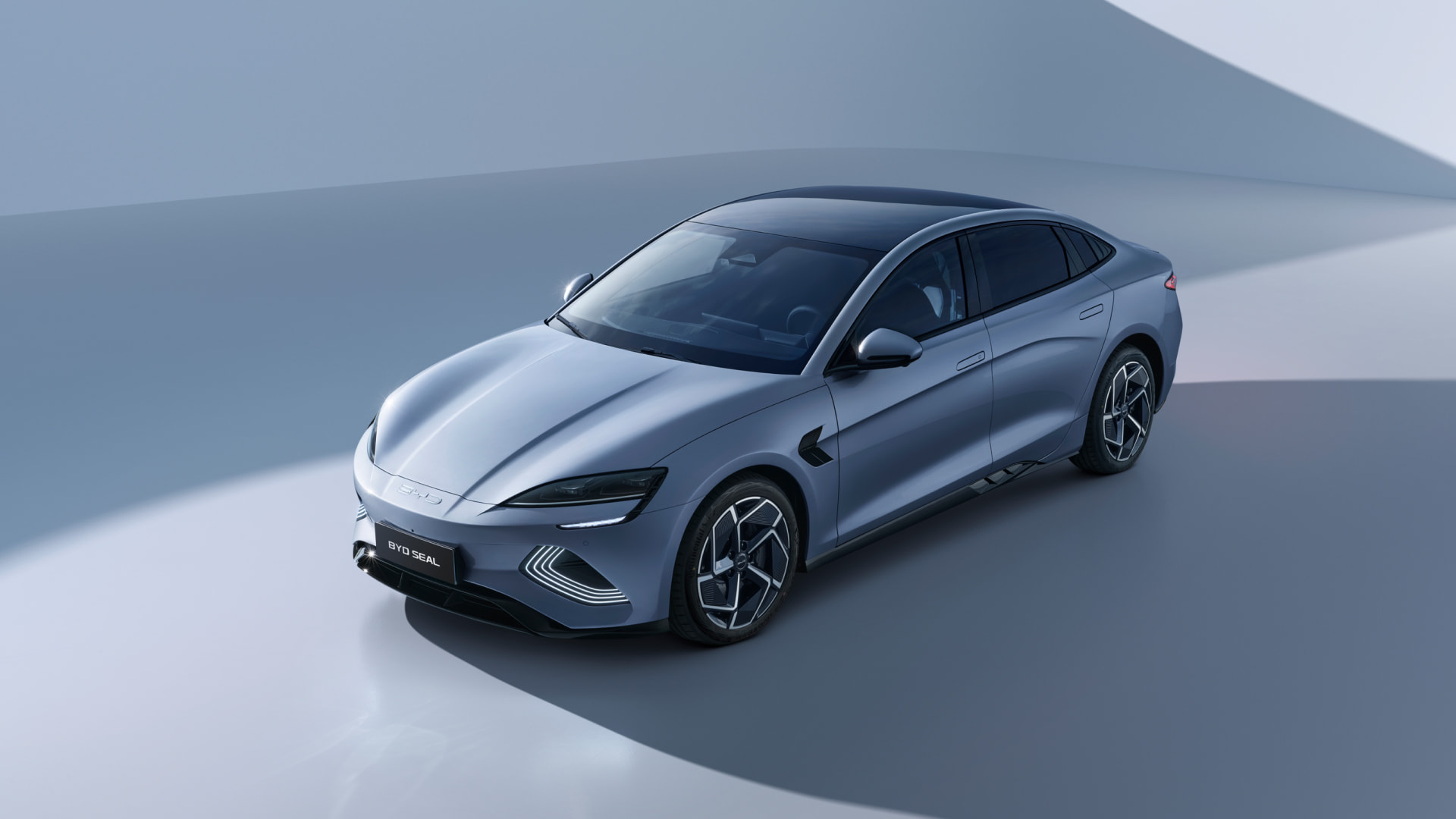 BYD SEAL, sleek and sporty D-segment sedan
European premiere for the BYD SEAL U
The BYD SEAL is joined by the ultra-versatile, comfortable, spacious and practical BYD SEAL U (U meaning Utility) which makes its European premiere. The BYD SEAL U is BYD's latest pure-electric SUV in the D-segment offering exceptional versatility and value with a high specification as standard. The BYD SEAL U combines stylish aesthetics and intelligent experiences, with high levels of safety, comfort and practicality. As with the BYD SEAL, the BYD SEAL U also uses BYD's Ocean-inspired design language, with attention to detail at every touch point. The BYD SEAL U can carry 5 passengers with a generous cargo capacity, making it a practical and spacious option.
The BYD SEAL U comes in two trim levels. The Comfort version offers a 71.8 kW BYD Blade Battery with a 420km range and the Design version is mounted with an 87 kWh Blade Battery and offers a reassuring 500km WLTP range. With an abundance of equipment and intelligent technology, and a high specification as standard, the BYD SEAL U represents exceptional value in its full-electric SUV category.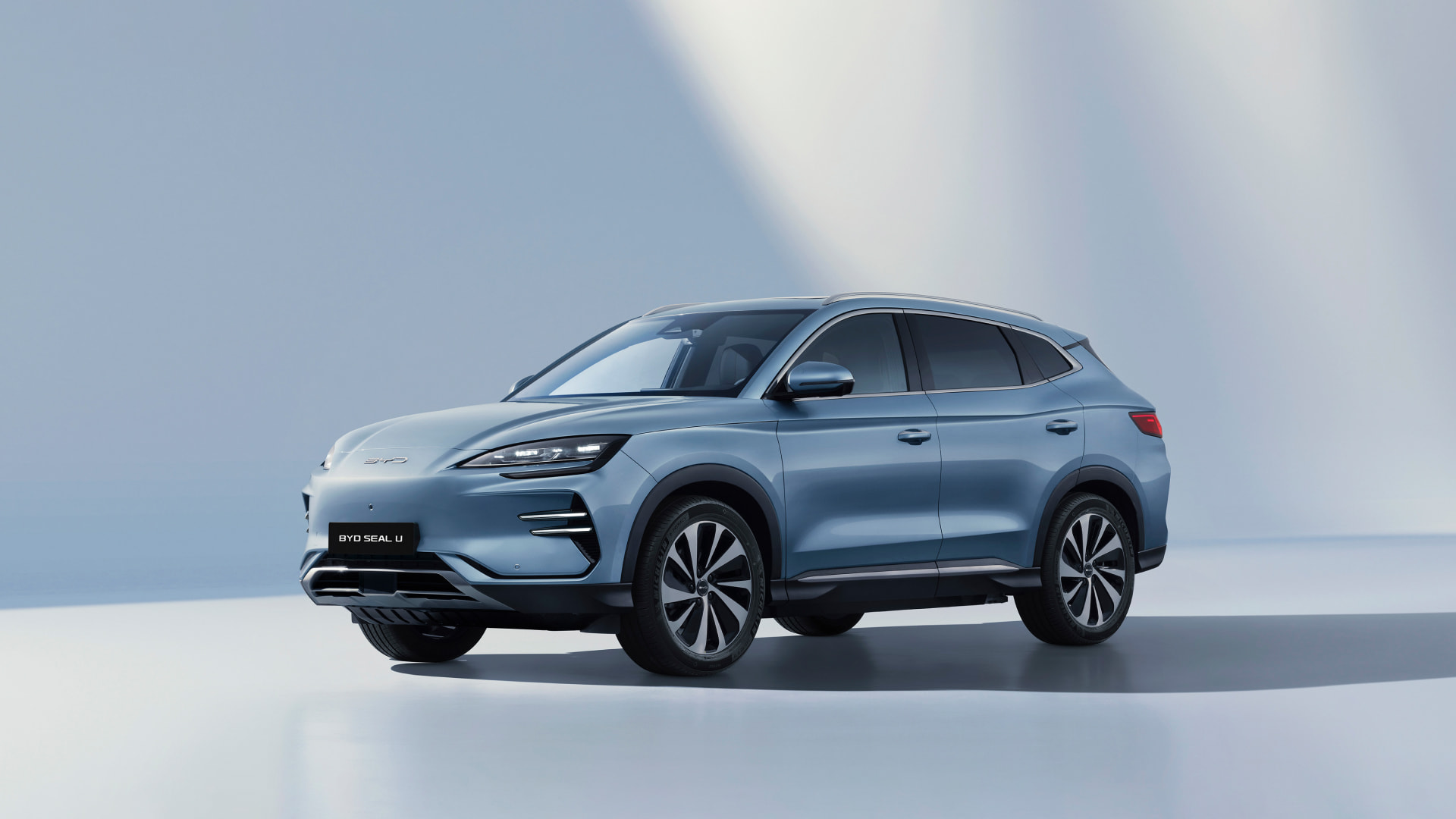 BYD SEAL U
Presenting the DENZA D9
IAA Munich marks another important debut as BYD previews its high-end sub-brand, DENZA, to European audiences for the very first time. DENZA, a joint venture between BYD and Mercedes-Benz, showcases the DENZA D9, the ultimate people carrier offering a non-discriminatory 7-seat capacity, with a 2+2+3 space. The DENZA D9 teases the European market with an insight into the exclusive DENZA brand.
Michael Shu, General Manager and Managing Director, BYD Europe and International Cooperation Division, says: ''BYD is truly dedicated to introducing innovative and high-tech eco-friendly cars to the European market. The IAA in Munich provides us with the perfect platform to showcase our latest BYD models. We are committed to offering choices within our product portfolio, complete with our latest game-changing technologies, to satisfy different consumer demands. Through our experienced dealer partners in Europe, we are passionate about providing high levels of customer service. We head to the Munich Motor Show with great excitement, where we reveal more about our technological innovations and products, and continue to build relationships with like-minded partners in Europe for win-win cooperations.