BYD is partnering with four major dealer groups in its first phase of the brand launch in France and is aiming for ten groups by the end of 2023
The dealerships will open in the 3rd quarter of 2023, with a BYD range of five pure electric vehicles
BYD will have 15 to 20 sales and after-sales outlets in France in 2023, aiming for a hundred dealerships in 2025
BYD, the world's leading manufacturer of New Energy Vehicles (NEVs), launch five models in France with the appointment of several key dealerships in strategic regions of the country. At the heart of this launch plan is the strategic ambition to work with dealer groups that will provide the experience, expertise, and prime locations to sell the pioneering range of new energy vehicles.
BYD HAN, BYD TANG, BYD ATTO 3, BYD SEAL and BYD DOLPHIN
BYD announced the launch of its passenger car range in October 2022 at the Paris Motor Show. Ahead of the official launch in France, BYD has opened outlets with trusted partners in Norway, Sweden, Denmark, Finland, Iceland, the Netherlands, Belgium, Luxembourg, the UK, Ireland, Germany, Austria, Spain, and Portugal. BYD will soon launch in Italy and Hungary. In 2024, BYD will open in further European countries.
France is one of the most significant countries in the European automotive industry. French consumers are highly receptive to new energy vehicles. Therefore, BYD will establish a nationwide distribution network throughout France. This month, the first designated BYD dealerships in France will begin receiving cars, and sales will commence shortly after that. BYD intends to establish 15 to 20 dealerships with select partners starting in 2023.
Partners confirmed by BYD in France:
BYmyCAR: 2 dealerships are already open in Paris with after-sales service.
Kroely: 2 dealership openings in the 3rd quarter of 2023 in Strasbourg and Metz, then Nancy and Mulhouse.
Bodemer: 1 dealership opening in the 3rd quarter of 2023 in Rennes and others to come.
BYD's strategy to work with local market experts led the company to form partnerships with carefully selected dealers in France. Authorised dealers will open BYD service and sales stores, enabling the brand to provide customers with high levels of service, quality, and efficiency. All French partners are industry leaders with extensive experience and resources that support the expansion of electric vehicles.
Five BYD Pure Electric Vehicles in France
BYD will be the only automaker to immediately offer French customers a complete lineup of five pure electric vehicles. After introducing three electric vehicles at the Paris Motor Show last year, including the BYD ATTO 3 (C-segment SUV), BYD HAN (E-segment sedan), and BYD TANG (7-seater E-segment SUV), the BYD DOLPHIN will be unveiled next month. The BYD DOLPHIN is an agile and versatile C-segment hatchback that offers high levels of practicality, efficiency, and affordability, as well as a reassuring range. After the summer, BYD dealers in France will begin selling the BYD SEAL, which is a dynamic, sporty D-segment sedan with highly advanced technologies.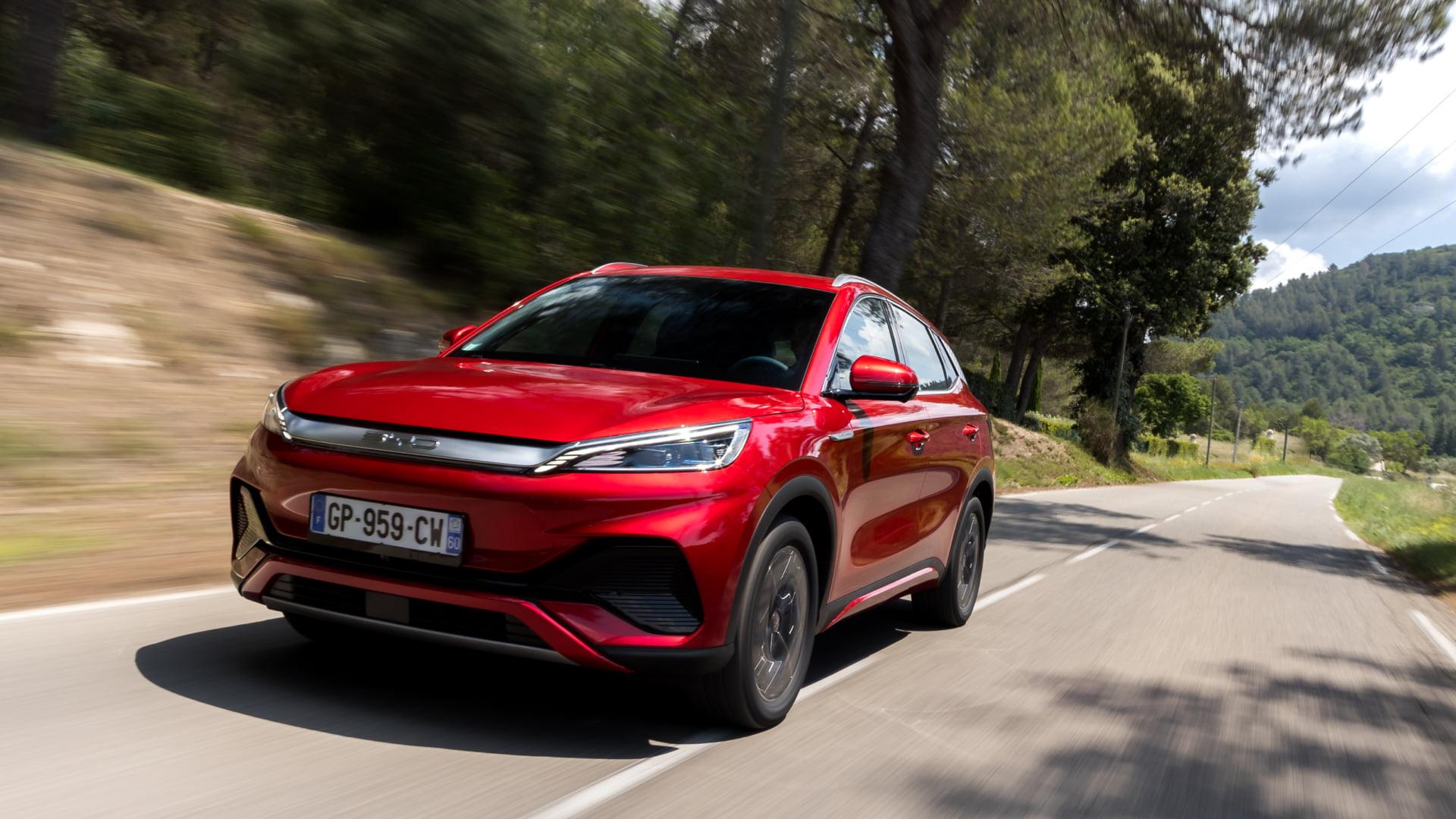 BYD ATTO 3 in France
Pioneering Expertise in Technologies
BYD is globally recognised for its pioneering expertise in battery development and innovation in green technologies for a more sustainable future. This extensive knowledge has led to the development of the ultra-safe Blade battery. This unique battery system is a game changer in the electric vehicle industry for safety, durability, and performance, and demonstrates BYD's exceptional proficiency in electric powertrain technology. To achieve the highest integration, intelligence, and efficiency levels, BYD masters its core new energy vehicle technologies, including batteries, motors, electronic controllers, and semiconductors. This expertise results from BYD's 28 years of experience in battery development and technology. This innovation propelled BYD to market leadership in its field, laying the groundwork for electric vehicle technology in many modes of transportation, including electric buses, trucks, and other utility vehicles.
Michael Shu, General Manager and Managing Director of BYD Europe and International Cooperations Division, said: "We are delighted to introduce our range of electric cars and our cutting-edge electric vehicle technologies to French customers, offering them inspiring new choices for eco-friendly mobility to proactively reduce CO2 emissions. Together, we look forward to providing consumers with professional sales and after-sales service through a network of local dealers who share our desire to provide the best customer experiences."
BYD is dedicated to sustainable e-Mobility. BYD is the first NEV manufacturer in the world to stop the production of combustion engine vehicles to focus on BEVs (battery electric vehicles) and PHEVs (plug-in hybrid electric vehicles). In 2022, BYD sold more than 1.86 million electric vehicles globally. Up to June 2023, BYD has now delivered over 4.3 million NEVs.
HD Photos : https://we.tl/t-BMIxh2p0YX