· BYD has appointed Louwman as the national dealer partner in the Netherlands for BYD new energy passenger vehicles
· Louwman, one of Europe's largest automotive companies, will provide online and offline sales as well as aftersales services to customers in the Netherlands, with the first BYD pioneering store opening in Amsterdam
· From September, customers will be able to visit the pioneering store in Amsterdam and review BYD's latest models
· The strategic partnership marks an important phase for BYD as it continues to expand its eco-friendly electric passenger vehicle business
Rotterdam, the Netherlands - BYD, the world's leading manufacturer of new energy vehicles (NEVs), has appointed Louwman as its national dealer partner in the Netherlands. The strategic partnership with the long-established Louwman Group marks an important phase for BYD as it continues to expand its eco-friendly electric passenger vehicle business.
Louwman will offer a digital platform for online ordering, customer service and assistance, and also provide both offline sales and aftersales services for BYD passenger vehicles through its huge dealer network at key locations across the Netherlands. Several physical stores will be opened at key locations in the Netherlands, starting with Amsterdam. From September, customers will be able to visit the pioneering store in Amsterdam and review BYD's latest models.
BYD & Louwman Group Cooperation Signing Ceremony
With more than 27 years' experience in battery research and development, BYD is globally renowned for its pioneering technology and world-leading innovations in eMobility solutions across all types of transportation, including electric buses, trucks, vans and passenger vehicles. Such innovation in green technology has been fundamental to BYD becoming the world's leading manufacturer of new energy vehicles and pivotal to the success of its passenger car business. BYD is the only NEV producer to have developed its own powertrain systems, power batteries, automotive semiconductors, drive-motors and motor controller systems.
Empowered by leading technologies such as the Blade Battery and e-platform 3.0, BYD has reached a new milestone with sales of new energy passenger vehicles exceeding two million units. To date, BYD has been the first NEV manufacturer globally to stop the production of full combustion engine vehicles and will only focus on battery electric vehicles (BEVs) and plug-in hybrid electric vehicles (PHEVs) in the future. This strategic decision supports BYD's vision for a sustainable future, driven by electrification for a better life, underpinning its core brand proposition: Green·Technology·Future. This is reinforced by BYD's commitment to providing a closed loop Zero Energy Ecosystem, providing a total solution for electric mobility including energy management and charging infrastructure.

Louwman Group, has a long and successful heritage in the automotive industry dating back nearly a century. Privately owned, it has become one of the largest automotive companies in Europe with branches in 70 locations associated with many global brands. Louwman, like BYD, has traditionally been involved in many successful collaborations, sharing the same ambitions for a greener future through innovative sustainable eMobility solutions.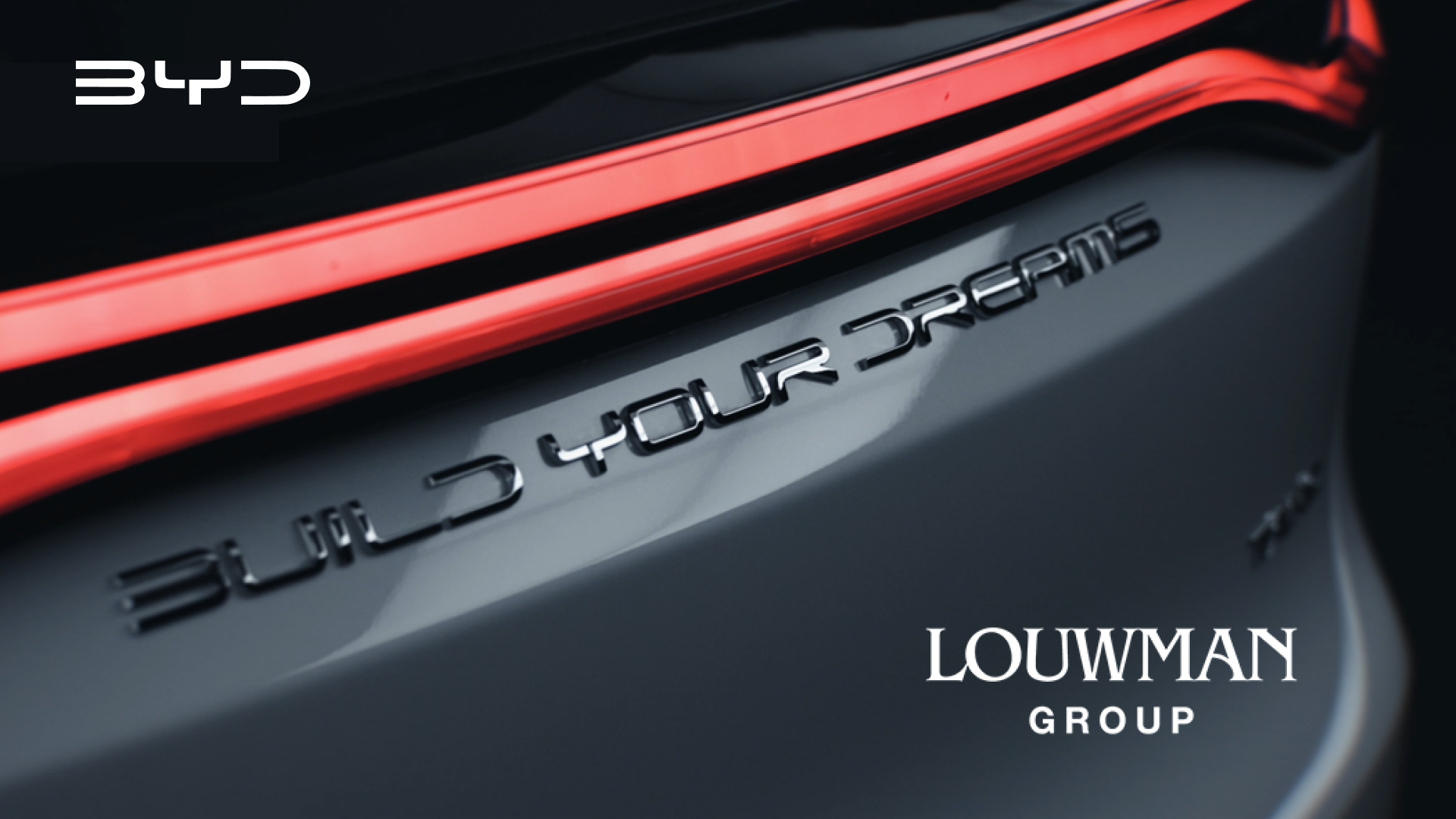 Louwman becomes National Dealer Partner of BYD in the Netherlands
Michael Shu, General Manager and Managing Director, BYD Europe and International Cooperation Division: "We are proud to start our BYD passenger vehicles journey in the Netherlands with such an experienced and respected partner as Louwman. Louwman's market recognition and resources combined, will enable BYD to rapidly establish brand awareness and generate sales of our world-leading new energy passenger vehicles in the Netherlands. Like BYD, Louwman is a business that thrives on being innovative. Together we look forward to achieving our shared vision to accelerate electrification and zero-emission transport in the Netherlands."
Eric Louwman, President of Louwman Group: "It is an exciting partnership and fits perfectly with our goal of 'Mobility for Life'. BYD is the world's leading NEV manufacturer who is known around the globe for groundbreaking battery technology, which is at the heart of all BYD's impressive new energy vehicles. We are delighted to offer a wide appealing range of eco-friendly BYD vehicles to our customers in the Netherlands with the reassurance of superior safety, long range performance and high standards of all-round quality. Leasing companies are already showing great interest in various models."
About BYD
BYD (Build Your Dreams) is a multinational high-tech company devoted to leveraging technological innovations for a better life. BYD now has four industries including Auto, Electronics, New Energy, and Rail Transit. Since its foundation in 1995, the company quickly developed solid expertise in rechargeable batteries and became a relentless advocate of sustainable development, successfully expanding its renewable energy solutions globally with operations in over 70 countries and regions. Its creation of a Zero Emissions Energy Solution, comprising affordable solar power generation, reliable energy storage, and cutting-edge electrified transportation, has made it an industry leader in the energy and transportation sectors. BYD is a Warren Buffet-backed company and is listed both on the Hong Kong and Shenzhen Stock Exchanges. More information on the company can be found at www.byd.com.
BYD Europe is headquartered in the Netherlands and is the first overseas branch of BYD Group, with a commitment to evolving the international brand BYD Auto to deliver safe and efficient sustainable solutions in new energy vehicles through world-leading technological innovations. www.bydeurope.com.
About Louwman Group
Louwman Group is a family business, founded in 1923. With more than 80.000 car sales per year, it is one of the largest automotive companies in Europe. Louwman wants to be a leader in mobility, with strong brands and a broad service package for cars, commercial vehicles, trucks, motorcycles, bicycles, care aids and public transport. Louwman collaborates with long-term partners on innovative mobility solutions, energy storage and various forms of sharing and connected consumer services. Louwman Group employs approximately 3.200 people in the Netherlands, Belgium, Sweden and the Czech Republic. www.louwmangroup.nl
Contact:
Asia-Pacific: Mia Gu, mia.gu@byd.com tel: +86-755-8988-8888-69666
Europe: Penny Peng, penny.peng@byd.com tel: +31-102070888
North America: Frank Girardot, frank.girardot@byd.com tel: +1 213 245 6503
Latin America: Sofίa Mardones, sofia.mardones@byd.com tel: +56 9 9821 6851
Brazil: Adalberto Maluf, adalberto.maluf@byd.com tel: +19 3514 2554
Africa: Nikki Li, li.namin@byd.com tel: +86-18938862670