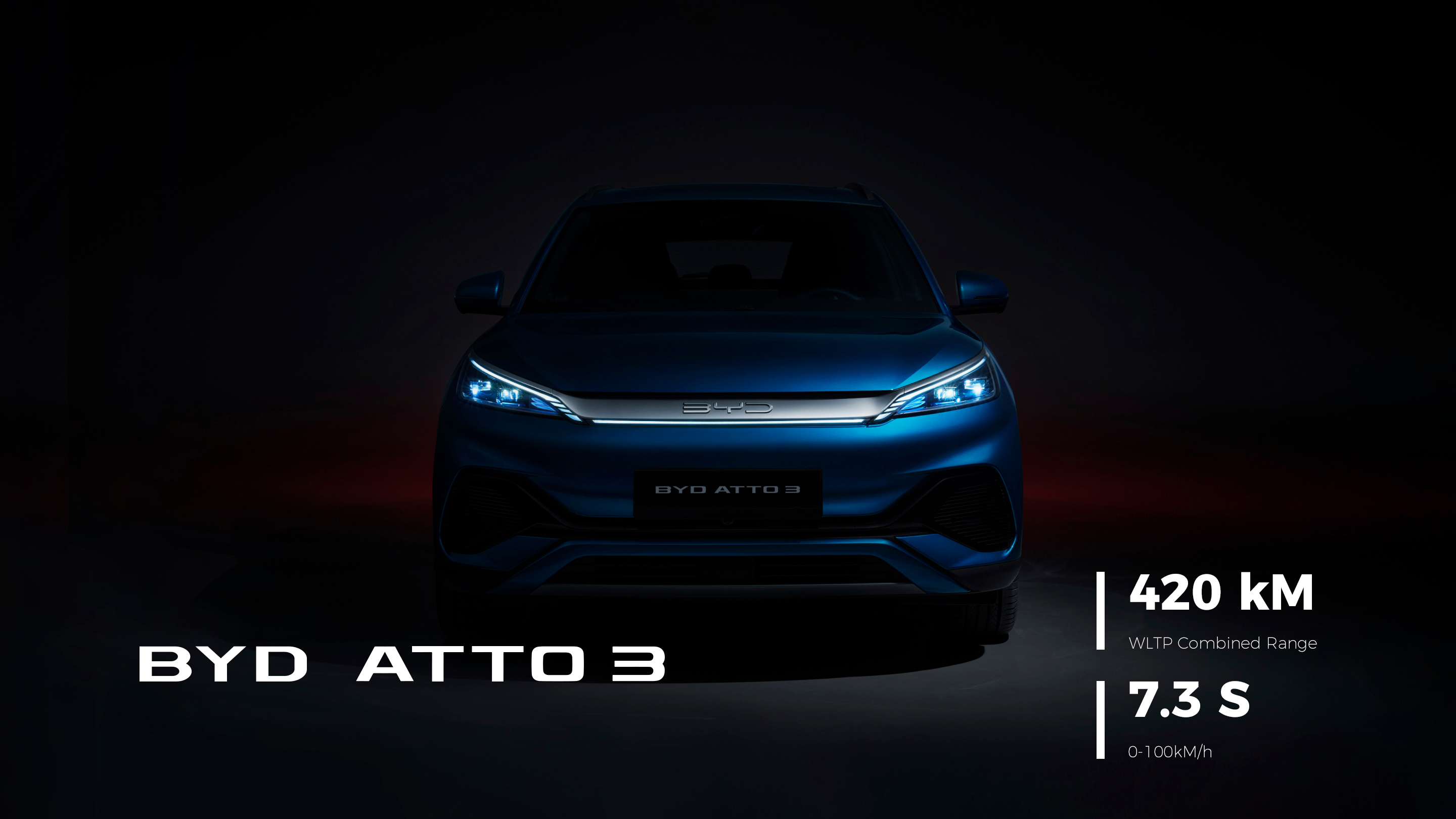 The headlights, echoing with the continuous taillights, have a wider beam of light exposure which greatly improves the visibility and night driving experience. In conjunction with the unique dynamic steering light.
Along the expressive upward slopping waistline and the selection of dynamic alloy wheels, BYD ATTO 3 delivers a sporty and aerodynamics design.
The feather taillight adopts a geometric multi-color injection molding process to realize the integral molding of the decorative parts, and at the same time, a new light-transmitting material is newly developed to make the feathers more textured.
To see the future
Impressive look for your lifestyle
A glimpse of flying feathers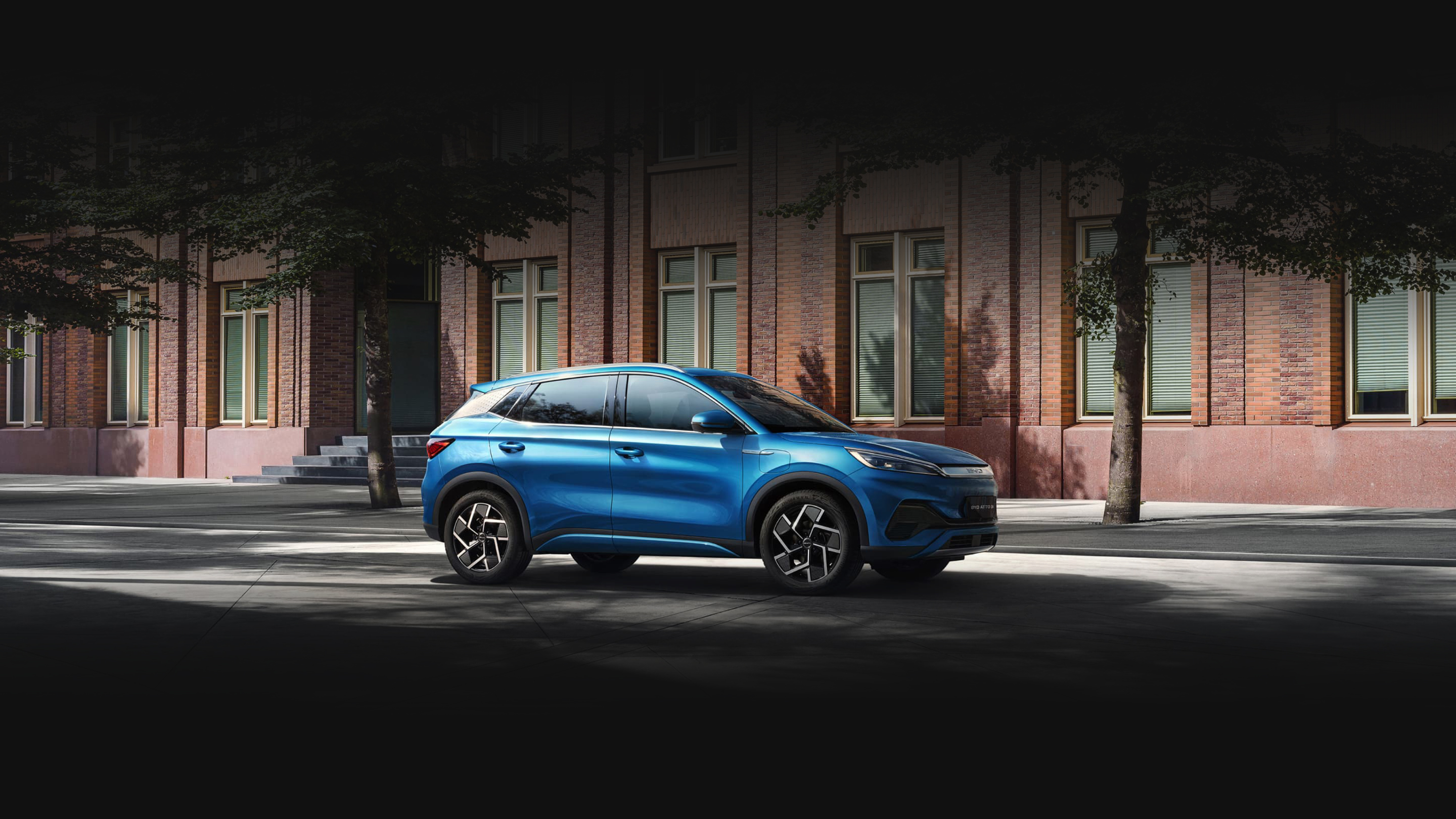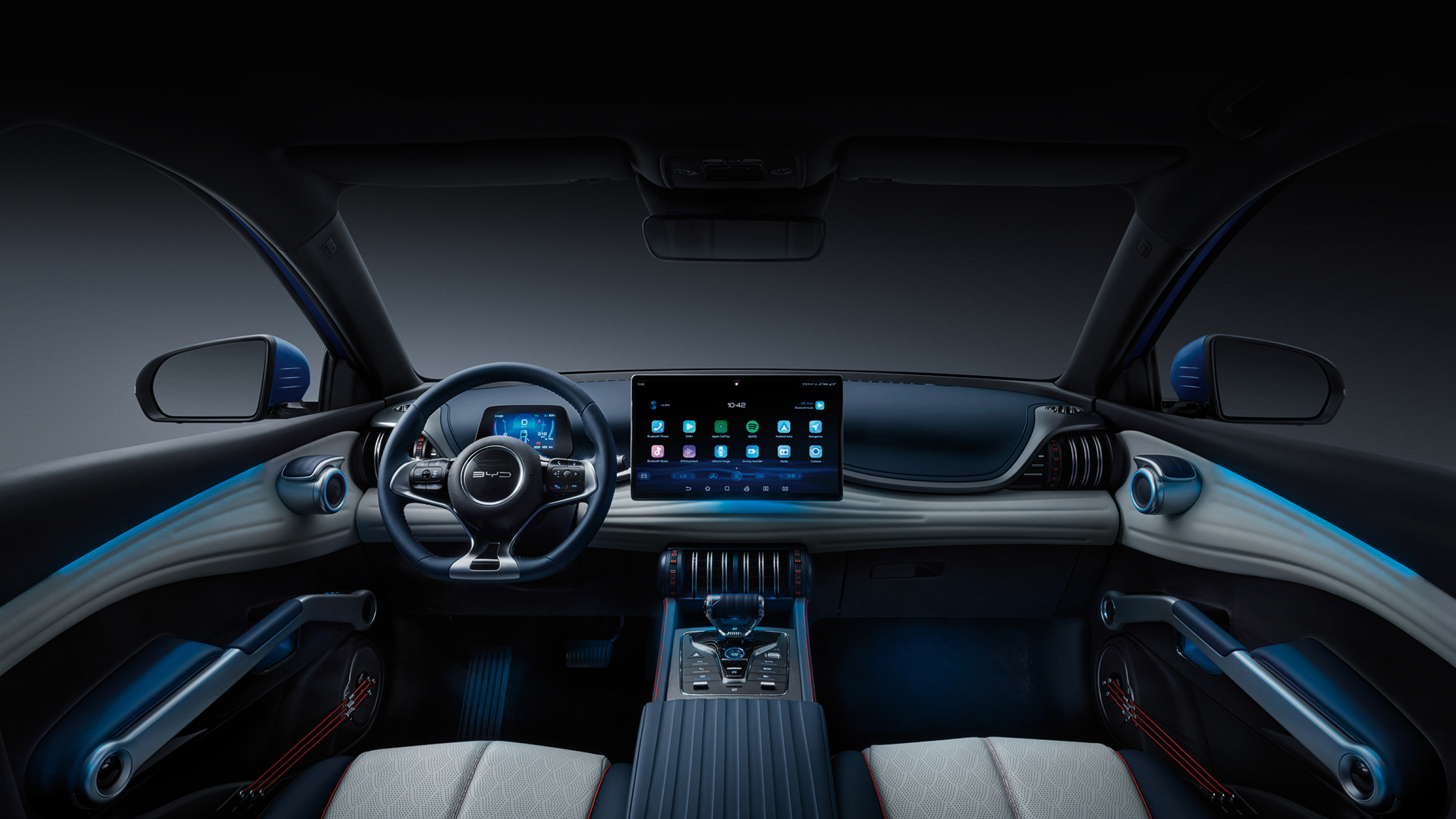 Fit for FUN
User-friendlyfunctions and a playful interior give a unique and distinctive style.
Agile and fun, BYD ATTO 3 provides an engaging driving experience.
The vibrant and streamlined central console reflects a positive and energetic attitude towards life.
Comfort in Every Journey

The ergonomically integrated sports seats are made from sustainable vegan leather. The heated front seats are electrically adjustable, creating a more comfortable driving experience.

Treadmill Style Central Armrest

The central armrest is inspired by the treadmill.
And you could place your phone on the wireless charging pad,
so you are always connected.

Strum Your 'Guitar'

The unique strings combined with the speaker emulate a guitar-like design on the door panel. Relax and strum your playful 'guitar' to create your own melody.
The flexible strings can also expand to hold bottles and more.

Light up Your Feelings

The multi-coloured ambient lighting listens to your moods and responds automatically to different rhythms of music with flowing illumination.
From sunshine to stars,
the panoramic sliding glass roof with adjustable sunshade allows you
to embrace the beauty of the sky.

From Sunshine To Stars

the panoramic sliding glass roof with adjustable sunshade allows you to embrace the beauty of the sky.

Large Rear Passenger Space

Thanks to the design of the e-Platform 3.0, the floor in the rear is completely flat, creating a surprisingly large space.
This spacious legroom provides a relaxing and joyful space for your family and friends to enjoy the ride.

Spacious Trunk

With a simple click, the tailgate automatically opens. The anti-pinch design ensures your safety when you are closing the tailgate.

Fill your life to the brim with the large storage compartment featuring an extra hidden trunk space. By placing your possessions in different layers, you can make the most of the space.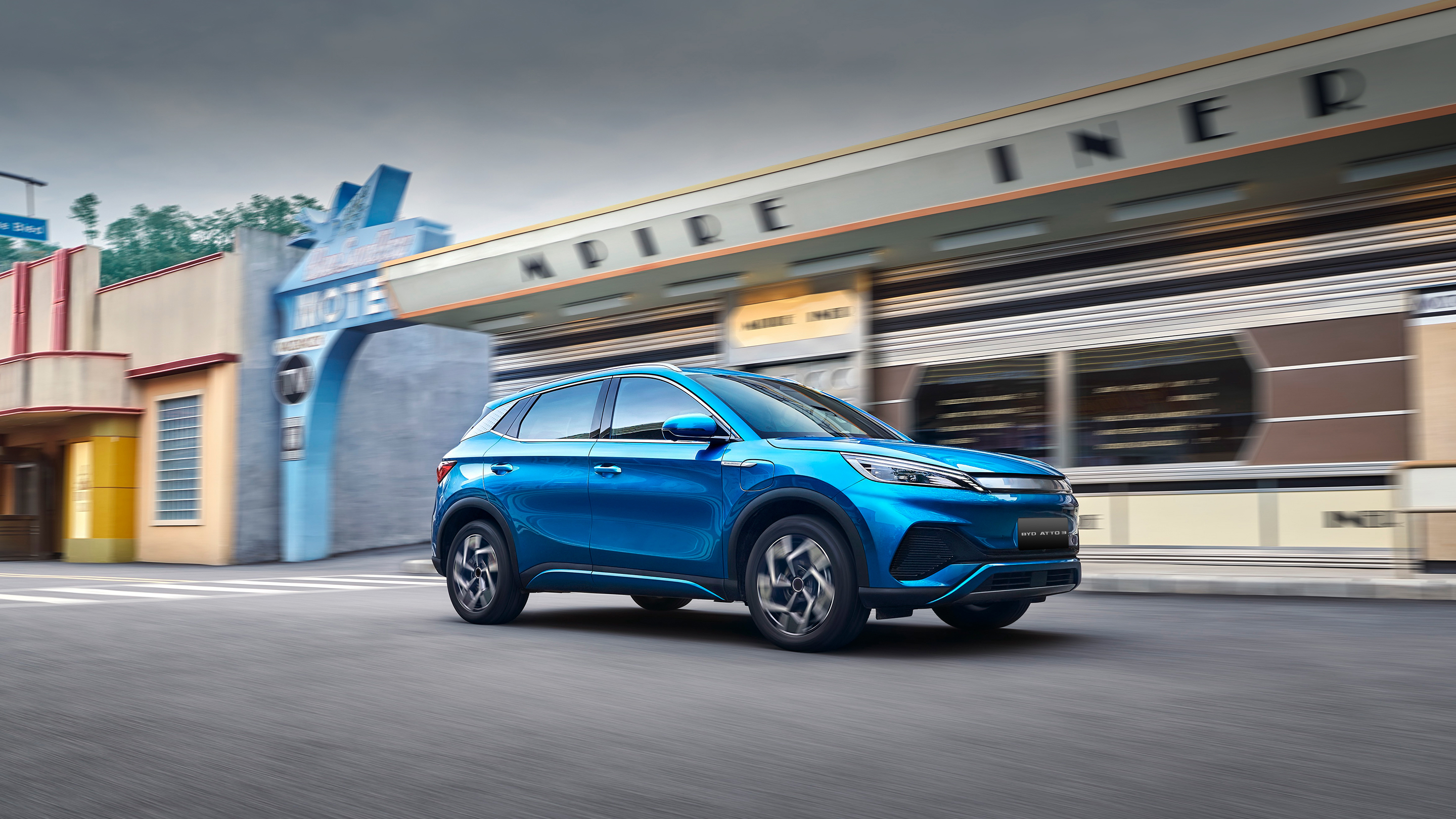 Energy Awake
240HP                    310N·m
e-Platform 3.0
BYD ATTO 3 is equipped with the all-new BYD e-Platform 3.0 designed exclusively for pure electric vehicles.
Giving full play to the advantages of intelligence, efficiency, safety and aesthetics, e-Platform 3.0 aims to promote NEVs' performance in safety and low-temperature driving range as well as improve intelligent driving experiences, to build more efficient and safer new intelligent EVs.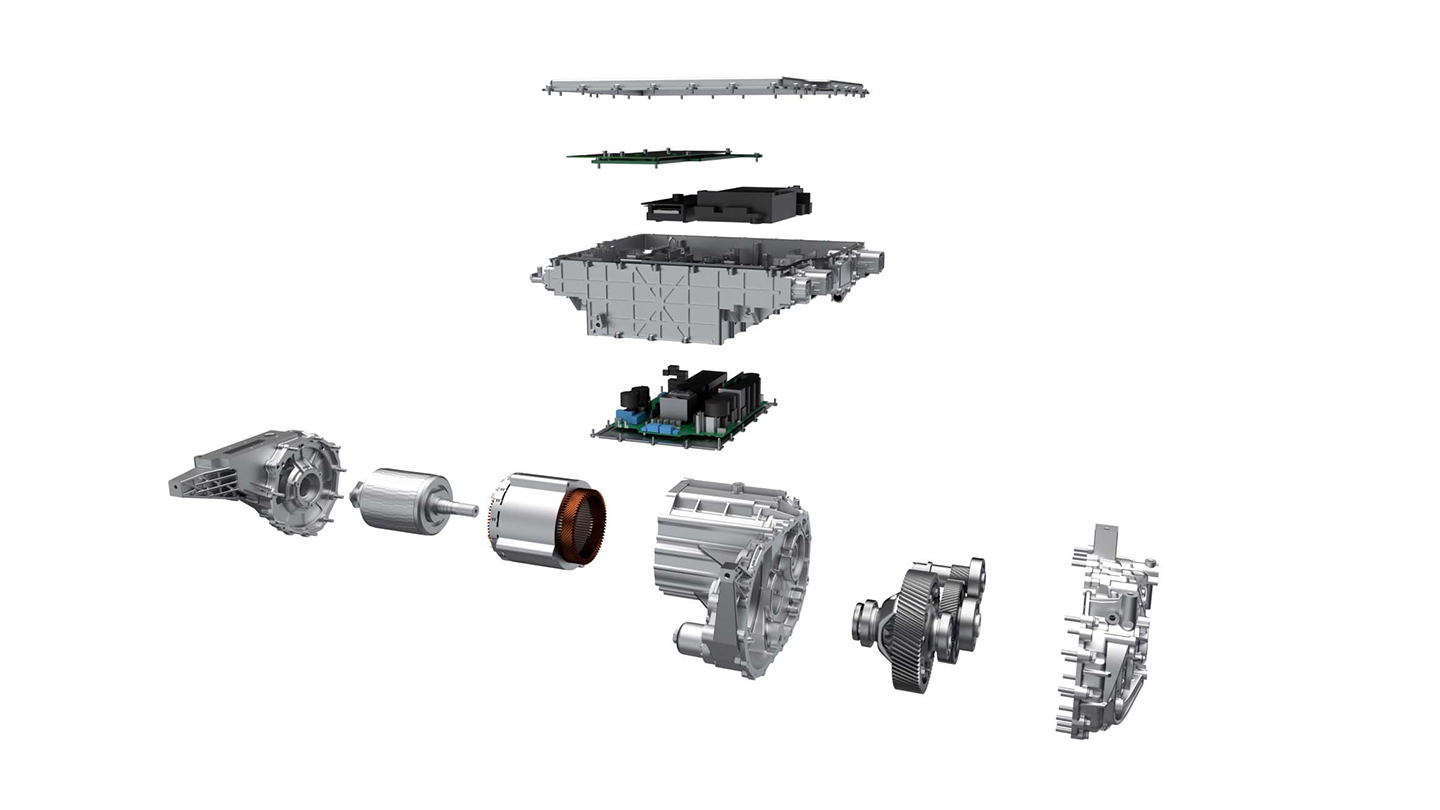 The World's First Mass-produced 8-in-1 Electric Powertrain
BYD has an exceptional vertical integration capabilities within the supply chain. BYD integrates 8 key components incorporating VCU, BMS, MCU, PDU, DC-DC controller, on-board charger, drive motor and transmission, producing the world's first mass-produced 8-in-1 electric powertrain system, greatly optimising space utilisation and energy efficiency.
High Efficiency Heat Pump System
An advanced energy-saving heat pump system comes as standard. Reliably operating in a broad range of temperatures, the system is designed to highly utilise residual heat from surroundings, the powertrain, passenger compartment and even the batteries. It enhances the thermal efficiency and reduces energy loss whether heating or cooling. Therefore, the low-temperature driving range is increased.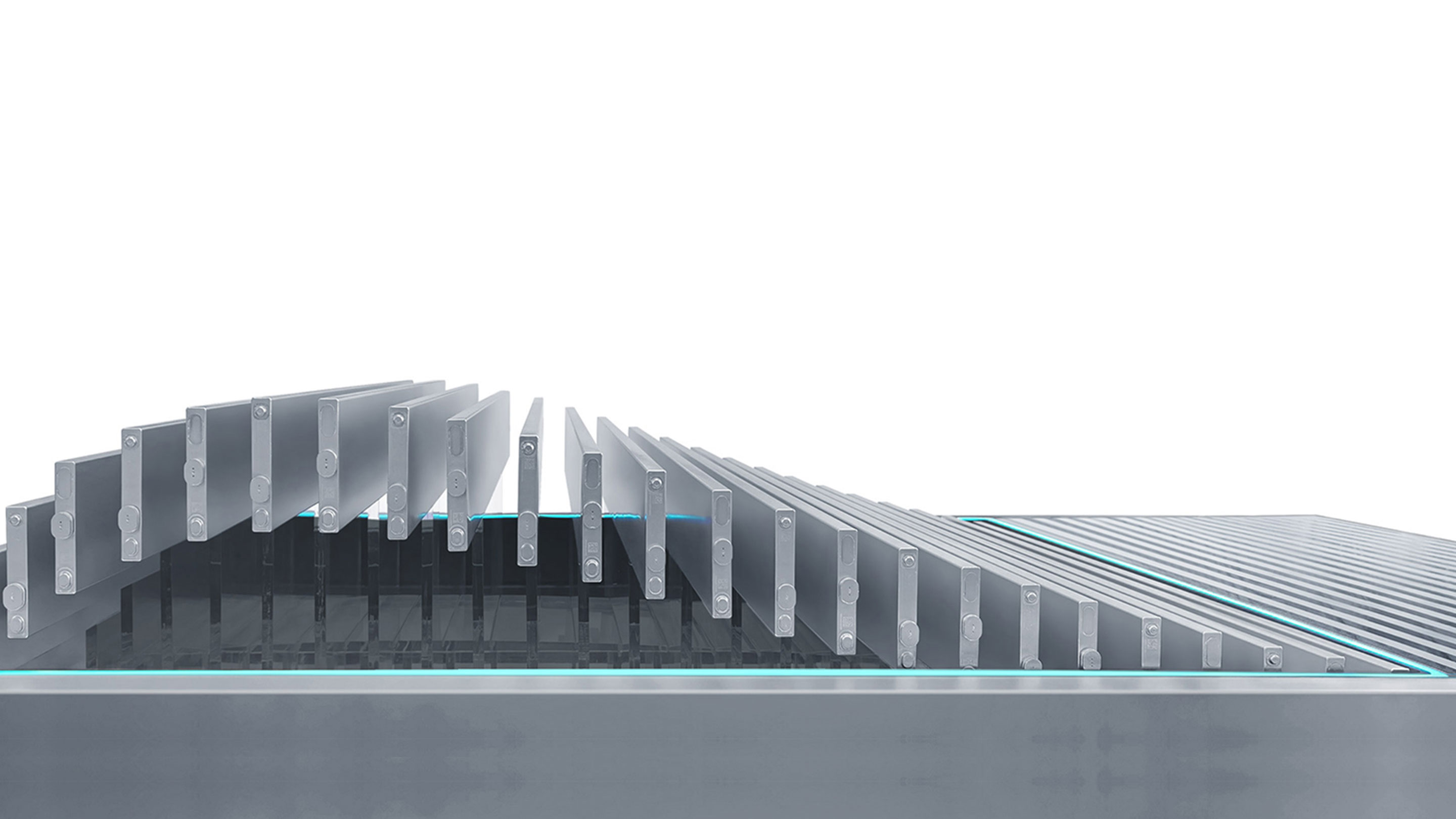 Introducing
BYD Ultra-Safe Blade Battery
New levels of safety and ultra long range can be assured
thanks to our new and innovative Blade Battery.
Safety is the ultimate
Luxury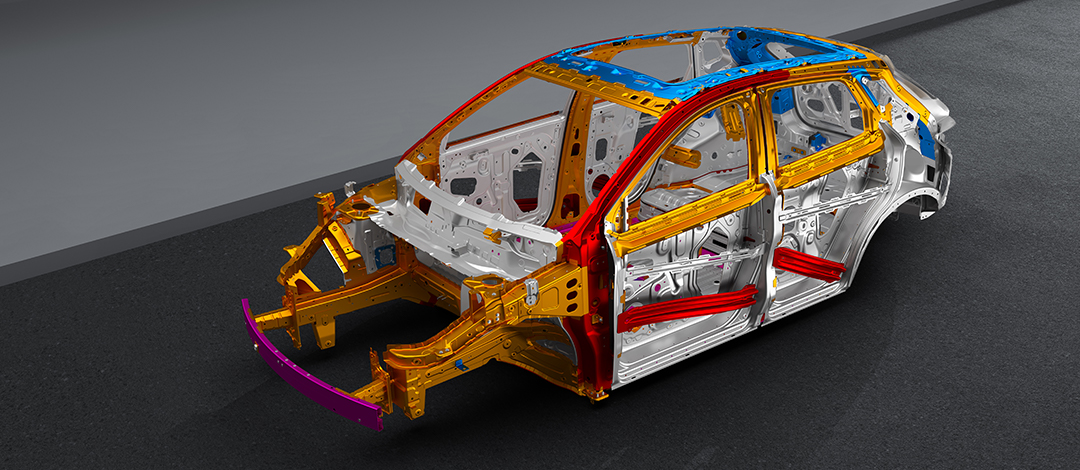 High-strength body
·The proportion of hot-formed steel is 11%, and the tensile strength of steel is up to 1500Mpa.
·High-strength steel and above accounted for 85%, and ultra-high-strength steel accounted for 55%.
·Key components are all made of high-strength steel with a tensile strength exceeding 1180MPa to ensure that after a collision space for the passenger compartment and improved passive safety.
Battery pack protection
The power battery pack is arranged under the body floor and is surrounded by longitudinal beam structures.
The body can pass through the buffer energy absorption area to convert collision energy to ensure battery safety to the greatest extent.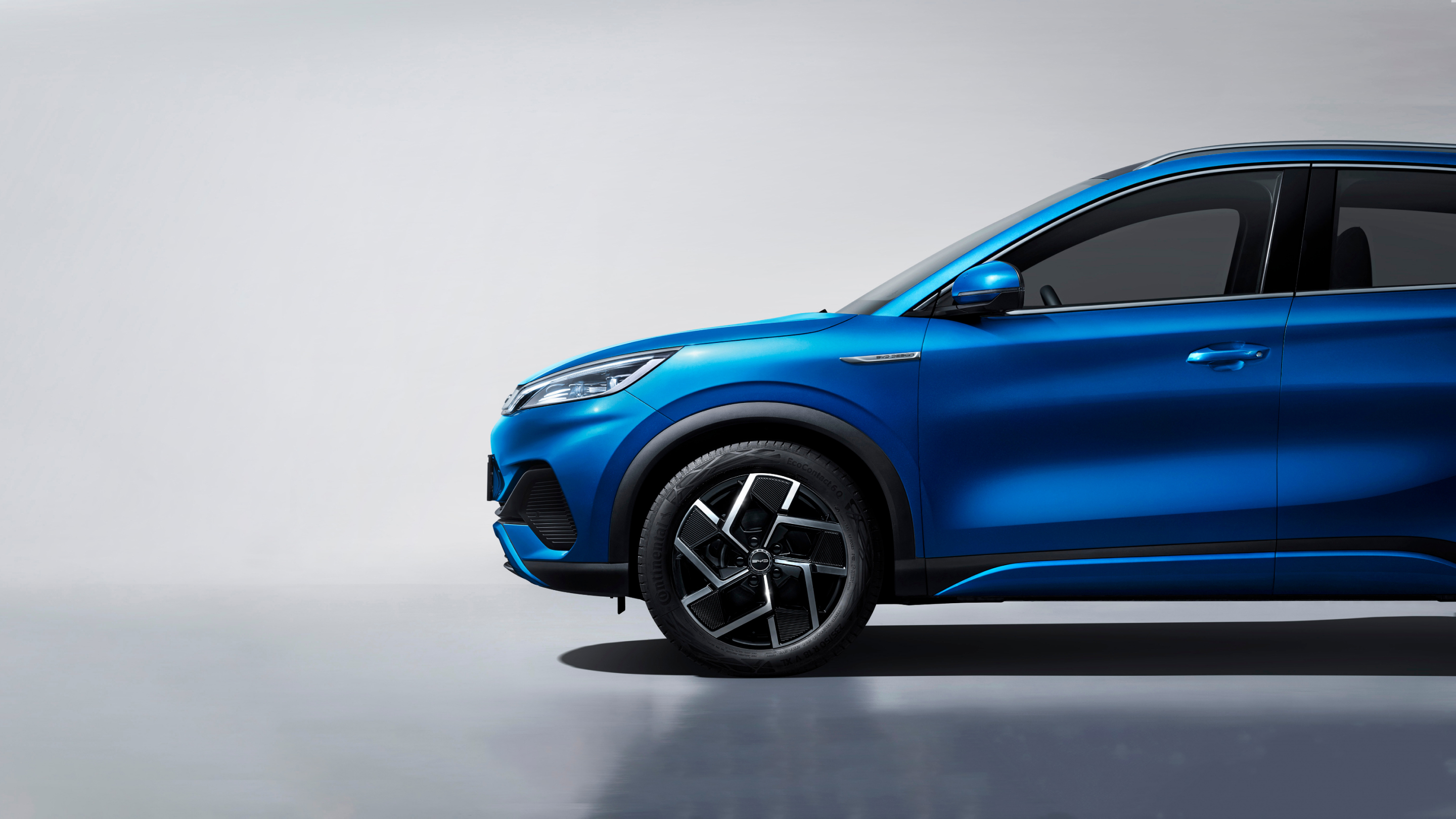 Master Every Move
BYD ATTO 3 features an advanced driving assistance system
to help keep you vigilant and safe on your journey.
Blind Spot Detection( BSD)
Our Blind Spot Detection will alert you when a vehicle is approaching quickly in the blind spot of the outside rear view mirrors.

Keep Assistance (LKA)
Your BYD ATTO 3 can automatically guide you back to your lane should lose concentration.
Intelligent Cruise Control (ICC)
BYD's Intelligent Cruise Control system helps you automatically follow the path and pace of the car in front at speeds below 60 km/h.

Cross Traffic Alert (RCTA)
Rear Cross Traffic Brake (RCTB)
When reversing, the rear-angle millimetre-wave radar, monitors other road users approaching the rear of the vehicle in real time issuing a warning sound and then applying the brakes in the event of a possible collision.
Stay
Connected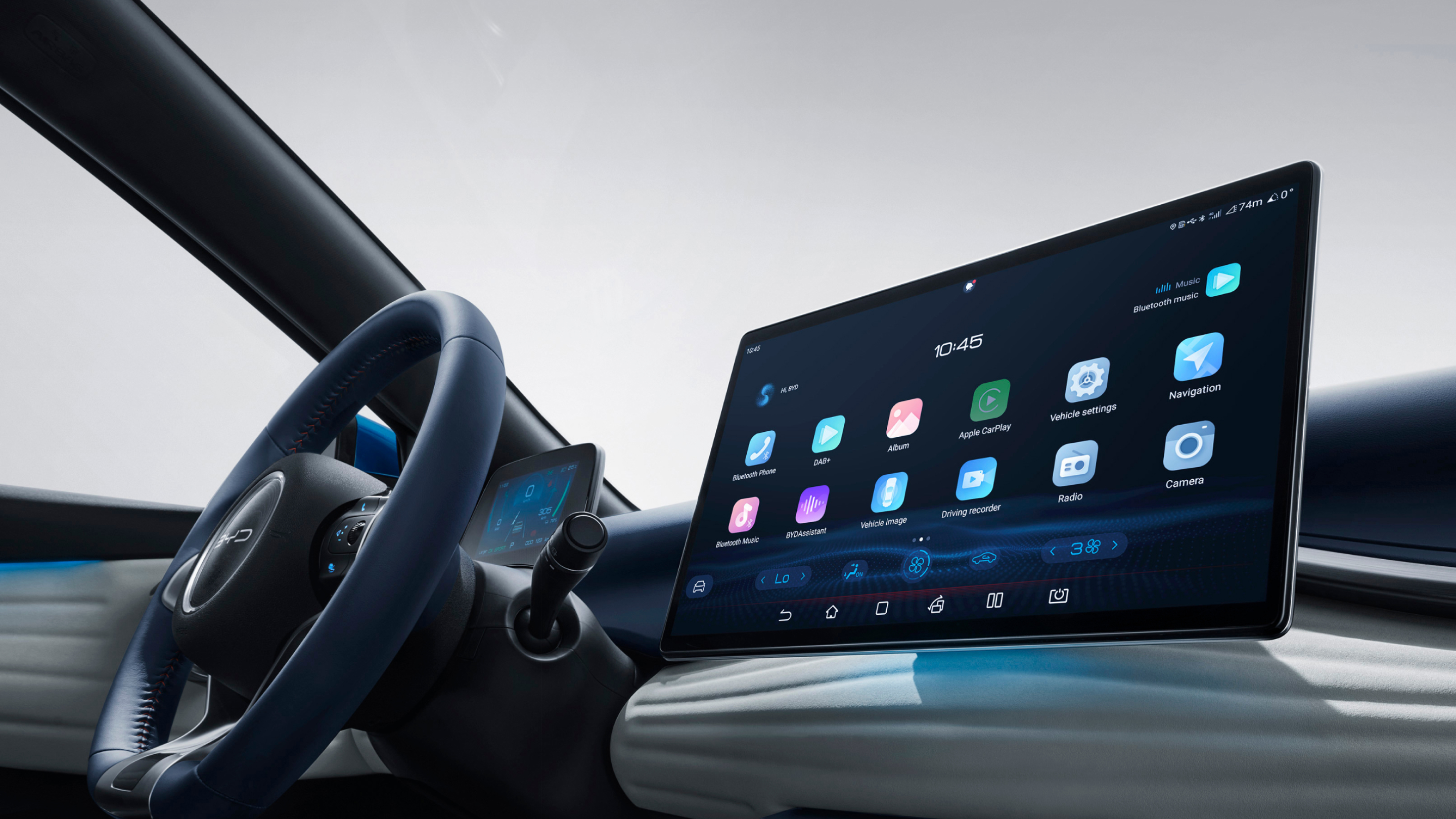 BYD ATTO 3 provides a cockpit of connectivity with an intelligent experience to enrich your driving time. You can use Apple CarPlay or Android Auto to link your mobile phone with the media system on the rotatable 15.6 inch touchscreen, accessing more conveniently to supported Apps from third-party providers such as Spotify and HERE Maps*. We keep you connected and informed throughout your journey. Intelligent Voice Control allows you to free your hands and keep your eyes on the road. BYD cloud service on APP will become your exclusive Butler. The OTA function for upgrading the system keeps you up-to-date for the best possible service. * Apple CarPlay, Android Auto, Spotify, HERE Maps are available in limited markets.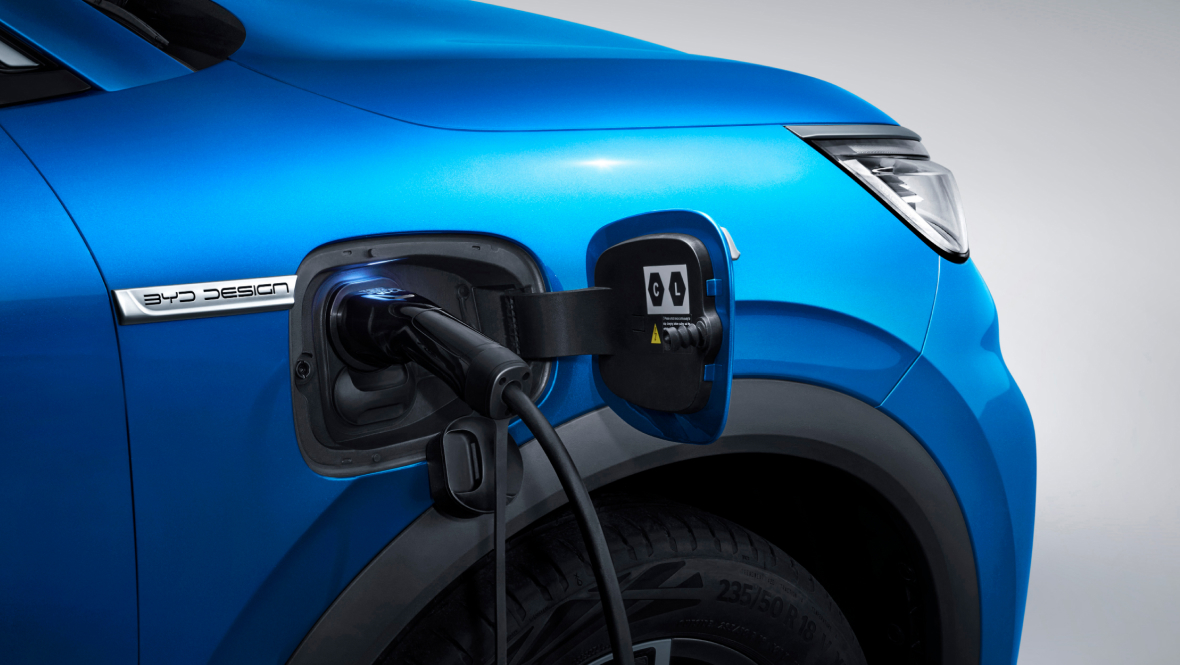 High-speed charging is possible, with a charging capacity of DC 88kW. You can charge your BYD ATTO 3 from SOC 30% to 80% in just 29 mins.
With our optional 11kW wall box, charging at home becomes easy and convenient.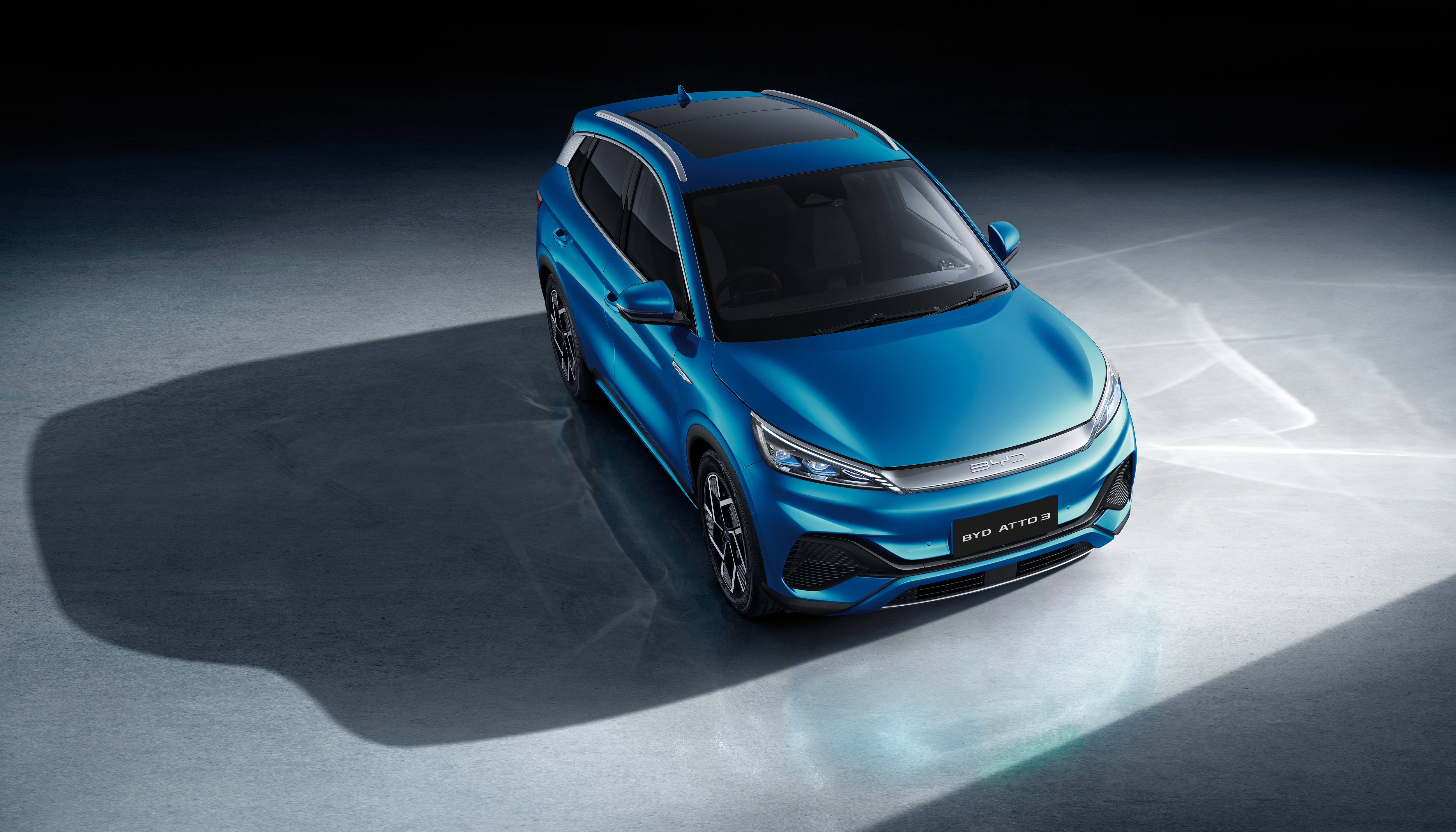 BYD ATTO 3