Looking for the ultimate family car and trusted travel companion? Then look no further. The BYD TANG offers outstanding performance, exceptional interior space and a wealth of safety features to European consumers. After the successful launch of the TANG in the BYD pilot market in Norway in 2021, where it exceeded all expectations, this exciting SUV brings a new dimension to zero emission family vehicles.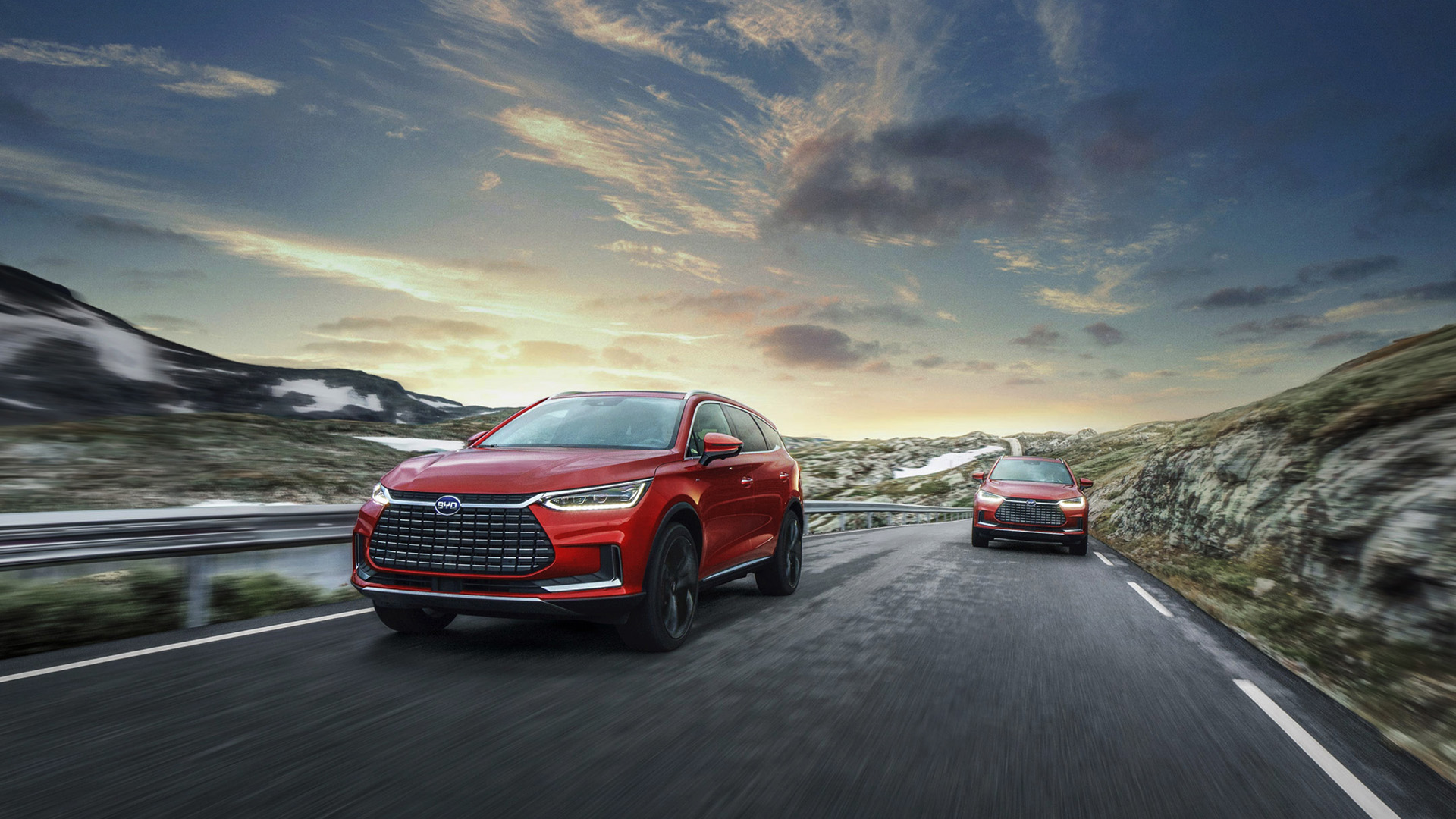 The BYD TANG fuses elegance, sophistication, and dynamism in a car capable of carrying seven adults in comfort. Standing on 22-inch wheels, the BYD TANG with its long swooping roofline, tapering darkened privacy glass, accented crease lines, and protective wheel arch extensions provides a glimpse of its performance intentions. Furthermore, the Dragon Face design inspired features are prominent with the LED headlights and daytime running lights, horizontal 'moustache' bar, and air intakes providing added visual presence.

The interior utilises materials and craftsmanship blended with the very latest in-vehicle technology and driver display screens. Quilted leather adorns the cabin complimented by an illuminated gear selector and 31 colour ambient lighting.

The BYD TANG features a large glass sliding panoramic roof which invites light into the expansive cabin. The luxury leather seats have 8-way electric adjustment combined with memory function for the driver, and 4-way electric adjustment for the passenger.

Front seats are both ventilated and heated. The lumbar support is electric adjustable in four ways'. The middle row of seats provides a 60:40 split for added convenience. The boot capacity of 940 litres from floor to ceiling (with seats 6 and 7 folded) can be expanded to 1,655 litres when the middle row of seats is folded providing ample cargo space.

Centre stage in the cabin is the 12.8-inch multimedia screen. The powerful Dirac Live® audio system features 12 speakers, able to produce outstanding sound quality. In addition, the BYD App allows users to always have a complete overview of their vehicle, allowing them to keep track of battery status, door locking, opening and closure of the sunroof, and activation of the climate-controlled air conditioning.
State-of-the-art BYD Blade Battery
The BYD TANG is powered by a cobalt-free and ultra-safe BYD Blade Battery. With 86.4 kWh capacity, the Blade Battery uses Lithium Iron-Phosphate (LFP) which offers superior thermal management and stability. This state-of-the-art technology delivers higher power density coupled with ultra-low energy consumption.

The powertrain of the TANG features dual motors (380 kW: front 180 kW + rear 200 kW) are capable of providing electric all-wheel drive when conditions require yet the automatic deployment to front wheel drive whilst cruising to preserve energy consumption and maximum efficiency. With an output of 380 kW and a massive 680 Nm of torque, the BYD TANG offers outstanding levels of acceleration and performance hitting 0-100 km/h in just 4.6 seconds. Efficient management of energy means a WLTP combined range of 400 km is achieved.

Similarly, the cold weather performance capabilities of the BYD Blade Battery have independently been tested by Motor and NAF in Norway. The BYD Tang achieved the lowest level of battery degradation in cold climate conditions versus over 30 other electric vehicles tested. The Blade Battery had a deviation of just 11% versus official WLTP figures. All vehicles were tested in temperatures ranging from 0 to 10 degrees Celsius which is commensurate with most wintertime journeys, and typically when they tend to be negatively impacted for range.
A further feature of the Blade Battery is the fast charge capabilities. The BYD TANG can be recharged between 30% and 80% in just 30 minutes thanks to the DC charging of up to 110 kW. BYD provides 8-year warranty on the power battery or 160,000 km (SOH 70%).


Safety and Driver Technology
The BYD TANG is equipped with the latest driver-assist equipment including 25 state-of-the-art safety features including 360-degree HD surround view camera and 11 outdoor radars. The Advanced Driver Assistance Systems (ADAS) include front collision warning, automatic emergency braking, rear collision warning, rear cross traffic alert, rear cross traffic alert, lane departure warning, and lane change assist. Further occupant safety is provided by the inclusion of 6 airbags, Tyre Pressure Warning Systems, and electric deployment of child safety locks.
BYD TANG Key Figures
Warranty
Battery: 8 years or 160,000 km, SOH 70%.
Motor/electric control: 5 years or 100,000 km.
Paintwork: 3 years.
Complete vehicle warranty: 5 years or 100,000 km

Acceleration 0-100 km/h

4.6 sec

Top speed

180 km/h

Battery

86.4 kWh

Range

528 km (WLTP City)

400 km (WLTP combined)

Cargo Space

235 / 940 / 1,655 litres

Dimensions

Length 4,870 mm

Width 1,950 mm

Height 1,725 mm

Curb Weight

2,489 kg