Hello, we are BYD: short for Build Your Dreams. Founded in February 1995, BYD Company Limited is a high-tech multinational company devoted to technological innovations for a better life. After 27 years of development, the company has expanded from 20 employees to around 290,000, with over 30 industrial parks and more than 40 branches worldwide. Find out more about our fast-growing company.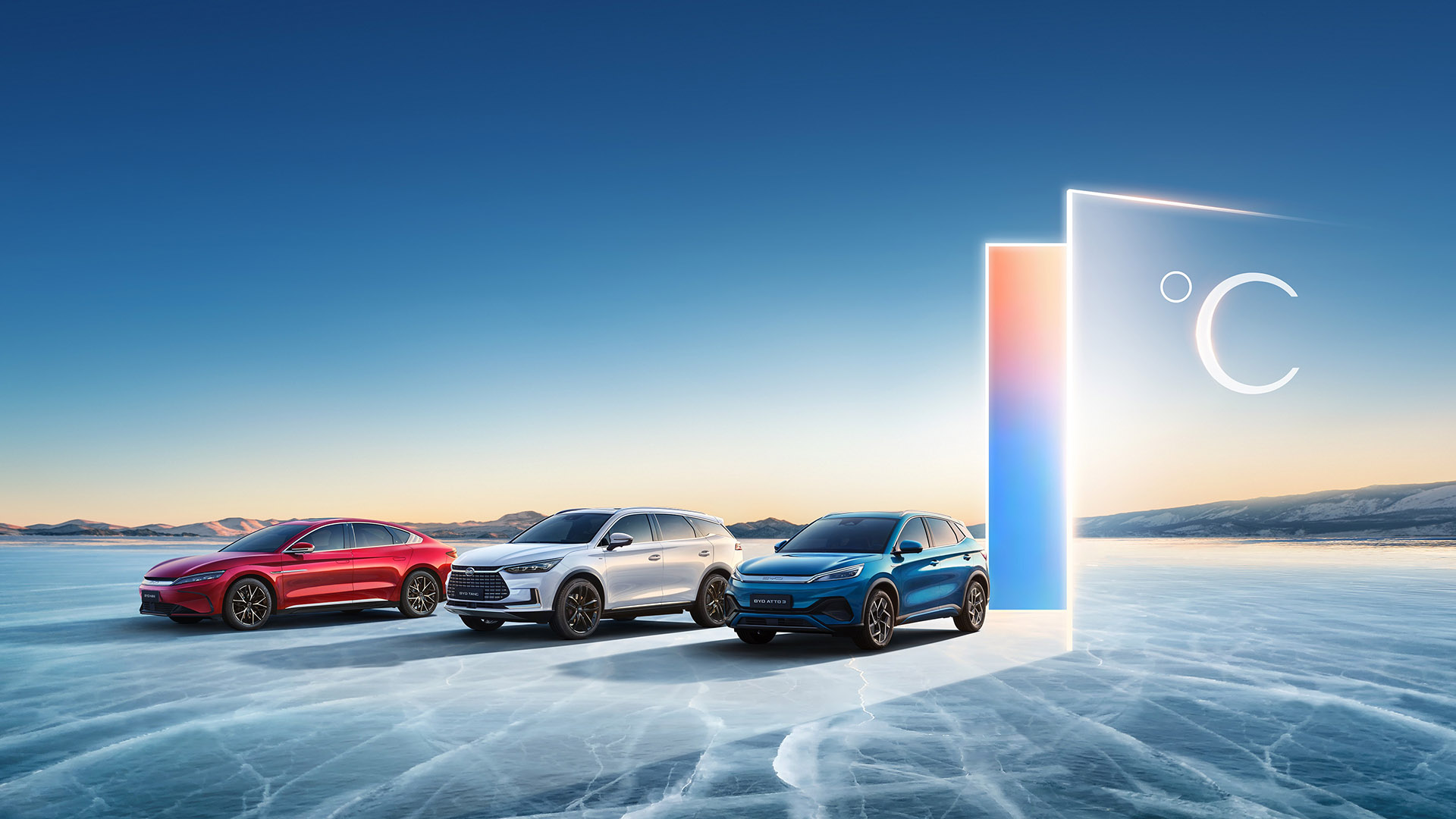 BYD has four industries dedicated to realising its green dreams of creating a zero-emission energy ecosystem: automobile, electronics, new energy, and rail transit. BYD is listed on the Stock Exchange in both Shenzhen and Hong Kong, China.
BYD is also a pioneer in battery technology. After our successes with manufacturing batteries for mobile telephones and laptops, BYD decided to create a complete clean-energy ecosystem that reduces the world's reliance on fossil fuels. BYD is dedicated to making mobility solutions emission-free.

In the past decades BYD has focused on mastering advanced technologies, power batteries, electric motors, electronic control systems and semiconductor chips. BYD offers electric trucks, electric busses, electric forklifts and even electric rail solutions. The company has become the world's leading manufacturer of new energy vehicles (NEVs), exceeding more than 200,000 sales per month.

Now, BYD entered the European market with three all-new pure-electric passenger cars. At the Paris Motor Show in October 2022, BYD unveiled its innovative and technologically-advanced electric car range to customers in Europe. This includes the BYD ATTO 3, an expressive and dynamic C-segment SUV, designed with the European customer in mind, as well asl the BYD TANG, which is a 7-seater with variable all-wheel drive. We also presented the sleek and sporty BYD HAN, an E-segment saloon.
BYD is a high-tech brand
BYD is not just another car manufacturer. Emerging from this considerable R&D the company developed the ground-breaking Blade Battery. This battery pack is revolutionizing safety, durability and performance in the EV industry. The Blade Battery works in close synergy with BYD's exceptional competency in electric powertrain technology for the ultimate in system efficiency and integrated vehicle intelligence. Combined, this integrated technology has been developed to deliver optimum performance and a better driving experience. Notably, BYD owns the entire vertical supply chain for seamless integration and total manufacturing control, including the production of semiconductors.
Driving this innovation in technology, is a sincere commitment from BYD to provide safe and appealing solutions that reduce pollution from carbon emissions and address the issue of climate change, supporting the initiative to Cool the Earth by 1℃. The green dream has long been a priority for BYD and is the vision for the future.

For over two decades, BYD has been at the forefront of sustainable innovation. In 2008, BYD launched the world's first mass-produced plug-in hybrid vehicle F3DM at the Geneva Motor Show. BYD was also the first automotive OEM in the world to announce it would be ceasing production of ICE vehicles this year to focus on BEV and PHEV products. BYD is the first, and only company in the world, to provide full market new energy vehicle solutions.
Global leader in new energy vehicles
BYD is the global leader in NEVs and the third largest automotive brand in the world, based on market capitalisation. BYD has ranked as number one for sales of NEVs in China for nine consecutive years. BYD is a true explorer when it comes to cleaner energy and has major aspirations for the future. This joins seamlessly perfect with the mobility goals of its automotive partners in Europe.
Michael Shu, General Manager and Managing Director, BYD Europe and International Cooperation Division, says:
"BYD comes to Europe with a full range of new electric cars, that live up to the high expectations of our customers. We introduce vehicles that are reliable, practical and comfortable with premium equipment as a standard feature. With our car design, our technology, our services and our dealer partners BYD will try to stand out from the crowd and offer the best possible experience to European consumers."
Awards / Honours (main only)
August 2015: BYD was listed in Fortune Magazine's "Top 51 Companies Changing the World".
September 2015: BYD received a Special Energy Award from former UN Secretary-General Ban Ki-moon, the first of its kind for the new energy industry in the UN's 70-year history.
January 2016: BYD was recognised for its innovation by the Zayed Future Energy Prize and won the Large Corporation Award.
July 2019: BYD's key technology, namely its high-efficiency and high-power wheel-side drive system, made the list of "Top Global Innovative NEV Technologies" at the 2019 World New Energy Vehicles Congress (WNEVC).
August 2019: BYD ranked third in Fortune Magazine's "Change the World" List. BYD was chosen for "expanding the universe of electric cars", as well as for driving the development of the global EV market and having a profound impact on the industry.
September 2020: BYD's "highly integrated Blade Battery technology" won the "Global New Energy Vehicle Innovation Technology Award" at the 2020 World New Energy Vehicle Congress.
August 2022: BYD made the Fortune Global 500 list for 2022, demonstrating its outstanding achievements in the market.
Four Main Businesses
Automobile

With independent R&D, BYD has become the only enterprise in the world that has mastered the core technologies of NEVs, such as batteries, motors, electronic controls and chips. At present, BYD's NEVs have formed three major product lines for passenger cars, commercial vehicles, and forklifts, covering seven conventional transportation fields including passenger vehicle, taxi, bus, coach, urban logistics, sanitation, and construction; and four specialist off-road vehicles for specific uses including warehousing, harbours, airports, and mining.
For nine consecutive years, BYD has held first place for NEV sales in China, and its new energy vehicle footprint can be found in more than 400 cities, across over 70 countries and regions around the world. It is also operating in more than 20 countries and over 100 cities across Europe.

Electronics
BYD is a top electronic manufacturing service (EMS) provider of one-stop services and solutions. BYD Electronic (International) Co., Ltd. was listed on the Hong Kong Stock Exchange in 2007. After more than two decades of development, it covers four major fields, namely: smartphones and laptops, new smart products, auto intelligent systems, and new intelligent products. It is the only company to provide a full series of structural components (metal, glass, ceramics, plastics, etc.) along with complete product design and manufacturing.

New Energy
BYD is a pioneer in providing a zero-emission energy ecosystem from power generation to storage, and usage. Since 2008, BYD's solar power and energy storage products have been exported to six continents, more than 20 countries, and more than 90 cities.

Rail Transit
With 100% independent IP and a full mastery of the entire industrial chain, BYD provides overall rail transit solutions, from design, vehicle bodies and track beams, to communication systems and intelligent operation and maintenance.
R&D
As of the end of 2021, BYD employs more than 40,000 engineers and technicians. As of June 2022, BYD has submitted applications for over 37,000 patent rights and owns around 25,000 patents.
Milestones
1995
- In February 1995, BYD was founded in Shenzhen, China, manufacturing Ni-Cd batteries.

1996
- BYD began producing the lithium-ion batteries.
1998
- BYD established its first overseas branch in Europe.
1999
- BYD established its U.S. branch.
2000
- For the first time, BYD opens its own Industrial Park in Kuichong, Shenzhen.
- BYD became Motorola's first Chinese supplier of lithium-ion batteries, entering the global supplier system of international brands for the first time.
2002
- In 2002, BYD was listed on the Hong Kong Stock Exchange - Stock Code 1211 - setting a record for the highest offering price among the SEHK's 54 H shares at the time.
- BYD became Nokia's first Chinese supplier of lithium-ion batteries.
2003
- BYD entered the automobile industry with a determination to combine its battery technology with vehicle technology to develop electric cars, and hence achieve its green dream.
2005
- BYD released its first vehicle, the F3 model, which was so popular that it exceeded sales of more than 1 million units in China alone.

2007
- BYD Electronics (International) Company Ltd. was listed on the Hong Kong Stock Exchange - Stock Code 0285.

2008
- MidAmerican Energy Holdings Company (currently named Berkshire Hathaway Energy), a flagship investment company under Warren Buffet's Berkshire Hathaway Inc., acquired 10% of the BYD company for around 220 million dollars.
- BYD launched the F3DM, the world's first PHEV (plug-in hybrid electric vehicle).
- BYD entered the solar power and energy storage sector.
2009
- BYD entered the new energy bus and coach industry; BYD entered the electric forklift industry.
2010
- BYD partnered with Daimler AG and they established the Shenzhen BYD Daimler New Technology Company, Ltd.
- The BYD e6, the world's first pure-electric taxis, take to the streets.
- The BYD 12-metre pure-electric bus rolled off production, and the BYD Electrified Public Transportation Solution was released.
- The BYD Charity Foundation was founded.
2011
- BYD was listed on the Shenzhen Stock Exchange - Stock Code 002594.
2015
- BYD launched its "7+4" Full Market EV Strategy.
2016
- BYD ventured into the rail transit sector.

2017
- The world's first commercial SkyRail line was launched and went into operation on September 1st in Yinchuan, China.

2018
- BYD released its IGBT 4.0, which is the most important component for an EV only after the batteries.

2019
- BYD launched the world's first commercial SkyShuttle line (a small-capacity rail transit product).
- BYD launched the All-New Global Design Center, unleashing the "Passion of Design".
- The FinDreams Battery Corporation was founded, leading to the production of the famous and ground-breaking "Blade Battery" in 2020.
2020
- When the pandemic struck, BYD decided to produce masks and became the world's largest face mask supplier within one month.
- BYD officially announced the launch of the Blade Battery, a development set to mitigate concerns about battery safety in electric vehicles.
- BYD released its iconic HAN EV, the first model equipped with the Blade Battery.
2021
- BYD unveiled the new generation e-Platform 3.0 while celebrating the world premieres of the EA1 and the X DREAM concept car (two models boasting completely new design specifications) and launched the TANG DM-i, the flagship super hybrid model.
- BYD's one-millionth new energy passenger vehicle rolled off the production line.
- BYD announced all its pure EVs will come with Blade Batteries.
- BYD launched the e-Platform 3.0 for pure-electric vehicles.
- In 2021, BYD sold 593,745 new energy passenger vehicles, with a YoY increase of 231.6%.
2022
- BYD announces the end of production of full combustion engine vehicles to focus on the BEV and PHEV market, the first OEM in the world to make such a commitment.
- In the first half of 2022, BYD sold 638,157 new energy passenger vehicles, up 324.8% YoY.
- Official launch BYD passenger cars in Europe at Paris Motor Show.
- The total sales of BYD NEVs exceed 3 million as of December 2022.