The agile and versatile BYD DOLPHIN C-segment hatchback is awarded two awards in 2024 Carbuyer New Car Awards

Best Small Electric Car
Car of the Year

Pure-electric BYD DOLPHIN is available with a highly efficient 60.4 kWh BYD Blade Battery with a 265 mile range (WLTP) and later also with a 44.9 kWh BYD Blade Battery with the estimated range (WLTP) of 211 mile for Active and 193 mile for Boost
High-tech electric mobility available and accessible for everyone with attractive pricing between £26,195 and £31,695 OTR.
BYD, the world's No. 1 manufacturer of New Energy Vehicles, is delighted to announce that the BYD DOLPHIN has achieved a remarkable double triumph by being named Carbuyer.co.uk Best Small Electric Car and Carbuyer.co.uk Car of the Year in the 2024 Carbuyer New Car Awards. These prestigious awards highlight the BYD DOLPHIN's exceptional attributes, cementing its status as an industry frontrunner in sustainable and accessible, compact electric vehicles.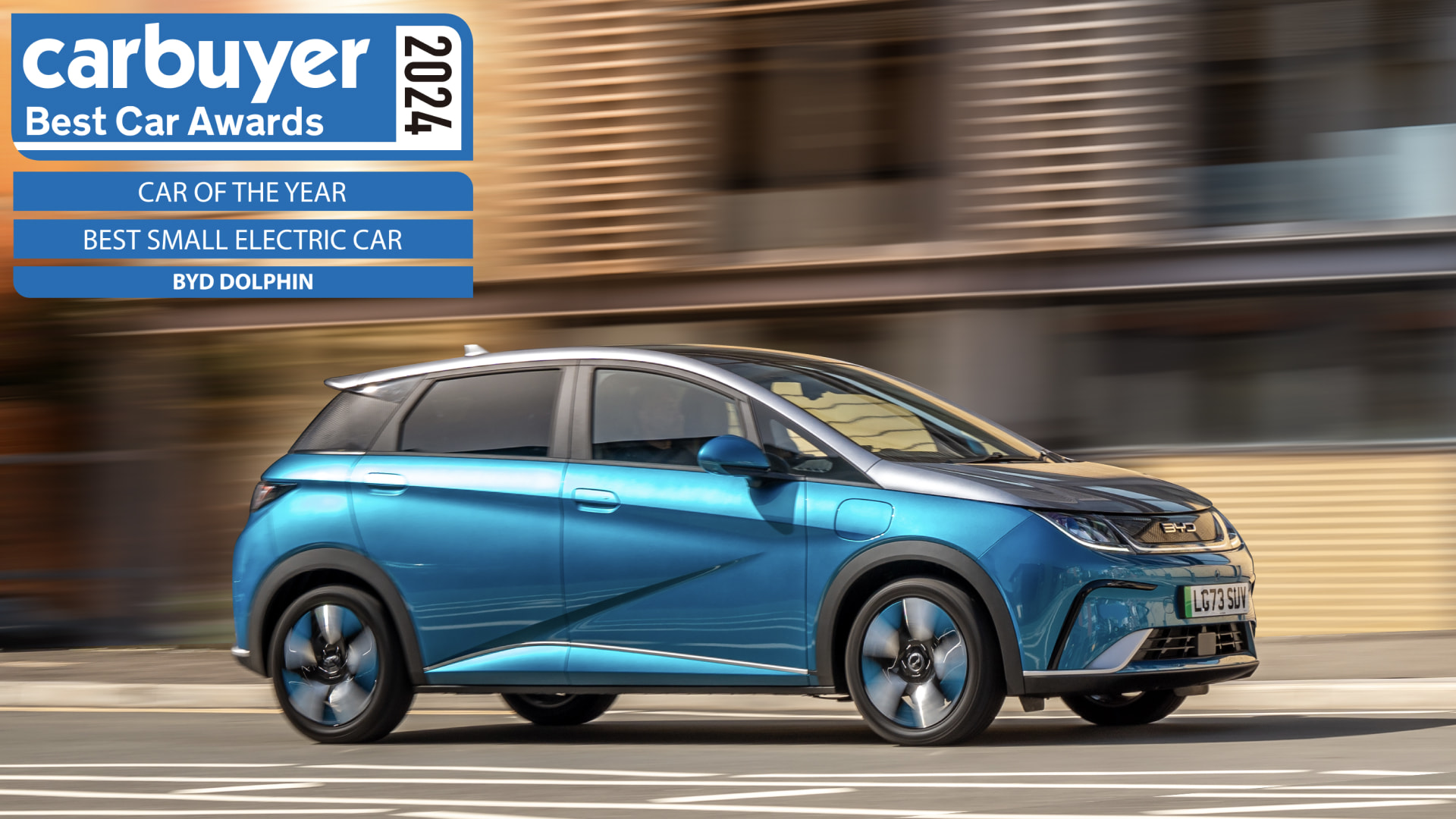 BYD DOLPHIN is awarded 'Best Small Electric Car' and 'Car of the Year' in the 2024 Carbuyer New Car Awards
Carbuyer.co.uk, renowned for its comprehensive automotive evaluations, has honoured the BYD DOLPHIN for its outstanding achievements in the electric vehicle sector. This dual victory underscores the BYD DOLPHIN's ground-breaking contributions to the world of eco-friendly, small-scale transportation.
The Carbuyer judges said,
Best Small Electric Car: BYD DOLPHIN
"Compact on the outside, capacious on the inside, the BYD DOLPHIN is efficient, good to drive, loaded with tech and, with the bigger of the two batteries, comes with a sensible real-world range. It might not be pocket change, but the BYD DOLPHIN costs a good chunk less than its mainstream rivals."
Carbuyer Car Of The Year: BYD DOLPHIN
"It really is quite extraordinary how a brand you've probably never heard of – albeit one that sells millions of cars in its home market – can so drastically undercut the competition and still offer such a compelling package. The BYD DOLPHIN isn't a cheap car, it's a great-value car. There's a difference."
The key reasons behind the BYD DOLPHIN's dual victory include:
Stylish and Compact Design: The BYD DOLPHIN's modern and elegant ocean aesthetics design proves that sustainable mobility can be both functional and stylish, appealing to environmentally conscious drivers with an eye for aesthetics.
Efficiency and Range: Despite its compact size, the BYD DOLPHIN offers an impressive electric range, including a highly efficient integrated Heat Pump as standard, and benefits from the ground-breaking BYD Blade Battery. Making it an ideal choice for urban and suburban commuters seeking a greener alternative.
Outstanding Performance: Packed with advanced features, the BYD DOLPHIN showcases BYD's commitment to safety, connectivity, and innovation, providing an exhilarating driving experience, proving that small electric cars can be both practical and fun.
Environmental Responsibility: The BYD DOLPHIN epitomizes BYD's dedication to environmental stewardship, aligning with the company's vision to reduce emissions and combat climate change.
Michael Shu, Managing Director, BYD Europe, expressed his gratitude and said, "We are immensely proud of the BYD DOLPHIN's accomplishments in winning Carbuyer.co.uk Car of the Year and Best Small Electric Car awards. This recognition reflects our commitment to advancing electric mobility and providing consumers with exceptional choices that align with their environmental values."
The BYD DOLPHIN's dual victory at the Carbuyer.co.uk Awards, reinforces BYD's position as a leading innovator in the electric vehicle space, with a focus on creating sustainable and practical transportation solutions for the world. In 2023 BYD has opened stores in nine UK cities, including London, Glasgow, Stockport, Birmingham, Milton Keynes, Leicester, Leeds, Southampton and Exeter, with a further 16 stores opening by the end of this year. Consumers are invited by BYD to explore their cutting-edge technology and an array of electric products, including the award winning BYD ATTO 3 and now the BYD DOLPHIN.