BYD launches in Italy with the BYD ATTO 3, a dynamic C-segment SUV, and the BYD HAN, an elegant E-segment sedan available with two electric motors and AWD drive
BYD's first batch of stores in Italy will be located in Milan, Brescia, Verona, Turin and Florence
BYD models are distinguished by advanced electric vehicle technology developed in-house, as well as innovative technical solutions such as the e-Platform 3.0 and the Blade Battery
The BYD ATTO 3 range launches with a list price starting from 41,990 euros (excluding IPT tax)
The upcoming BYD DOLPHIN and BYD SEAL models will be shown in a static national preview in conjunction with the Italian launch
BYD, the world's leading manufacturer of New Energy Vehicles (NEVs) and power batteries, announces its Italian market plans and introduces two pure electric models, BYD ATTO 3 and BYD HAN.
With more than 28 years' experience in battery research and development, BYD is globally renowned for its pioneering technology and world-leading innovations in eMobility solutions. BYD is the only New Energy Vehicle (NEV) producer to have developed its own powertrain systems, power batteries, automotive semiconductors, drive-motors and motor controller systems.
With "Cool the Earth by 1oC" as the brand vision, BYD has been at the forefront of innovation while focusing on sustainability. At the 2008 Geneva Auto Show, BYD unveiled the world's first production plug-in hybrid vehicle. BYD was also the first auto manufacturer in the world to discontinue the production of internal combustion engine vehicles to focus solely on new energy vehicles.
BYD introduces a range of pure electric models in Italy
BYD commences operations in Italy with two models: the BYD ATTO 3, an SUV with a 60.5 kWh battery providing a range of up to 565 km in urban and 420 km in combined cycles, and the BYD HAN, a sedan with dual motors producing up to 380 kW/517 horsepower and All Wheel Drive. The HAN boasts an elegant yet sporty design and a range of 521 km in combined cycle.
Partnering with Local Dealer Groups
BYD has selected three dealer groups in Northern Italy to launch the brand in the Italian market. Autotorino, Barchetti, and Intergea (via subsidiaries Theorema and Car Village) will be the first commercial partners in Italy, with points of sale in Milan, Brescia, Verona, Turin, and Florence. The network will expand in July to include Como, Bergamo, Udine, Modena, Trento, and Bolzano.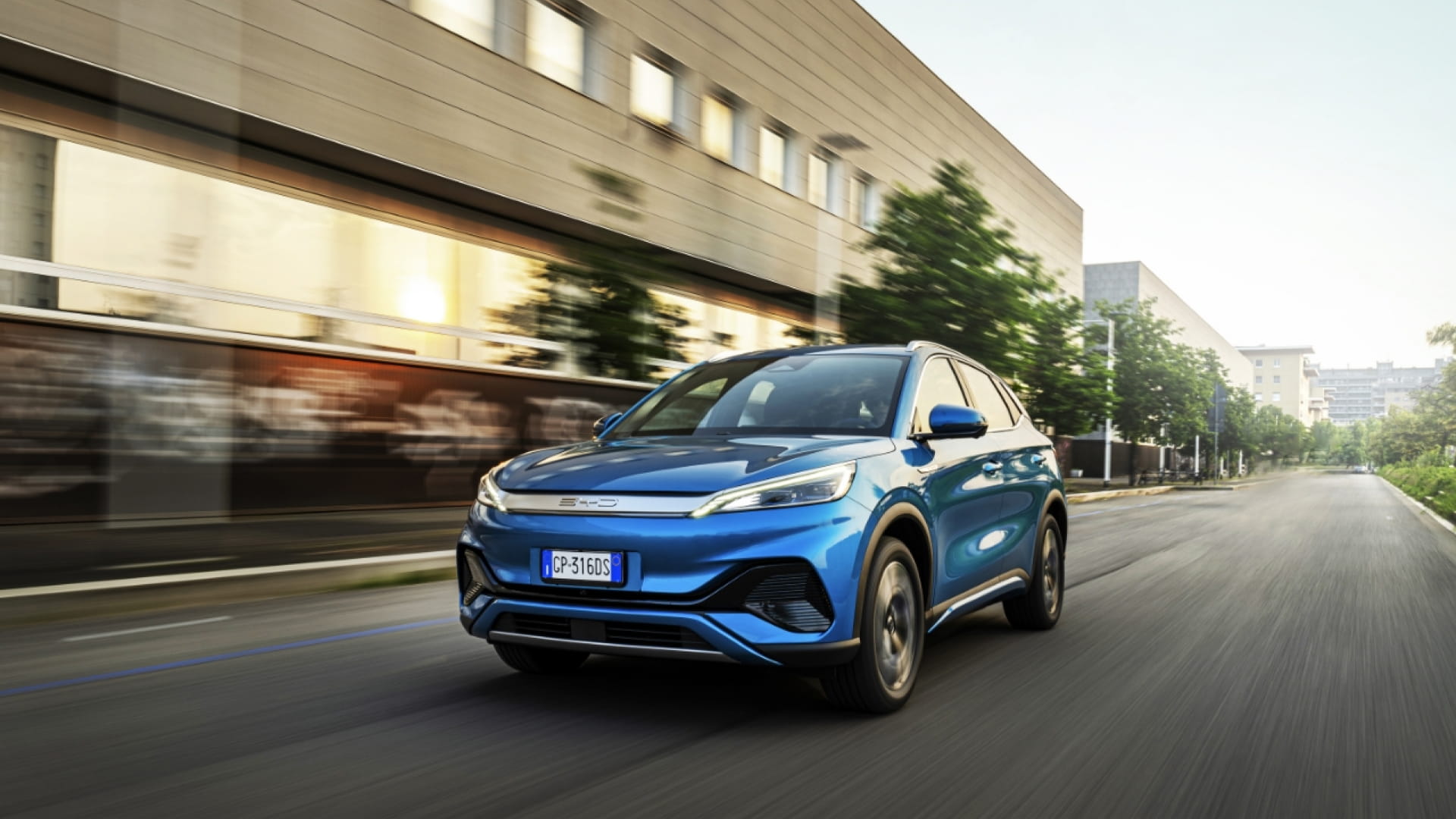 BYD ATTO 3 launched to customers in Italy
BYD ATTO 3 with Ground-breaking BYD EV Technology
BYD ATTO 3 is the brand's latest new energy vehicle. This compact SUV evolves BYD's "Dragon Face" design language to bridge millennia of Chinese culture and modern European tastes.
BYD ATTO 3 is created with one goal in mind: to provide optimal performance and a distinctive driving experience. Powered by a 150 kW/204 PS engine with 310 N·m of torque, BYD ATTO 3 is capable of accelerating from 0 to 100 km/h in 7.3 seconds. The performance and efficiency of the BYD Blade Battery allow for energy consumption on the combined cycle of just 15.6 kWh/100 km and a range of up to 565 km in the urban cycle and 420 km in the combined cycle (WLTP).
BYD ATTO 3 is also the first BYD SUV built on BYD's intelligent e-Platform 3.0. This scalable platform incorporates the battery into the chassis, ensuring high structural rigidity and excellent crash safety. The platform's design allows a lower centre of gravity, increased dynamic performance and reduced overall weight, and its lower body design creates better aerodynamic efficiency rates coupled with shorter overhangs that maximise roominess, among other benefits. Another distinguishing feature of BYD is the Blade Battery, which is made of lithium iron phosphate (LFP) rather than cobalt and provides excellent safety, strength, and durability. In addition, the BYD ATTO 3 has also been awarded a 5-star Euro NCAP score.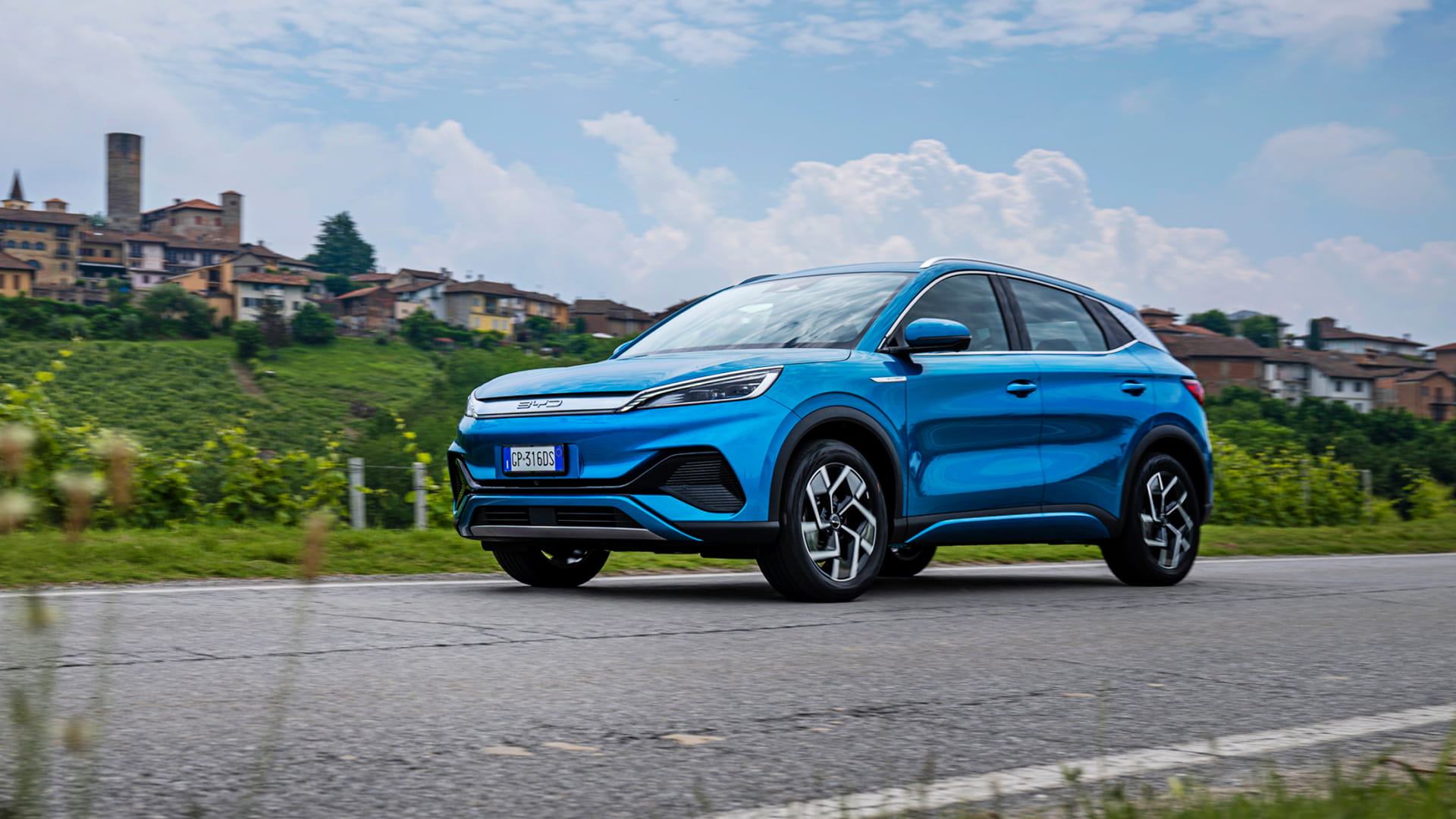 BYD ATTO 3 in Italy
BYD ATTO 3 will be available in two versions, both fully equipped with a comprehensive list of standard features. The Comfort version includes Vehicle to Load (V2L), a panoramic sunroof, electric front seat adjustment, GPS navigation system, vegan leather upholstery, and a 12.8-inch rotating central touchscreen. The starting price is 41,990 euros. The top-of-the-range Design model includes an electric tailgate, air conditioning purification and a 15.6-inch screen. The price for the Design model is 43,490 euros.
BYD HAN: A New Benchmark among High-performance Sedans
BYD HAN is the flagship model in BYD's New Energy Vehicle model range for the European market. It combines exceptional comfort with premium car performance and impressive standard equipment.
Its captivating and award-winning design features tapered and slender lines that achieve unrivalled aerodynamic efficiency, with a Cd of just 0.23, thanks to design touches such as flush door handles. The luxurious interior welcomes passengers with perforated Nappa leather upholstery and a black leather-covered dashboard. Rear passengers can control the climate system, operate the panoramic sunroof, and select from 31 available ambient lighting shades via a 7-inch multimedia screen integrated into the central headrest.
The BYD HAN, like the rest of the range, benefits from the Blade Battery's advantages in terms of space efficiency, safety, and torsional rigidity, as well as a driving range of up to 662 km in the urban cycle and 521 km in the combined cycle. The combined power of the two electric motors and the AWD system is 380 kW or 517 HP, allowing it to accelerate from 0 to 100 km/h in 3.9 seconds.
The BYD HAN's price starts at 70,940 euros for the Executive versions with metallic paint, 71,306 euros for the special Emperor Red colour scheme, and 71,550 euros for the Al Blue livery.
Also in the static preview is the new BYD DOLPHIN and BYD SEAL
BYD also unveils two key products for the near future with a static expo to coincide with the Italian launch. BYD DOLPHIN, a fully electric C hatchback that will soon be available for pre-order, and BYD SEAL, a fully electric D-segment sports sedan. Both vehicles will join BYD's lineup in the coming months.