BYD premieres its innovative new energy passenger car range in Uzbekistan on 16 March 2023, bringing world-leading hybrid and EV technologies  
BYD's introductory range will be available to order from March, including 3 models, BYD CHAZOR, BYD SONG PLUS DM-i and BYD HAN
The two PHEV models (CHAZOR and SONG PLUS DM-i) showcase BYD's game-changing hybrid technologies(DM-i) with substantial fuel-saving benefits, efficiencies and quiet ride performance
The BYD HAN is an all-electric high-performance executive sedan
BYD has released presale starting prices for all 3 models.
From March, customers will be able to visit the BYD Flagship store in Sergeli as well as the BYD Oloy showroom in Tashkent, with a third store in Yunusobod opening in early April
Tashkent, Uzbekistan - BYD (Build Your Dreams), the world's leading manufacturer of new energy vehicles and power batteries, introduces its brand and a range of innovative eco-friendly passenger cars to customers in Uzbekistan. The debut range was unveiled at the BYD and Uzbekistan New Energy Vehicle Premiere with pre-ordering available to customers commencing 16th March 2023.
The product portfolio includes the BYD CHAZOR, the BYD SONG PLUS DM-i and the BYD HAN. BYD announced pre-sale starting prices for all three vehicles.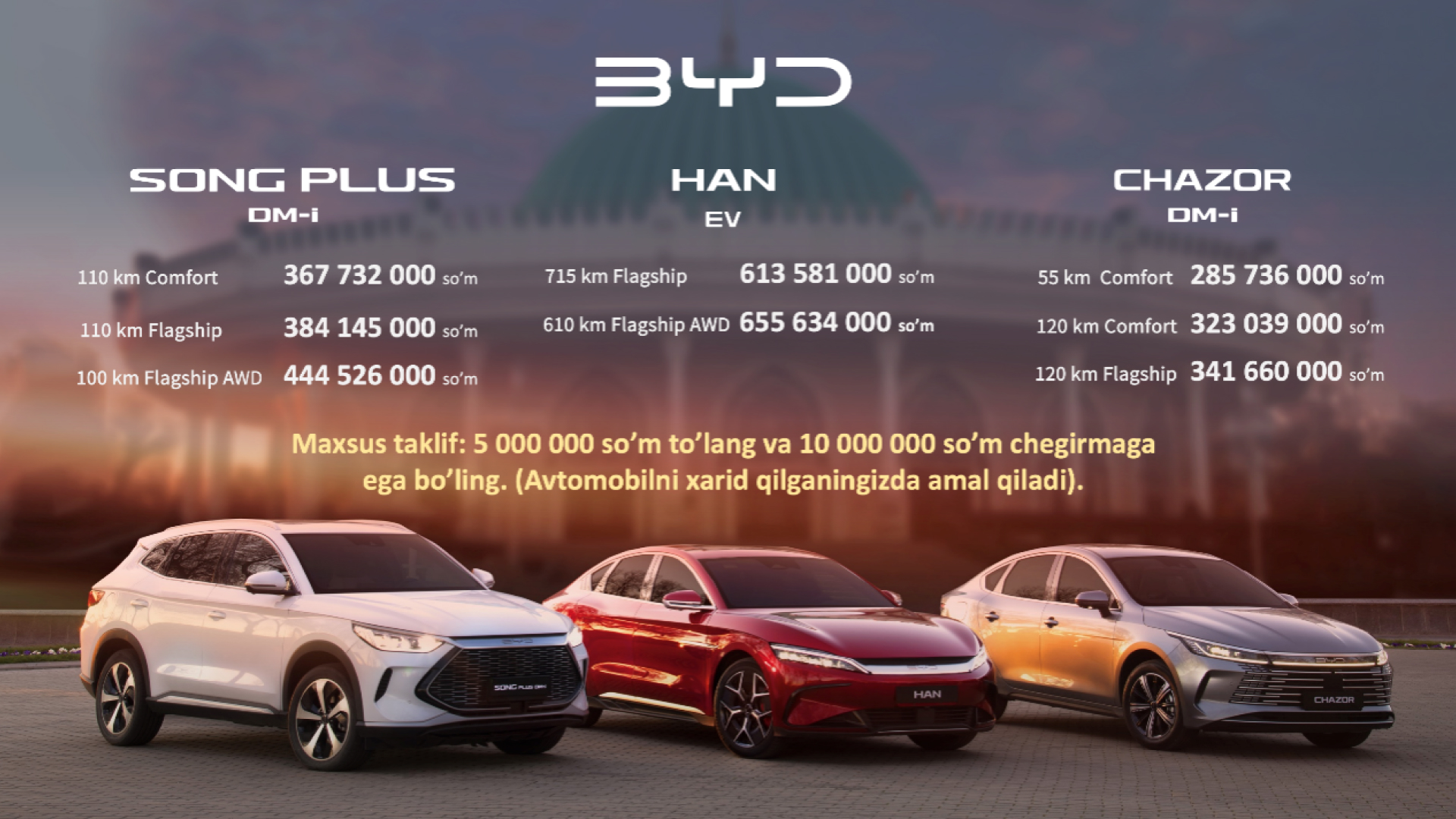 Three all-new BYD NEV models launched in Uzbekistan: BYD CHAZOR, BYD SONG PLUS DM-i and BYD HAN
The first BYD new energy vehicles arrived in Uzbekistan in March, with a second delivery already in progress and due early in April, bringing customers in Uzbekistan an all-new NEV experience thanks to cutting-edge hybrid DM-i and EV technologies developed by BYD.
BYD Pioneer Stores will open in districts across Uzbekistan's capital, Tashkent, from late March, giving customers the opportunity to experience many technological benefits of the BYD NEV passenger car range. The first BYD flagship Pioneer Store will open in the Sergeli district, along with a showroom in Oloy. The second Pioneer Store will be located in Yunusobod and open in early April.
BYD NEV Car Models Premiering Uzbekistan

BYD CHAZOR is a streamlined compact sedan, benefiting from BYD's game-changing plug-in DM-i technology that prioritizes electricity for power, reducing fuel consumption for greater economies, while also creating a quiet and smooth ride with impressive drive performance.
The BYD CHAZOR, with its 1.5L 'high-efficiency' engine and DM-i hybrid technology, offers outstanding range and fuel consumption. With fuel consumption of 3.8L/100km(NEDC), it has a combined fuel and electric driving range of 1,245km (NEDC), making it practical and economical for longer journeys.
BYD CHAZOR
Taking its design inspiration from the ocean, the BYD CHAZOR combines elegance and refinement with a dynamic sense of power and excitement. Sleek body contours epitomise the ocean's waves, with a premium interior crafted to a very high standard, which continues to draw inspiration from the ocean, through colour palettes and intricate design touches. This model is equipped with intelligent technology and driver assistance systems to enrich the driving experience and optimise safety.
The BYD CHAZOR enters the Uzbekistan market with a presale starting price of 323,039,000 SOM. In addition to that, BYD also gives a special-offer edition 55km Comfort with a presale price of 285,736,000 SOM.
BYD SONG PLUS DM-i is a compact SUV using BYD's Dragon Face 3.0 Design Language (available as either FWD or AWD) that is both stylish and practical, whether driving in urban areas or out in the country. It shares the same cutting-edge DM-i hybrid technology as the BYD CHAZOR and similarly combines ride performance with ultra-low fuel efficiencies. The 1.5Ti AWD version offers an exhilarating acceleration of 0-100 km/h in 5.9 seconds.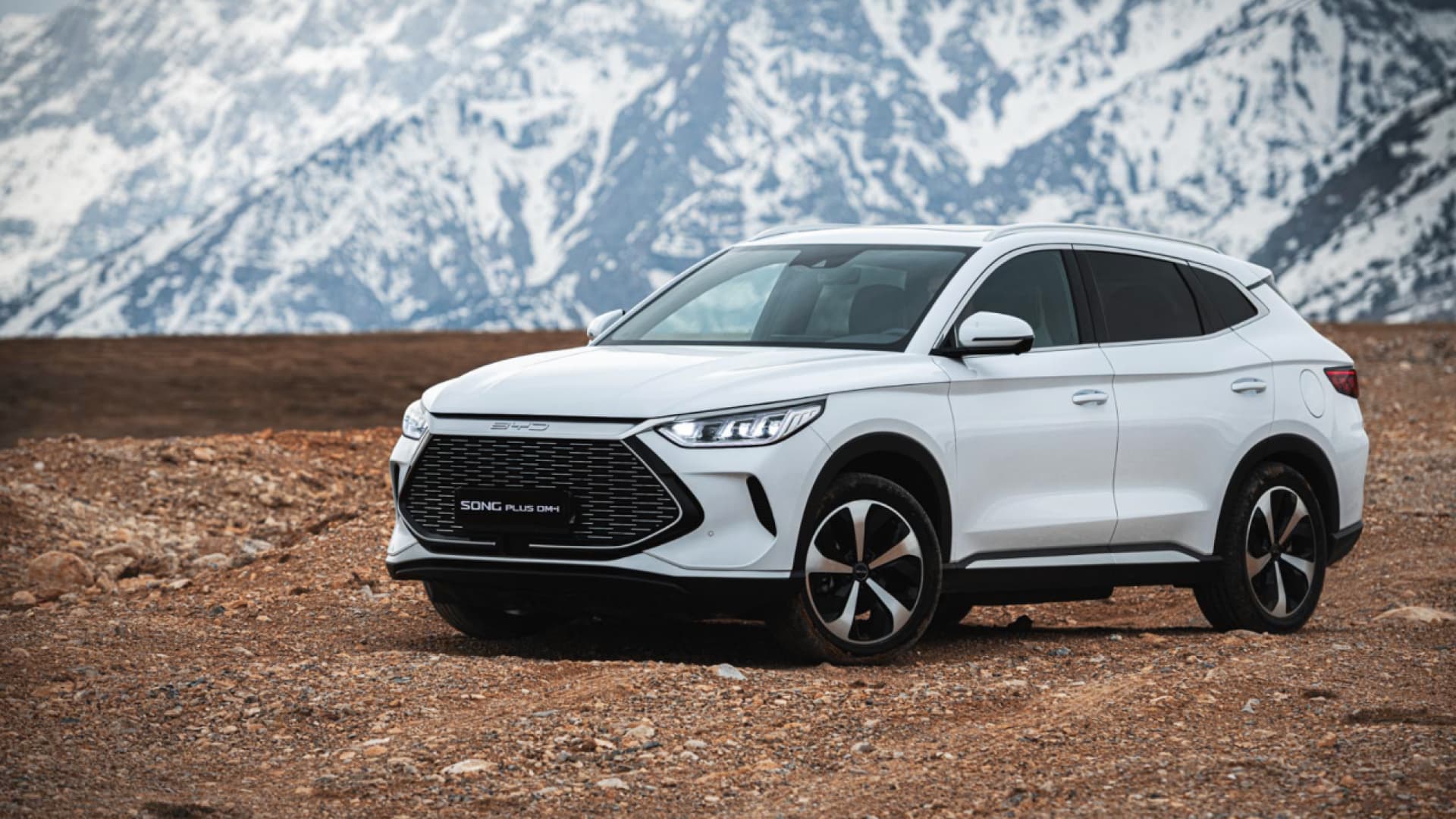 BYD SONG PLUS DM-i
The design is based on BYD's Dragon Face 3.0 Language inspired by Chinese culture, with expressive sleek lines from every angle giving the car personality. The front 'facial' design uses a cluster of LED crystal headlights and daytime running lights incorporating triple-seven beams to symbolise the dragon's claw and sparkling eyes. The front brushed metal grille also makes a statement, giving a hint of sporty performance. Its sleek 'diving dragon' silhouette, evokes confidence, excitement and power. The deluxe interior has been designed with the same careful attention to detail for a premium feel, with subtle elements that stylishly continue the dragon-inspired theme.
Innovative smart technology is at the heart of the BYD SONG PLUS DM-i for an intelligent and truly connected drive experience, with a high specification level as standard.
The pre-sale starting price of the BYD SONG PLUS DM-i is 367,732,000 SOM.
BYD HAN, an all-electric sleek and sporty sedan, is striking in appearance from all angles. As the flagship model in BYD's high-performance EV range, it embodies style and premium finish inside and out while offering an exhilarating driving performance and superb responsiveness.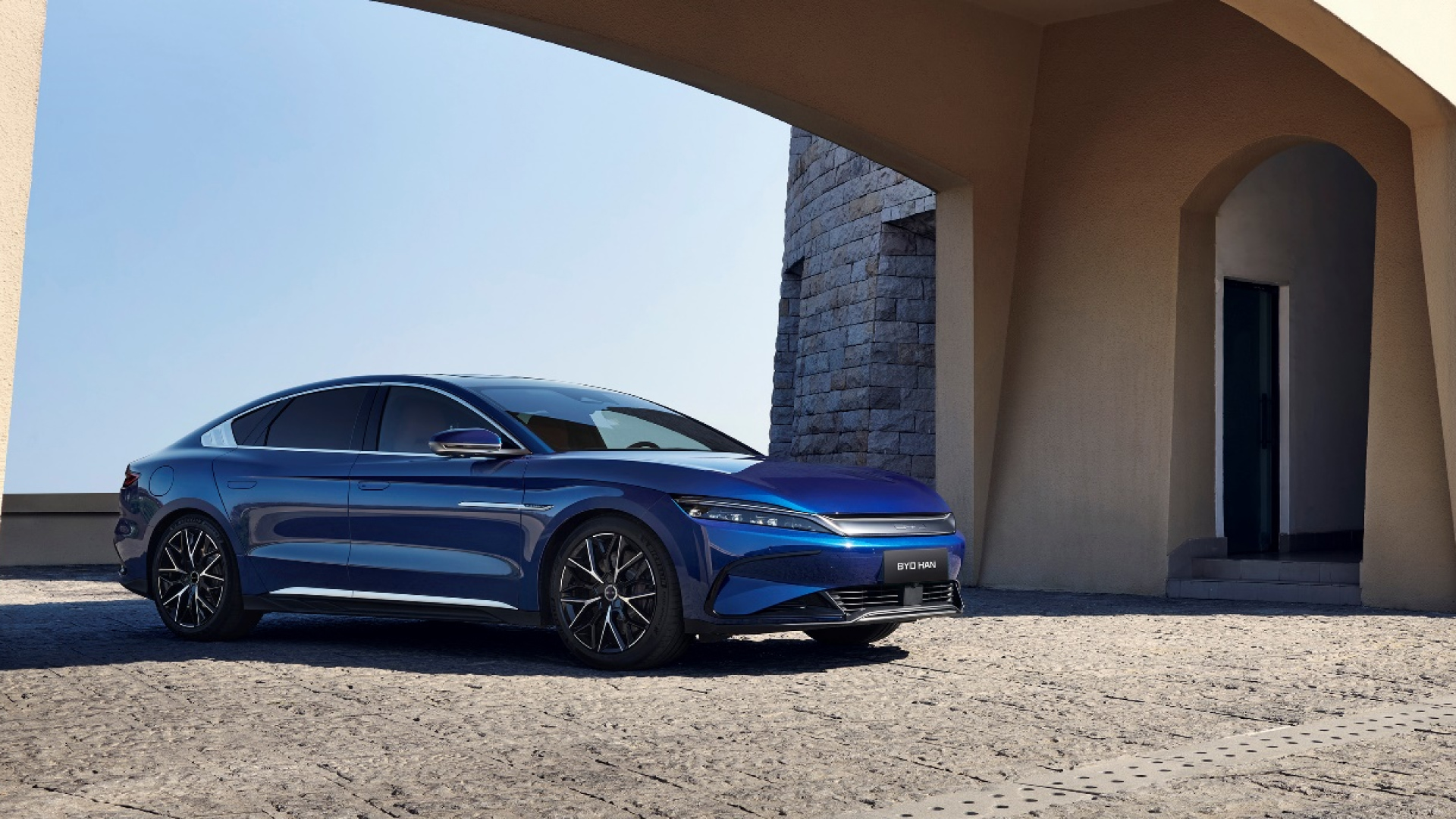 BYD HAN
Available in two versions, AWD or FWD, the BYD HAN (AWD) has two electric motors, generating a true all-wheel-drive system for safety and handling. The combined power of the dual motor system delivers an impressive 380 kW or 516 horsepower with a 0-100km/h sprint time of just 3.9 seconds. The FWD version accelerates from 0-100km in 7.9 seconds. The BYD HAN offers a high-tech and premium experience, benefiting from some of the EV industry's most advanced technologies, including the revolutionary Blade Battery.
With a low bonnet and raised fenders, the shape of the BYD HAN has also been optimised for aerodynamic efficiency. The HAN's sleek tapering body contours, the flush fitting door handles, and dynamic silhouette provide a drag co-efficient of just 0.233cd, contributing to its impressive 715km (CLTC) driving range (FWD) and 610 km (CLTC) driving range for the AWD version.

The BYD HAN has a pre-sale starting price of 613,581,000 SOM.

BYD's Innovation in Sustainable NEV Technology
As the world's leading new energy vehicle (NEV) manufacturer, BYD has over 28 years' experience in battery research and development, and is a brand with global recognition for its pioneering innovations in this field.

BYD is the only NEV producer to have developed its own powertrain systems, power batteries, automotive semiconductors, drive-motors and motor controller systems. BYD owns the vertical supply chain of EVs for seamless integration and manufacturing control.

Emerging from this considerable research and development is the ground-breaking Blade Battery which is revolutionizing safety, durability and performance in the EV industry. The cobalt-free Blade Battery, which has undergone rigorous safety tests including the Nail Penetration Test, uses Lithium Iron-Phosphate (LFP) as its cathode material, which offers a much higher level of safety than conventional lithium-ion batteries with excellent thermal stability and durability. Efficiency and longer range are further benefits of the Blade Battery, providing more power density for optimum performance and efficiencies, including faster charging. A specialist version of the Blade Battery has been developed for BYD's DM-i hybrid technology to increase heat efficiency by an additional 10%.

The innovative BYD DM-i hybrid platform utilises world-leading technology, and is a game changer for the PHEV industry. It incorporates a highly efficient system that uses electricity-based architecture for ultra-low fuel consumption, enhanced ride comfort and reduced noise levels, while also delivering powerful performance with greater motoring efficiencies.

The electric-based DM-i super hybrid cars are powered by an electric motor in 90% of driving conditions, for an experience that is infinitely close to pure electric vehicles. The system brings fuel consumption down to 3.8L/100km, and the combined fuel and electric cruising range exceeds 1,200 km, while the acceleration time from 0-100 km/h is 2-3 seconds faster than that of similar fuel vehicles.
BYD empowering eMobility
BYD is also the first NEV manufacturer globally to stop the production of full combustion engine vehicles to focus on battery electric vehicles (BEVs) and plug-in hybrid electric vehicles (PHEVs).

To date, BYD has sold over 3.7 million NEV passenger cars globally, covering over 400 cities and 70 countries and regions. BYD's NEV sales in 2022 surpassed 1.85 million units, propelling BYD into the top No.1 position for global NEV sales.

BYD is empowering eMobility around the world, producing pure-electric buses, trucks, vans and rail transit, as well as innovating total solutions for harvesting, storing and generating renewable energy to support evolving charging infrastructures.

Through technological innovations and environmentally friendly NEV products, BYD is committed to a sustainable future underpinning its brand proposition of "Technology·Green·Future".
BYD working in partnership with Uzbekistan
Preparations for BYD's entry into Uzbekistan started in December 2022 when BYD and UzAuto embarked on a joint venture to produce best-selling new energy vehicles in the country. This has been the foundation for an exciting collaboration for the future, and demonstrates BYD's commitment to forming co-operations with partners who share the same vision for sustainable mobility and technological innovation. Through cooperation with local dealers, BYD will provide consumers with high levels of localised sales, after-sales and service support for the best all-round customer experience.

Ivan Cao, Deputy General Director of BYD Central Asia LLC, said: "We are delighted to bring BYD's innovations in new energy vehicles and world-leading technology to Uzbekistan. BYD is dedicated to providing reliable, practical, and comfortable vehicles equipped with premium features as standard. We place great emphasis on delivering exceptional localised customer service and high levels of product satisfaction, to offer the best experiences to BYD consumers, and we achieve this by partnering with established and respected local dealers who share our vision. Our unique car designs, cutting-edge technology, and unparalleled services will set us apart and provide the ultimate experience for consumers in Uzbekistan."
HD Photos: https://we.tl/t-evhcmEDItL