Shortly after we presented the all-new BYD DOLPHIN for the European market, we immediately followed suit by introducing the international press to our newest product. In the Spanish capital Madrid, automotive journalists hit the road with the BYD DOLPHIN and we can already tell we are delighted with the many positive reactions.
An international test drive event is always an important and exciting moment for a car manufacturer, because then you can gauge what the car experts think of the new model – car experts who usually drive all kinds of different cars throughout the year and therefore compare cars on an objective basis and comparative manner. In addition, such a media event provides a boost to online content, so consumers can be well informed about the new model.
All the news about the new BYD DOLPHIN was followed with great interest from the media. Because a brand new product from the world's largest and leading NEV manufacturer in a very important market segment - that of the traditional five-door C-segment hatchback - is something to look forward to. And when the strikingly attractive prices were announced during the press event, and everyone present realized the BYD DOLPHIN puts all its direct competitors behind, the tone was immediately set.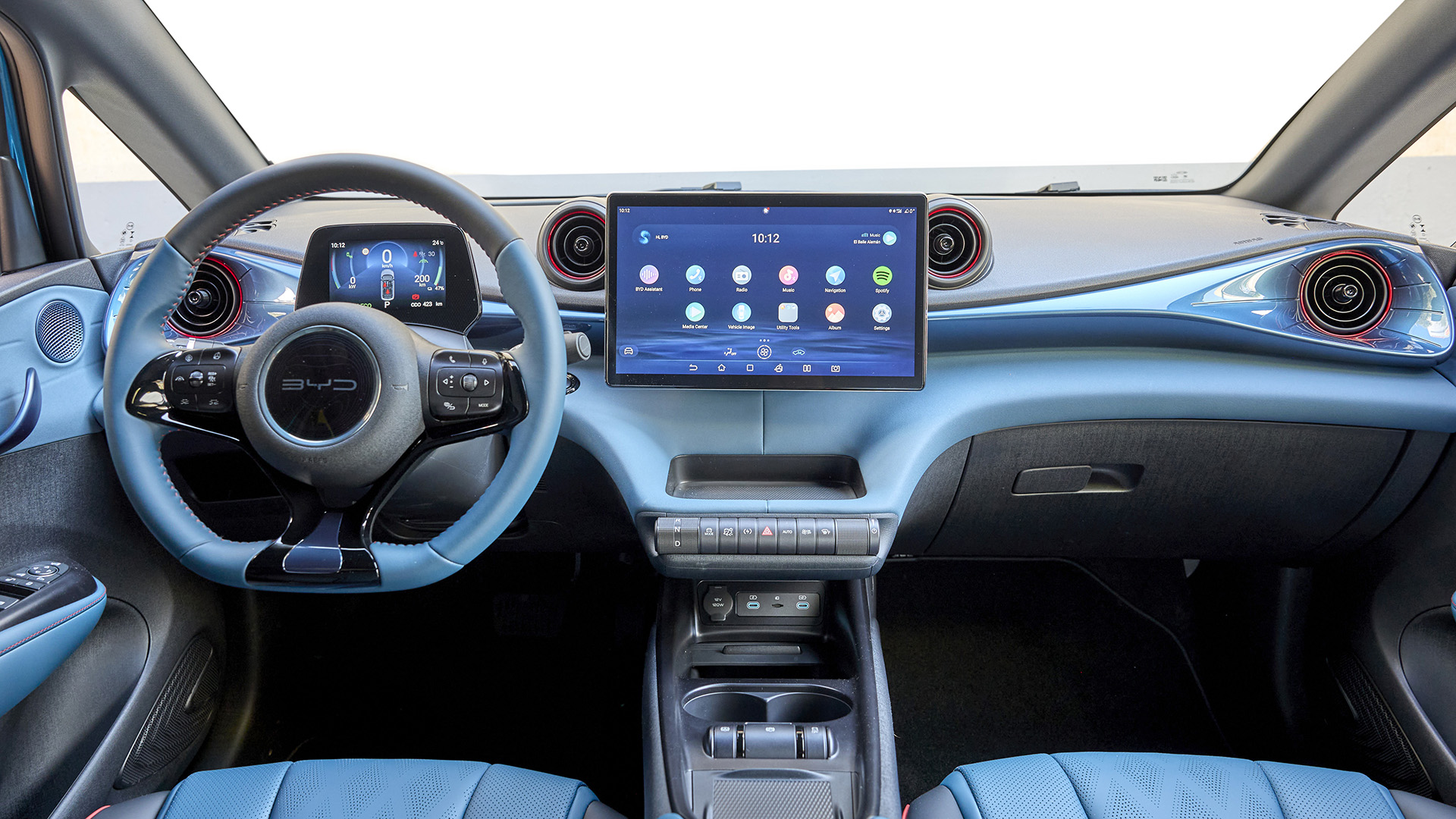 One thing is certain: the BYD DOLPHIN has been welcomed with open arms in Europe and received numerous positive reviews. Not just because its distinctive and playful interior and exterior design aesthetics, combined with versatility, agility and an abundance of standard equipment and safety features. The DOLPHIN also uses BYD's highly advanced, in-house developed e-Platform 3.0 and cobalt-free Blade Battery that revolutionizes safety, durability and performance.
Here is a selection of the most important features of the BYD DOLPHIN:
Five-door hatchback measuring 4.27 x 1.77 x 1.57 meters.·
345 to 1,310 litres of luggage space.
Blade Battery with 44.9 kWh or 60.4 kWh capacity.
Range (WLTP combined) varies from 310 to 427 km.
Power output ranging from 70 kW (95 ps) to 150 kW (204 ps).
DC charging time 30-80% in approximately 30 minutes.
Standard heat pump and climate control (also controllable with BYD app).
Standard rotatable 12.8 inch touchscreen, Apple CarPlay and Android Auto.
Standard comprehensive package ADAS, including Autonomous Emergency Braking, Rear Collision Warning, Emergency Lane Keeping Assist, Adaptive Cruise control, 360 degree panoramic camera, blind spot detection system, Hill Decent Control and traffic sign recognition with intelligent speed limit.
Standard 6-year manufacturer's warranty and 8-year warranty on the powertrain and battery.
Taking orders from this summer
The new BYD DOLPHIN can be ordered from this summer. Delivery of the vehicles with 60.4 kWh battery pack will start in the fourth quarter of 2023. The 44.9 kWh-versions will follow in the first quarter of 2024.
Want to know more about the BYD DOLPHIN? Visit our website for all the ins and outs of our new family member. Curious about the test reports from the international media? Here is a selection of test reports from various European media. See for yourself!
AutoBild.de
"It's also nice that the weight of the battery doesn't hang on the springs as much as with other electric cars. The chassis takes bumps and potholes with ease."
Carmagazoine.co.uk
"Wind and motor noise are impressively well contained. We also need to mention the brake pedal for its predictable responses, something that's not a given even on expensive EVs."
Electrifying.com
"Inside is where BYD has really chosen to let its hair down, and on the whole, it's a success. There isn't a single surface that doesn't feature a texture, crease or pattern. Some elements feel as though they've come straight from a concept car."
AutoRAI.nl
"The DOLPHIN is on the same e-Platform 3.0 of the BYD Atto 3. This results in very mature driving behaviour. The car is even very comfortably suspended. You really relax in the car."
ADAC.de
"The chassis and suspension are clearly designed for comfort rather than sportiness, so that bumps in the road are filtered out well and long distances are also pleasant to cover because of the comfortable seats."
AutoExpress.co.uk
"It delivers on range, efficiency, space, tech and dynamics, while undercutting all of its main rivals on price. As such, Dolphin should leave mainstream marques worried. We hoped it'd be good, but we weren't expecting such a well rounded package."
Motor.es
"Europe has always been known for the quality of its cars, but for years, we have seen nothing but hard plastics and black painted upholstery. Until now, BYD has surprised us with the high quality of its materials and good looking interiors. In the Dolphin, we experience the same sensations."
Automoto.it
"The seat height adjustment, leg angle and grip on the handlebars are excellent. All controls from the steering column to the seat adjustment are comfortable and the all-round visibility is great as well."
Autoweek.nl
"The biggest eye-catcher in the interior is the 12.8 inch touchscreen, which you can put in a horizontal or vertical position at the touch of a button. That sounds sensitive, but just like the rest of the interior, it feels solid and very well built."
Whatcar.com
"Of course, you probably won't be using it as a dragster, but the oomph it has makes it more than capable of reaching motorway speeds quickly or nipping into spaces in traffic. Indeed, it's more than good enough for pretty much anything everyday driving will throw at you."
Largus.fr
"The silhouette is underlined at the rear by the continuous window line encompassing the tailgate and a line of intersecting LED lights, quite successful. In addition, the overall quality is quite reassuring. The Chinese brand really takes care of its achievements."
Motor1.it
"The angle at the knees is relaxed and the absence of a central tunnel is another positive factor, while there are two rear USB-C sockets and several pockets for objects. In short, the area behind the BYD Dolphin is promoted."